Denis Durand Couture, OrusBijoux and Ecrin de Saveur created a glamorous event at the 70th Festival de Cannes for the charity Le Sourire de Lucie.
In the heart of the 70th Cannes Film Festival, the couturier Denis Durand, in collaboration with OrusBijoux and Ecrin de Saveur, organized a fundraising gala for the charity Le Sourire de Lucie in an exceptional setting in Cannes, opend for the first time: the gardens of the Parc Elysée, opposite Denis Durand Couture's Boutique Showroom, avenue Maréchal Juin. Placed under the sign of luxury and the heart, fashion and glamor, performance and arts, the evening was honored by the presence of their Royal Highnesses Prince Felix and Princess Claire of Luxembourg.
Evening of generosity
For this charity evening on May 23, 2017, numerous personalities like Igor Bogdanov, Yasmine Assous and reality TV star Loana had come to support the association Le Sourire de Lucie. The elegance of women wearing magnificent sheath dresses and the chic of men in tuxedo and bow ties, wandering gracefully in the park of L'Elysée, set the tone of the event as one of the most sought-after party in the 70th Festival de Cannes.
A very lively evening
During the evening, the guests were invited to taste the savory and sweet delicacies concocted by Ecrin de Saveur, accompanied by Champagne and tasting of red wines rosé and white grands crus. On the animation side, many performers have enchanted the guests. Some posed for souvenir photos with performers perched on stilts, others, more reckless, put a living boa around the neck in the gardens, to the bewitching sounds of the soft chords of a violinist wearing a multicolored illuminated dress, or dance to the latest hits on the dance floor.
Haute Couture fashion show
In the middle of the evening, a sumptuous fashion show of models presented the latest creations by Denis Durand Couture, adorned with the superb jewels designed by the jeweler OrusBijoux on the ephemeral red carpet and under the many flash photographers who immortalized this unique moment dedicated to luxury, Haute Couture and Le Sourire de Lucie.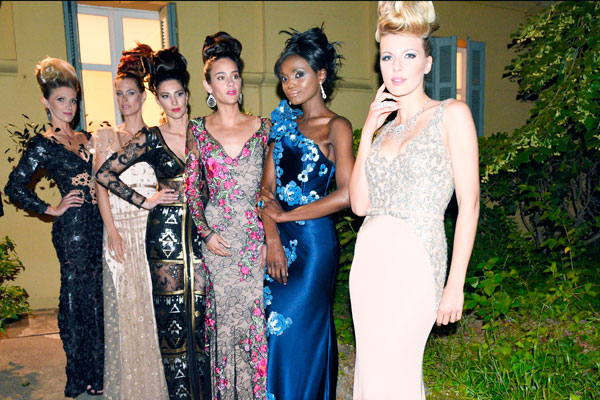 Music under the stars
The evening continued under the stars and in music with the concert of Leroy Gomez from the group Santa Esmeralda and his hit, the disco latina version of Don't Let Me Be Misunderstood, followed by a duet with Rachid Ferrache. The performers of the evening: The Marki, Angieviolonist, Kate Yvorra, Dj Grace, Hot Event's, Os à Voeuxs, Daniel Vallera.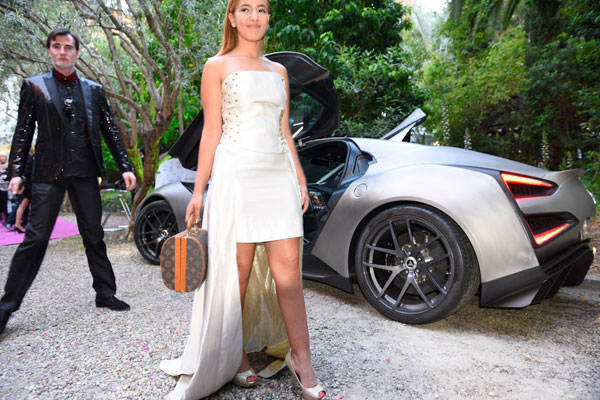 Le Sourire de Lucie
Le Sourire de Lucie was founded in 2002. Its aim is to group and protect people with Sjogren-Larsson syndrome, a rare genetic disorder characterized by skin problems (Ichthyosis), progressive destruction of muscles resulting in neuro-motor impairment, as well as neurological problems and intellectual deficit. The association also helps to raise awareness of the disease and provides material and moral support to the families of the sick.
Denis Durand Couture and OrusBijoux gala in pictures
Click on pictures to enlarge – ©YesICannes.com – All rights reserved
Denis Durand Couture, Big-Harted Luxury
was last modified:
June 1st, 2017
by