Patrick Raingeard is the only new chef to be granted a Michelin Star in 2013 in the Alpes-Maritimes. Good news for the Cap Estel, exceptional five-star establishment whose restaurant, La Table de Patrick Raingeard, is named after its brilliant chef who already has been awarded three Toques at Gault et Millaut.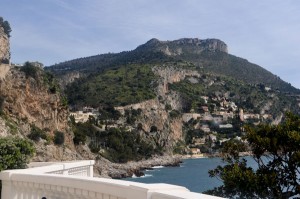 This happiness and this star, he has wanted to share over a cocktail and lunch especially prepared for his friends and customers during a beautiful reception in the tropical paradise of Hotel Cap Estel in the presence of Mayor of Eze Stéphane Cherki, CEO Eric Paulus and Service Director General Elisabeth Moraglio, his family and many colleagues chefs and pastry chefs. Indeed, for this great event, prestigious chefs were present to taste champagne such as Denis Fétisson, Sébastien Broda, Stéphane Raimbault, Michel Devillers, Joêl Garault, Jean Claude Brugel, Charles Séméria, Luc Debove, Jean Marc Delacourt, Christian Garcia, Lyès Abidi, Jean-Claude Guillon, Richard Vacher… Patrick Raingeard has been congratulated by Mayor of Eze Stéphane Cherki who remembered that Eze was the most starred city in France.
After having acquired experience and refined his knack with some of the greatest contemporary chefs like Alain Passard, Jacques Maximin or La Mère Poulard and Ladurée, this passionate Breton has been awarded after only one year of presence a Michelin star for La Table de Patrick Raingeard. Already starred in Monaco, this intuitive, generous, rigorous chef practices an instinct and contemporary cuisine; his dishes are prepared with rigor and he has this knack that gives his cuisine a special flavor, combining modernism and generosity following his credo: "Transcending the simplicity is a form of elegance". Patrick Raingeard is a lover of Mediterranean products and forgotten vegetables; the local terroir is also honored with the lamb from Puget Théniers, lemons from Menton and tangerines from La Turbie.
In awarding this chef the only "macaron" of its 2013 vintage in the Alpes-Maritimes, the red guide offers its readers not only to live an unforgettable culinary experience, but also a true taste of eternity parenthesis in a mythical setting. The Michelin star will give a new boost to the creativity of this "piano" virtuoso.
Cap Estel is a private two acres estate, nestled between sea and mountain, in the town of Eze, on a dream peninsula embedded in a lush banana trees, date palms, carob, orange and lemon trees, bordered to the east by the prestigious Monaco and to the west by the town of Beaulieu sur Mer, named for its exotic white sand beaches and idyllic coves.
The Cap Estel breathtaking beauty has nevertheless long remained confidential and now opens its high gates to customers from around the world to discover this delicious culinary experience and to continue it in a descendant Spa cascading to the Mediterranean or around Sunday brunch with champagne served in a magnificent park overlooking the waves. After a day of relaxation customers can stroll in the magnificent garden of the park and discover the vegetable garden with the Chef's plantation.
The fitness area dedicated to well-being, cocooning and coaching offers a luminous architecture, generous volumes with large openings lapped by the Mediterranean, the spa with an indoor heated freshwater pool, a highly equipped fitness room facilitated by a coach, treatment rooms complemented by elegant sauna, hammam and relaxation room. It combines technological boldness and traditional knowledge: ultra complete equipment, avant-garde and energetic for care based on the law of the five elements of Chinese medicine, in harmony with the energetic quality of the seasons. Tribute to nature and its elements, this sanctuary of well-being also comes outdoors in season in the spectacular infinity pool or on the private beach.
Click on pictures to enlarge
Cap Estel's La Table de Patrick Raingeard Celebrates Michelin Star
was last modified:
July 21st, 2013
by