The 50th edition of MIPTV (International market for audiovisual and digital content) was inaugurated on Monday, April 8, 2013 by Bernard Chevry, visionary founder of the concept of MIPTV, accompanied by Deputy Mayor of Cannes Bernard Brochand, Paul Zilk, Reed MIDEM's CEO and Laurine Garaude, Director of TV Division at Reed MIDEM.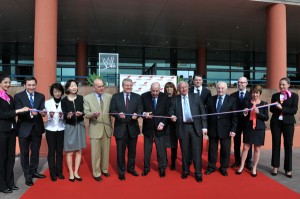 Bernard Chevry founded MIPTV in 1963, at the time when modern television began to take shape. The first market was in Lyon, France, bringing together a few hundred professionnals, mostly from Europe. MIPTV, the international television programmes market was born.
In 1965, Bernard Chevry founded MIDEM Organisation and MIPTV moved to Cannes, quickly becoming an international success and uniting a growing community of international TV professionals. In 1989, MIDEM Organisation was acquired by Reed Exhibitions and took the name of Reed MIDEM. For 50 years MIPTV has been at the heart of the innovation that shaped the future of television.
For the opening of the 50th MIPTV, Bernard Chevry was accompanied by Reiner Moritz (Director/Producer Poorhouse International – UK) and Roger Deshayes (Producer/Distributor RDI – France), two MIPTV pioners who have attended every edition of MIPTV since 1963 and were presented with a MIPTV Jubilee Award.
Click on pictures to enlarge
50th MIPTV in Cannes Inaugurated By Its Founder
was last modified:
October 2nd, 2014
by