A rich line-up of A-list TV stars came to the Croisette to promote their series at MIPTV 2014 and took part to photo sessions with the blue of the Mediterranean as a backdrop.
Kim Cattrall (Sensitive Skin), Maggie Gyllenhaal (The Honourable Woman), Amy Poehler (Broad City), Ray Wise (Farmed & Dangerous), David Hewlett (State of Syn), Curtis ''50 Cent'' Jackson (Power)… and many other attracted the official photographers lenses attention.
Velvet (Beta Film) – With Paula Echevarría and Miguel Angel Silvestre
Velvet, a fiction that takes place in full Francoism in the 60s, is a series focused on the birth of the "ready-to-wear" and  is featuring a love story. The plot is located in a department store, a shopper's paradise – an empire built of silk, sensuality and seduction – and puts players in a glamorous atmosphere. 4,8 million viewers on Spain's Antena 3.
 Sexy Beasts (All3Media)
Produced by Lion Television for BBC3, UK – Executive Producers: Simon Welton and Bill Hobbins
Dating show couldn't get stranger than this! Producers of Sexy Beasts decided to put people in prosthetic makeup, transforming their real looks before they go on a first date, thus addressing the issue of judging people on their appearance. The equation of love and dating in a completely contrived situation, force overconfident datees and particularly picky daters to use their personality alone to try and find the Right One. Will Alex the Demon find love with Belinda the Monster, Charlotte the Werewolf, or Vicky the Alien? Who will start cuddling on-screen or run away crying? The real faces of involved participants are only revealed – on screen and to viewers – when the dating is done.
Resistance (TF1)
The plot of the series is located in Paris in 1940. Outraged by the occupation and its injustice, 17-year-old Lili (Pauline Burlet), has joined a resistance group to fight the Germans and French collaborators. While the clandestine struggle extends to the whole of France, the young fighters engage in heroic individual exploits, exposing himself to the relentless repression of the enemy.
The series talks about the organization of networks of resistance that led to the liberation of Paris in August 1944 whose 70th anniversary is being celebrated this year. The series should see the special appearance of Fanny Ardant, Isabelle Nanty and Richard Berry and will be broadcasted on TF1 from May 2014.
On the pictures: Pauline Burlet (Actor), César Domboy (Actor), Dan Franck (Screen Writer), Marie Guillaumond (Deputy Head of TV Drama, TF1), Christian Riandee (Vice CEO Gaumont TV) & Alain Goldman (Producer).
Click on pictures to enlarge
Broad City (Viacom International Media Networks)
Broad City started was born on the Web and then turned into a TV series. The comedy Broad City captures in New York City comical moments of two best friends in their twenties (Abbi Jacobson and Ilana Glazer). They form an odd couple whose adventures always lead down unexpected and outlandish paths. They're broke, flawed and don't shy away from the sticky situations NYC throws at them even if it sometimes gets bad. Abbi Jacobson and Ilana Glazer alongside Golden Globe award winner Amy Poehler took the stage at MIPTV for a keynote "The Power of Comedy: Laughing its way from online to linear", to discuss the series' success and new opportunities created by the web for TV. They were joooined on stage by Kent Alterman, Comedy Central and Caroline Beaton, Viacom International Media Networks.
With Amy Poehler, Abbi Jacobson and Ilana Glazer
Click on pictures to enlarge
Bosch (Red Arrow Entertainment Group)
The Bosch drama series is named after bestselling author Michael Connelly's LAPD homicide detective Harry Bosch. With millions of books sold around the world, it was normal that Harry Bosch, hero of some 18 novels, finally comes to television, with his skills to investigate and his complex character, after years of request from fans. Although relentless in search of criminals, he has personality flaws. During his MIPTV keynote, Jan Frouman, CEO, Red Arrow Entertainment Group share insights into Red Arrow's flourishing content development activities with a host of new partners and distribution platforms.He was joined by cast and crew from Bosch
With Michael Connelly, Titus Welliver (Bosch), Henrik Bastin (CEO, Fabrik Entertainment & executive producer Bosch), Jan Frouman (CEO, Red Arrow Entertainment Group) and Irina Ignatiew (Managing Director, Red Arrow International).
Click on pictures to enlarge
Sensitive Skin (Tricon Films & Television)
Golden Globe winner and Emmy Nominee Kim Cattrall was in Cannes to launch at Miptv 2014 the new dramedy Sensitive Skin (6×30'), in which she stars with award winner Don McKellar and Bob Martin. The series was created by Hugo Blick (Roger & Val Have Just Got It). This marks Kim Cattrall's return to television after her hugely successful HBO series Sex And The City. Kim Cattrall is also Developer & Executive Producer of the series, directed by Don McKellar and written by Bob Martin…
Sensitive Skin, adapted from the 2005 British series of the same name, tackles the mid-life crisis from Davina's point of view,  a woman of a certain age (Kim Cattrall) who wants to refresh her marriage with her long-time husband Al (Don
McKellar). Kim Catrall said of the show: "This is the journey of a woman starting to see the effetcs of gravity. And it's scary…" Men as well are addresssing this crisis in their own way, asking themselves some big questions.
Click on pictures to enlarge
The Honourable Woman (BBC Worldwide)
The Honourable Woman was screened at MIPTV 2014 as world premiere. An Eight Rooks and Drama Republic Production for BBC co-produced with the Sundance Channel, distributed by BBC Worldwide.
The Honourable Woman is a spy thriller series telling the story of a woman, Nessa Stein (Maggie Gyllenhaal), the daughter of a Zionist arms dealer who takes over her father's company and changes its purpose from supplying arms to laying data cabling networks between Israel and the West Bank. Her father was assassinated by by the Palestinian Liberation
Organisation during her youth. Now in her thirties, Nessa is at the forefront of the Middle East peace process but she finds herself under the close scrutiny of MI6 agent Stephen Rea (Hugh Hayden-Hoyle) after the death of a Palestinian customer.
With Hollywood star Maggie Gyllenhaal, British actor Andrew Buchan (as Ephra Stein, Nessa's brother) and creator Hugo Blick.
Click on pictures to enlarge
Turn (eOne)
Based on the book Washington's Spies, written by Alexander Rose, the plot of Turn is located in the summer of 1778. This spy thriller, political and action-packed, tells the story of New York farmer, Abe Woodhull, who with a group of his childhood friends, form The Culper Ring, an unlikely group of spies who turn the tide in America's fight for independence. Every daring act, every vicious betrayal, every fatal mistake each friend makes resonates in the world around them and literally creates history.
With Heather Lind, Seth Numrich and Craig Silverstein (Creator, Executive Producer and showrunner)
Click on pictures to enlarge
Halt and Catch Fire (eOne)
The plot of the series is located in Texas in the heart of the 80s and depicts this unforgettable decade of rebellion and reinvention and the dynamic people that invented and made the American dream. A visionary, an engineer and a prodigy specializing in micro-computer, dreaming of creating a revolutionary product, confront their inventions and innovations to the giants of the time like IBM. Overcoming insurmountable odds, their relations are then strained between greed and jealousy and ego crises. The characters, played by Lee Pace, Scoot McNairy, Kerry Bishé and Mackenzie Davis, are tumultuous, unpredictable, ingenious people who live in constant fear of being judged as frauds.
Power (Starz)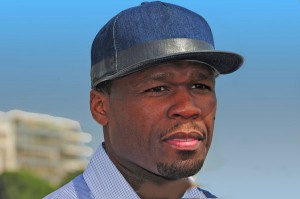 The Starz original drama series Power was the MIPTV 2014 World Premiere TV Screening. Created by showrunner Courtney Kemp Agboh, Power is produced by rapper Curtis Jackson, aka 50 Cent, in association with CBS Television Studios. The series depicts the adventures of James St. Patrick, nicknamed "Ghost", (Omari Hardwick) owner of a popular New York City nightclub. He is a major player in one of the city's biggest drug networks, but, balancing between two lives, he realizes he wants to leave the drug ring in order to cling to his legitimate business.
Following the screening, singer and television host China Moses moderated the on-stage conversation with Curtis '50 Cent' Jackson, along with actor Omari Hardwick, creator Courtney Kemp Agboh and executive producer Mark Canton.
With Executive producer and star Curtis "50 Cent" Jackson, actor Omari Hardwick, creator Courtney Kemp Agboh, executive producer Mark Canton and Chris Albrecht, CEO, Starz.
Click on pictures to enlarge
Candice Renoir
Cop comedy, Candice Renoir is a family series that highlights a hero who's not afraid of assuming her femininity as a divorced police lieutenant with 4 kids.  She hasn't not worked for 10 years and in addition, she's blonde… After following her husband abroad and raising their four children, she is deceived and humiliated by her husband. Having returned in France, she decided to start a new life in Sète where she takes over the management of a group of investigation. Even if she feels a bit rusty, she solves the most complex cases with her common sense, her acute observation and her practical nature. In addition to a busy daily routine, she is determined to turn her so-called weaknesses into strengths. Candice's family and love lifes are linking the episodes as a running theme.
Farmed and Dangerous (Chipotle)
Produced by Chipotle Mexican Grill to make people think about the origins of their food, it is an original comedy series about the "outrageously twisted" and "utterly unsustainable" world of industrial agriculture.
Ray Wise (Twin Peaks, Robocop) is Buck Marshall, heading up the PR for Animoil, an agribusiness megacorporation on the verge of launching PetroPellet. This newly engineered product promises to increase the food supply while decreasing America's dependence on foreign oil. Karynn Moore, as Sophia Marshall, is Buck's daughter, entrusted with seducing Chip Randell, head of the Sustainable Family Farming Association, determined to expose the dangers of PetroPellet. Through her endeavor, she learns about sustainable food movement and begins to change her views.
In recognition of its producing the original series, US restaurant chain Chipotle Mexican Grill has been named MIPTV's Brand of the Year. The award recognises the best online video strategy by a brand and past winners include Amex, Heineken, Intel and Vice Media.
With actors Ray Wise and Karynn Moore, Mark Crumpacker (Chipotle's Chief Marketing Officer), Tim Piper, (writer/director/executive producer of the show) and Daniel Rosenberg, writer/executive producer of the show.
Click on pictures to enlarge
State of Syn (Smokebomb Entertainment)
State of Syn is an innovative 3D-enabled science fiction motion novel that, while exploring the science-fiction, also tries to explore the future of cinema, television and the Internet. Combining live action photography with animated hyper-real backgrounds, the series integrates traditional sci-fi storytelling with an immersive transmedia experience by using photographs, sound effects, video and animation, to create a moving graphic novel.
In presence of David Hewlett Actor and Writer (Cube, Rise of the Planet of the Apes)
Stars on the Croisette At MIPTV 2014
was last modified:
April 22nd, 2014
by