On April 4, 2013 in Nice Studios Riviera (formerly Studios de la Victorine) the presentation of the new concept event "Silence, ça tourne" took place, presented by "Studio Riviera", "Directo Productions" and "One Shot"(caterer) on the mythical site of La Victorine.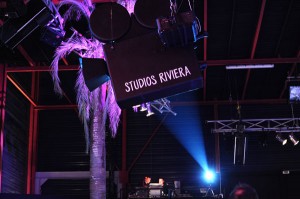 The Victorine estate was originally a horticultural property turned into a leisure property by the Duke of Rivoli who baptized it La Victorine after the name of his niece, Victoire. In 1919, film producer Serge Sandberg created the Victorine Studios. Places are huge and it will become a major French studios, a large number of films are shot on its premices. In a film studio specially refurbished and decorated, guests discovered "Silence, ça Tourne" a show on the theme of cinema with colorful and sparkling choreography built like a cabaret show. In cheerful costumes, the cheeky troupe of French Cancan dancers, petticoats and panties, leg raising or split ruffles, gave the evening a "bon enfant" and erotic atmosphere. Their talent and dynamism accompanied by strong musical trends of the twentieth century were highly acclaimed. During the evening an original animation with Inno Vents: participants were photographed dressed in cinema accessories, taking comical poses and received their photos as a souvenir.
Directo is an artistic production company based in Nice. It includes more than 500 artists and technicians. It is managed by team leaders and experienced project managers to master real artistic, logistics and financial events they are entrusted with. It is also a production company of shows and concerts with more than 100 concerts, shows and festivals produced and organized each year.
Alain Abada, head of One Shot Catering established in 2000, is a graduate of the hotel school in Nice and gained experience in large houses of the Riviera. The chef Patrice Jean – known as "Talon" – after a successful experience abroad and in New York, joined the company in 2003. One Shot Catering combines professional experience in the organization of reception and expertise of passionate gastronomic restaurants. Hired for their talent, the chefs have gained specific expertise in quality catering restauration, a special art in which the gastronomic character expresses while balancing the constraints of transport and reheating. The maitres d'hôtels and project managers, professionals of the reception, have, season after season, gained extensive experience in organizing banquets and gastronomic events offering fresh produce, simply cooked with the right seasoning. One Shot, means elegant and harmonious recipes, sometimes surprising, always discreet and tasty.
www.studioriviera.fr
www.directoproductions.com
www.one-shot.fr
www.directoevent.com
Click on pictures to enlarge
Studios Riviera Present Their Show "Silence ça Tourne"
was last modified:
August 13th, 2014
by