At Heavent Meetings Sud trade show in Cannes, Déco-Flamme presented its skills in events designing, stand creations, design and decoration. On its booth, a hupholstery demonstration workshop showcased the tailor-made company's capacity to personalize events for demanding brands.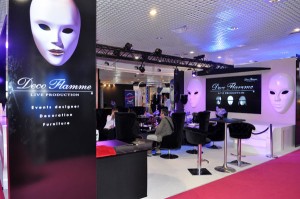 The Déco-Flamme concept, which began in Belgium in 1990, was brought to the Côte d'Azur by Laurent Smeesters in 1995. Wishing to gradually integrate all the trades relating to event decoration, from its design to its creations via its logistics, in order to have even greater quality control, Déco-Flamme is currently based in Cannes, Sophia Antipolis, Monaco and Marrakech. Its high-performance infrastructure comprises 4,000 sqm of warehousing, 1,000 sqm of manufacturing and upholstery workshops, and 500 sqm of office space, and allows it to meet every type of budget and requirement of a national and international clientele. Déco-Flamme owns all the furnishings and equipment hired out, and has its own logistics, thus giving it control over the quality of its service and the highest level of furniture care in the industry. Deco-Flame realizes booths for trade shows with an individual decoration, as a company as iconic as it is, must stand out among others at visitors' first glance. The brand assists companies in designing their event representation by achieving scenic stands in compliance with the qualitative standard and level of service that made it successful in the private or corporate event decoration. But Deco-Flame has a, carpentry and upholstery workshop, and over 1,500 references and 8,000 seats for rent. Deco-Flame is a specialist in high-end setting and design.
In its quest for new trend, Deco-Flame has developed a new structure to the architecture for reception. Born in South Africa, these revolutionary new tents adapt easily to all types of environments and events. Quick and easy to install, waterproof, with attractive design and colors, they join comfort and roominess.
Click on picture to enlarge
Déco-Flamme Showcases Skills at Heavent Meetings Sud
was last modified:
July 20th, 2013
by