Twenty-three chefs from the Bouches du Rhône, Alpes-de-Haute-Provence, Var and Alpes-Maritimes mobilize for Restos du Cœur by offering their Diners des Chefs.
Building on the success of the first edition which had mobilized throughout France over sixty chefs  from the Chateaux & Hotels Collection chain, chaired by Alain Ducasse, twenty-three big-hearted chefs from the South share their gastronomic talents and skills for the benefit of the Restos du Cœur on December 3 for the thirty years the charity, launched by the late Coluche.
Nine charity Dîners de Chefs
On Thursday, December 3, nine Dîners de Chefs will delight generous gastronomes in the different regions of France, involving over 60 chefs working in establishments belonging to Châteaux & Hôtels Collection, the reference brand in terms of gastronomy and hospitality, chaired by Alain Ducasse.
In Provence Alpes Côte d'Azur, 23 chefs are mobilizing voluntarily to sign two dinners taking place at Stéphane Lelièvre's restaurant Les Pins Penchés in Toulon, Var, and at the Château de la Bégude in Opio, Alpes-Maritimes.
The evening placed on the theme of excellence and generosity will start from 19H in a musical atmosphere and each chef will bring his talent to the elaboration of a dish of the gourmet Dîner des Chefs.
A national operation
On September 28, many of the big-hearted chefs gathered at the Hostellerie de l'Abbaye de la Celle around Stéphane Lelièvre, founder of the Dîners de Chefs, to prepare for their second Restos du Cœur meal.
Stéphane Lelièvre, chef and owner of the restaurant Les Pins Penchés in Toulon, launched the operation in 2009, and since then, every year, the chefs from Var have been involved in a gala dinner to benefit the Restos du Cœur.
The concept of this charity event has attracted Alain Ducasse, President of Châteaux & Hôtels Collection, who took up the idea to generalize it to the whole of France, signing an agreement with Les Restos du Coeur in 2013.
The Restos du Cœur has thirty years
A few days after the opening of the Restos du Cœur winter campaign, for the second consecutive year, more than sixty chefs Châteaux & Hôtels Collection will offer nine exceptional gastronomic dinners that will take place simultaneously all over France. Thanks to the generosity of the Chefs and their partners, the entire revenue will be given to the Restos du Cœur. In 2014, the operation raised over 67,000€. This year, the chefs aim at more then 80,000€ as the hotels will offer the revenue of the breakfast served on the following day.
The association, created in September 1985 by the comedian Coluche, has about 67,000 volunteers who feed each winter over one million people. Last year, 130 million meals were distributed.
The chefs at Les Pins Penchés dinner:
Fanette Aimé – La Table de Fanette (83)
Hermance Carro – Le Castellaras (83)
Fabien Pasquale – La Bastide du Clos des Roses (83)
Stéphane Lelièvre – Les Pins Penchés (83)
Christophe Martin – La Bastide de Moustiers (04)
Marc Crendal – La Bastide du Calalou (83)
Stephan Paroche – La Magnanerie (04)
Sébastien Sanjou – Le Relais des Moines (83)
Benjamin Collombart – Côté Rue (83)
Guillaume Sourrieu – L'Epuisette (13)
Mathias Dandine – Les Lodges Sainte- Victoire (13)
Robert Lalleman – L'Auberge de Noves (13)
Benoît Witz – L'Hostellerie de l'Abbaye de la Celle(83)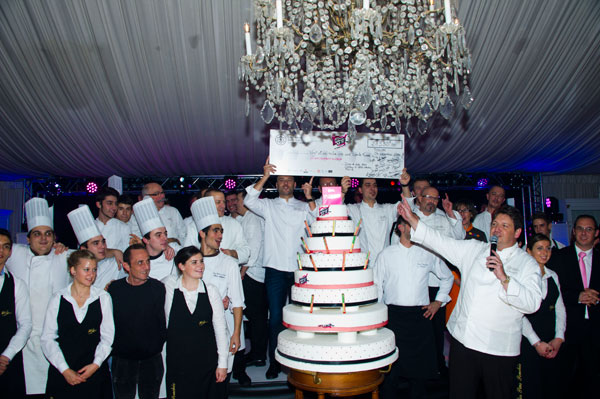 The chefs at Château de la Bégude dinner:
Gabriel Degenne – Château de la Bégude (06)
Jean-François Bérard – L'Hostellerie Bérard & Spa (83)
Denis Fétisson & Didier Chouteau – L'Amandier de Mougins (06)
Erwan Louaisil – Le Moulin de Mougins (06)
Noël Mantel – Restaurant Mantel (06)
Christian Morisset – Le Figuier de Saint-Esprit (06)
David Vaqué – Le Bistrot Gourmand (06)
Christophe Chiavola – Les Terrasses de l'Image (13)
Nicolas Vie – Le Moulin de Vernègues & Spa (13)
Marc De Passorio – L'Esprit de la Violette (13)
Gastronomic multi-handed menu on the themes of:
Amuse-Bouche by Chefs Châteaux & Hôtels Collection
Foie gras
L'Ombrine
The Guinea Fowl
The Chocolate / Citrus
Mignardises as we like in Provence
Bookings are already open at:
Les Pins Penchés
3182, avenue de la Résistance
Toulon – Var
33 (0)4 94 27 98 98
Le Château de la Bégude
Route de Roquefort-les-Pins
Opio – Alpes Maritime
33 (0)4 93 12 37 00
www.lespinspenches.com
www.chateau-begude.com
23 Chefs Cook For Restos du Cœur 30 Years
was last modified:
December 9th, 2015
by