Agecotel rolled out the red carpet for Joël Robuchon, the most starred chef in the world and 2016 godfather of the 27th edition of the exhibition, inaugurated on February 1, 2016 at NiceExpo.
Agecotel is one of the references in the trade shows in the hotel industry and the restaurant sector, that took place from January 31 to February 3, 2016 at NiceExpo exhibition center in Nice.
Created in 1981, the fair takes place every two years. It offers a warm and friendly place, a theater where many dynamic players come to present the latest trends and innovations in hotel facilities, services, gastronomic food…
Inauguration among the stars
The 27th edition of Agecotel was inaugurated by Mr. Christian Estrosi, Mayor of Nice and President of Nice Côte d'Azur Metropolis and President of the Provence-Alpes-Côte d'Azur Region, Frédéric Jourdan-Gassin, President of NiceExpo and Paul Obadia, CEO of NiceExpo. Joël Robuchon, the most starred chef in the world by the Michelin guide, was the honorary patron of the edition 2016, and his presence gave this edition an exceptional touch. Many chefs from all over France had also made the trip to honor this celebration of gastronomy and hotel equipment like Michel Roth, 2 Michelin stars and Bocuse d'Or or Fabrice Prochasson, Meilleur Ouvrier de France.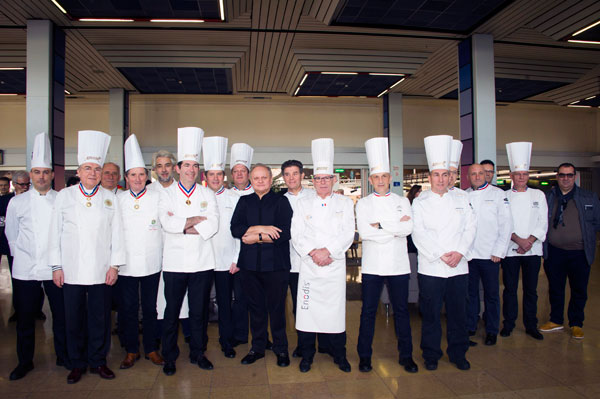 Ribbon cutting and tour of the exhibition
Honor to this great feast of Mediterranean savoir-vivre and bien manger, resolutely turned to the hotelier and culinary excellence. After cutting the traditional blue-white-red ribbon, the officials posed for the many photographers eager to capture this prestigious gathering of chefs. The official delegation led by Christian Estrosi, alongside Joël Robuchon, paced all morning throughout the aisles, to meet the exhibitors who came to demonstrate their products and expertise.
Agecotel favors meetings between professionals in search of new trends among the 350 exhibitors, demonstrations and innovations and thus develops partnerships.
Click on pictures to enlarge – ©YesICannes.com – All rights reserved
Agecotel 2016 Stars Its Inauguration
was last modified:
February 29th, 2016
by