Ômer, Alain Ducasse's latest restaurants at Hotel de Paris Monte Carlo, invites you to share the generosity of "All the Mediterranean" around a colorful menu with enchanting flavors.
Ômer! Ô mer! Ô mer Mediterranée! Ô nourishing and sunny Mediterranean mère (mother)! In his Monte Carlo d'adoption, at the Hotel de Paris Monte Carlo, Alain Ducasse invites gourmets to go on a gastronomic cruise around "the whole Mediterranean" to discover, in a philosophy of sharing and generosity, the fascinating facets of a thousand and one delights along its perimeter and shape its identity. To sublimate this ode to the Mediterranean, its aromas and spices, the chef with 30 restaurants around the world and 20 stars entrusted the destiny of his new table to the talented chef Patrick Laine.
First palace in the world crowned with a third star
One of the 100 most influential figures in the world, according to the American economic magazine Forbes, Alain Ducasse is constantly adding spices of innovation to his genius of French cuisine: pioneer of vegetarian menus, initiator of "desserality", sugar reduction in the creations by Jessica Préalpato, his Pastry Chef at the Plaza Athénée in Paris, elected Best Pastry Chef of the World 2019 by World's 50 Best Restaurants. Always fond of Mediterranean cuisine, and passionate about cooking seafood, Alain Ducasse deploys his know-how in Ômer, a new table at the Hôtel de Paris Monte Carlo, the first palace in the world to obtain a third Michelin star thanks to to his talent at the world-famous gastronomic restaurant Le Louis XV.
A cruise in the Mediterranean
The dining room is a setting designed by Pierre-Yves Rochon, evoking the lounges of a cruise ship where amber precious woods, tan leathers, light stretched fabrics, unfurl in rotundities in a warm and refined atmosphere.
An alcove houses the Cercle du Vin, the royaume des crus of the talented chef sommelier Mathias Negro, inviting to an oenological exploration of the shores around the Mediterranean. It nurture wines produced only from local grape varieties and grown along coastal areas (with the exception of Bordeaux and Burgundy) like a White Abruzzo Aimè – Cascina Del Colle d'Italia or a Red 2013, Meknés, Première of Baccari – Domaine de Baccari, Morocco.
Suggestion of food and wine pairings signed Mathias Negro are to discover in the photo gallery.
A garden staged by Jean Mus
Ômer opens on the terrace of the Hotel de Paris, facing the Mediterranean bathing the Rock, in a lush décor where Provence is staged as you meander through the flowerbeds, with escapades to the horizon of the sea. The garden, designed by the famous landscape architect Jean Mus, is inhabited by small recesses, alcoves, to eat on sunny days in the secret of games of shadows and light.
Always more new flavors and sharing
At Ômer, the chef Patrick Laine transcribes in his plates the lights and colors of the enchanting landscapes of the Mediterranean shores as well as the perfumes of their cultures, which he enjoyed during his travels – as this summer in Turkey – which inspired him the mezzes of his new menu, for ever more new flavors and sharing. In colorful dishes highlighted in earthenware as much pigmented, we can taste the marisco paella, rice bomba, saffron, pimientos, mussels, clams, gamberoni, cuttlefish & chilli pepper, red mullet baked in vine leaf, autumn vegetables, garlic & zaatar or the souvlaki: beef skewer, oregano, thyme, mint & cauliflower.
Explosions of flavors and aromas
According to market arrivals, Patrick Laine rigorously selects the best products to make each meal a true Mediterranean getaway. In the tradition of sharing and generosity of the Mediterranean cuisines, the sunny gastronomy of Ômer navigates between the coasts of Spain, Italy, Greece and the eastern shores of Turkey, Lebanon, Morocco… In a variety of dishes to taste in community, after both modern and faithful recipes, the flavors explode, the aromas diffuse in the palate in a charm of herbs and spices. As for sweets, the pastry chef Dorian Lutzelschwab is inspired by citrus fruits to offer a range of fresh and light desserts, to order in a farandole, always to share in the utmost conviviality.
Picorer is on the menu!
In Ômer, the original traditions of Mediterranean cuisine are expressed in simplicity and freedom of choice. Served in authentic ceramics, reminiscent of the blue of the Mediterranean, a cornucopia is poured on the table in easy-to-share dishes: a range of mezzes, meat kebabs, fish without bones, and… Douk Douk knives to share desserts, such as a frosted orange and raz-el-hanout. Pecking in plates is on the menu!
Affordable menus for all
The affordable prices of Alain Ducasse's second restaurant in the Principality will make you cross the threshold of the palace dressed in its Christmas clothes: at lunch, Mezzes and Dish or Dish and Dessert at 42 €; Calypso Lunch: Mezze, Dish and Dessert at 55 €. Menus include half a bottle of water and coffee.
Mezzes: sweet potato galette with harissa, radicchio salad, castelfranco, pomegranate & feta, Jerusalem artichoke cream, lime, cardamom & clementine, brodetto or Keffa skewers, Lebanese moghrabieh, apple tajine with spices caramel. Oenological afterwork at the Cercle du vin from 18h to 19h30, on reservation (50 € for 5 to 6 people).
Mezzes to share (photos YesICannes.com)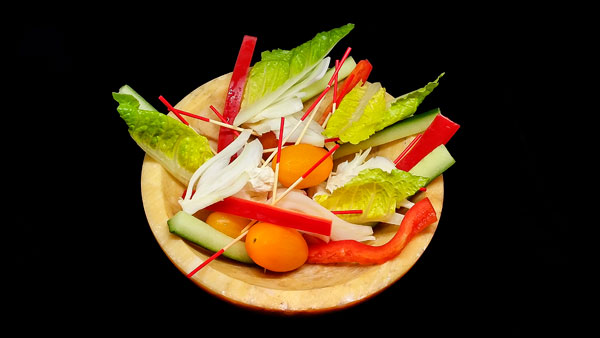 Sun-kissed vegetables
Fritto Misto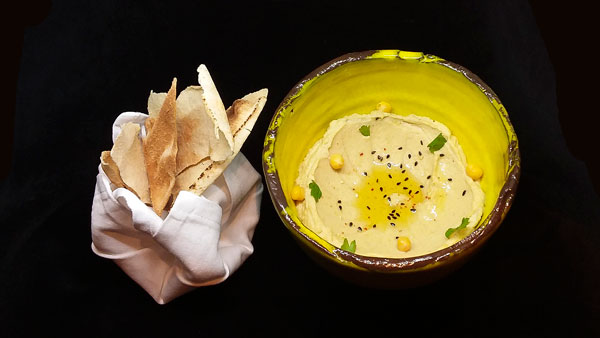 Hummus: chickpeas, thainz, sumac, cumin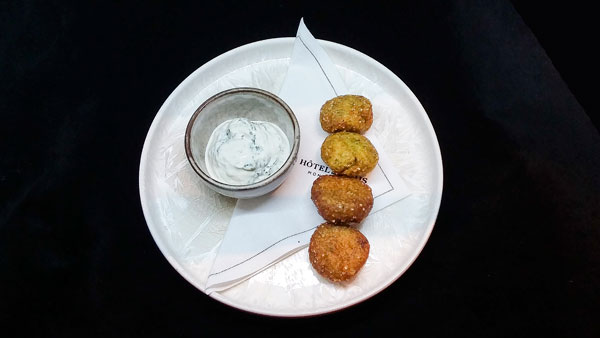 Kebett batata: Bulgur donut, potato, yoghurt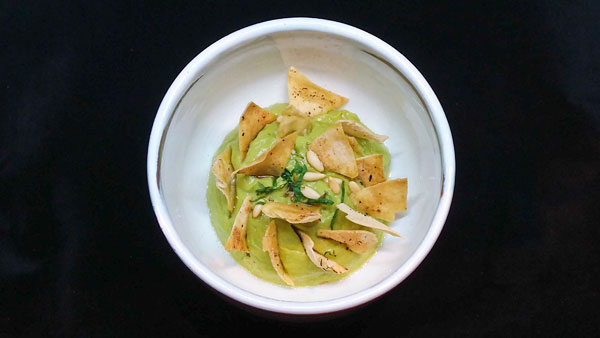 Avocado dip: Avocado, tahima, caraway, mint & pine nuts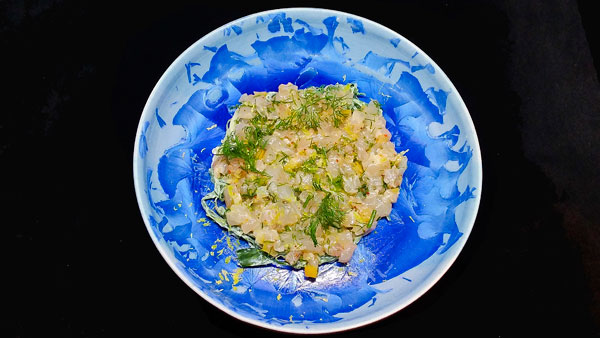 Sammak Nayyé: tzatziki sea bream, chili pepper & lemon confit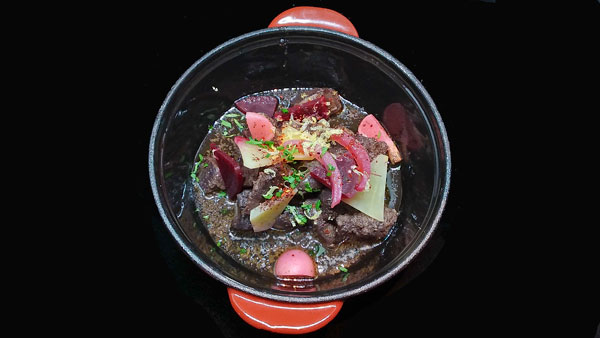 Kibdeh bi sumac, kabis: Poultry liver, cumin, pickles turnip & beetroot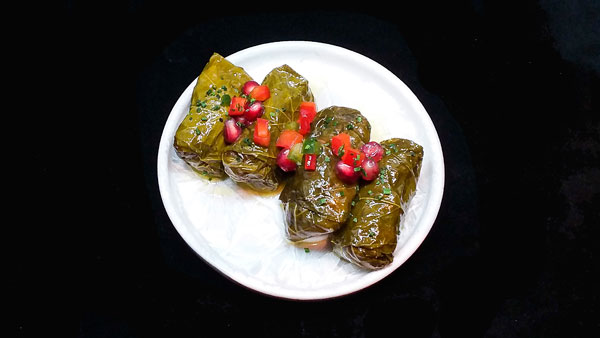 Dolmadakia: Rice, dried tomatoes, raisins, dill, pine nuts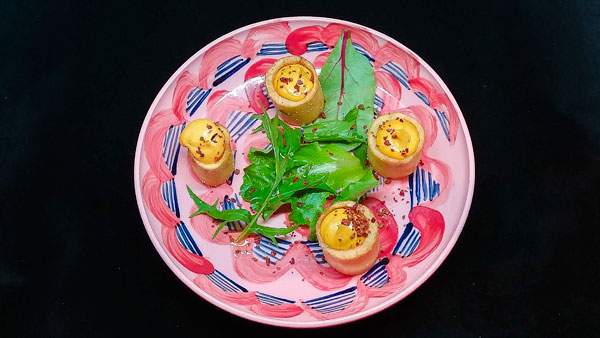 Patatas bravas, potato fries, saffron condiment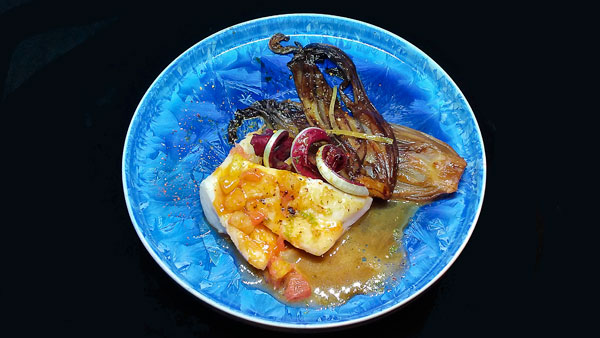 Saint-pierre with citrus fruit: Snaké, radicchio, orange, lemon & grapefruit
Souvlaki: Brochette of beef, thyme, mint & cauliflower
Dessert assortment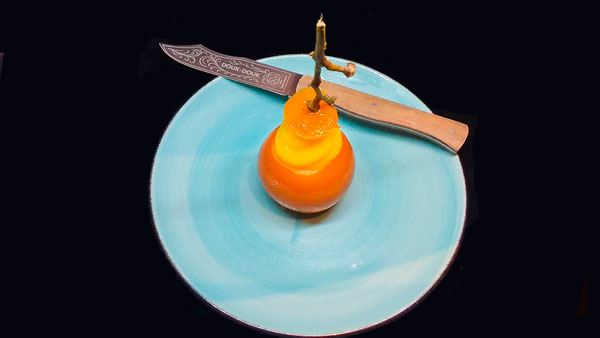 Frosted orange – Orange sorbet and raz el hanout
Ewe's curd cheese, orange blossom, pepper granita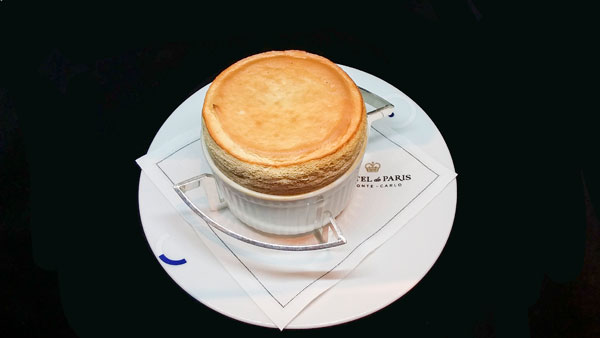 Soufflé with black tea and candied lemon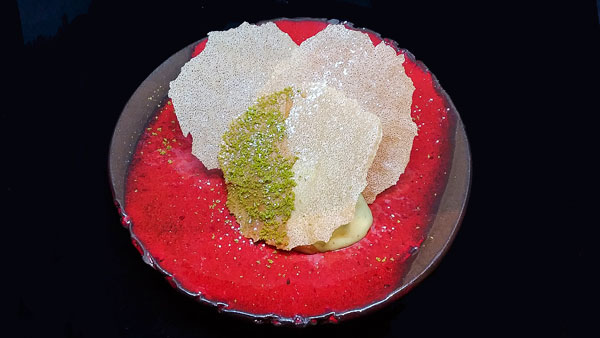 Pistachio pastilla and caramel with spices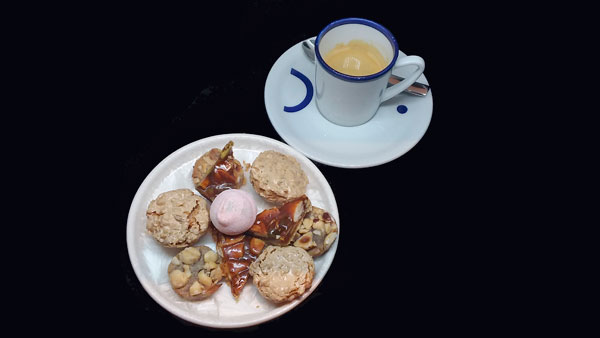 Mignardises – coffee
Patrick Laine's prestigious establishments
Originally from Sainte-Foy-lès-Lyon, Patrick Laine graduated from the Bonneville hotel school in Haute-Savoie. After his debut in 1993 in the Maison Pic brigade with Alain Pic in Valence, he completed his military service in the kitchens of the Ministry of the Interior and joined Marc Veyrat in 1996.
In 1997, he joined Ducasse houses: Le Louis XV. After a stay at La Bastide de Moustiers, he chose to return to Monaco and became deputy chef at Le Louis XV – Alain Ducasse in 2007. Then, he was sous-chef at the Grill de l'Hôtel de Paris in 2009, and in 2014, he is appointed Chef of La Trattoria Sporting Monte-Carlo and Chef of the Grill when it reopened in 2017. Since January 2019, he has been managing the furnaces of Ômer, Alain Ducasse's new restaurant at Hôtel de Paris Monte Carlo.
Hotel de Paris, the most luxurious luxury hotel in Monte-Carlo
In 2019, the Hotel de Paris Monte Carlo opens a new chapter in its history with the full reopening of its 209 rooms and suites, after four years of unprecedented transformation and renovation. Thanks to a completely redesigned customer experience, a complete metamorphosis of its emblematic places and the creation of new spaces – such as two exceptional suites, a courtyard dedicated to fine jewelery and the Ômer restaurant, the new Hôtel de Paris Monte Carlo is a vibrant tribute to the dream of the founder of Monte-Carlo Société des Bains de Mer: "A hotel that exceeds everything that has been created so far!", transposing this dream into the 21st century.
Ômer's Brunch of January 1, 2020 from 11:30 to 15:00
The spirit of Christmas at Ômer: for the holiday season, Patrick Laine offers sumptuous menus. In order to start the year with gourmandise, Ômer is organizing a Mediterranean brunch on January 1, 2020!
€ 120 per person, € 60 for children, excluding drinks.
We invite you to discover the other menus in the gallery.
Ômer
Hôtel de Maris Monte Carlo
Place du Casino
MC 98000 Principauté de Monaco
Tél.: +337 98 06 39 39
Open daily for lunch and dinner
Ômer@sbm.mc
Alain Ducasse, Ômer's Odyssey in Monte Carlo in pictures
Click to enlarge – ©YesICannes.com – All rights reserved
Alain Ducasse, Ômer's Odyssey in Monte Carlo
was last modified:
December 17th, 2019
by