Fashion designer Aline Buffet honored her students future designers at the Cannes Shopping Festival by presenting their creations in four exceptional quality fashion shows. Under the spotlights, eleven models of the S & A Association have  walked the catwalk in the Debussy hall at Cannes Palais des Festivals.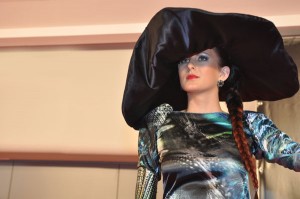 The audience for the event was able to discover the expertise, talent and sense of creativity of these "cousettes" with fairy fingers, turning matter and accessory into art called haute couture. The presentation of a dark blue silk and silk mousseline combinaison embroidered with pearls, a sea green short cocktail dress in lace and organza with scrolls ornaments worked in fishing line with the finale in wedding dress originally structured, created and designed jointly to rival many professional designers proves that these girls beginners have affirmed a personality through their dresses, and they are a wealth of knowledge of the transmission for future designers.
The models have been first designed and modeled by the latter, to be sewn on mannequin hand "technique haute couture", blur and tailor During their work they were led by their professor and director of their private school Aline Buffet.
Only the realization of technical advice were given by Mrs Buffet in respect of their creative ideas and their personalities.
The teaching given in the Aline Buffet private school will enable students to be better prepared in the future on the labor market and will be able, if they wish, to create their own business and their brand through a comprehensive training (design, pattern making, cutting, technical materials, colors, sewing and tailoring…), giving them a complete autonomy.
Aline Buffet, Master Craftsman in haute couture was twice finalists of the Meilleur Ouvrier de France (1997 and 2000). After a rich and prestigious career in the fashion world, she created the private fashion school "Aline Buffet " in 2011. She remains one of the last defenders of traditional sewing in the region. All tailor-made models for clients are created within her workshop, manufactured "Made in France".
Click on pictures to enlarge
Aline Buffet School Bluffs Cannes Shopping Festival
was last modified:
July 1st, 2013
by