The Belvédère Californie, built on the roof of the Californie reservoir, offers an exceptional stunning view over the Bay of Cannes and the Lerins Islands.
The Californie reservoir is the final destination of the water from the Siagne canal, the last link of the city of Cannes water supply system. The work of beautification of the site, with the creation of the Belvédère Californie, is a continuation of the Belvedere pedestrian promenade amenities opened to the public in 2013, along the 2.7 km of the canal between the Avenue Ziem and the California reservoir.
Share the beautiful and the good
A little piece of heaven, the Belvédère Californie is a lawn surrounded by a canal-fountain with waterfall, as a tribute to the Canal de la Siagne, in a sleek design to highlight the stunning views.
David Lisnard had the project at heart – the last project he initiated as Director of SICASIL before becoming the Mayor of Cannes. In his speech, he recalled that life flourished run-of-river, creating a heritage and cultural identity. Citing Richelieu, David Lisnard expressed his will to "make possible what is necessary" to share what is beautiful and what is good.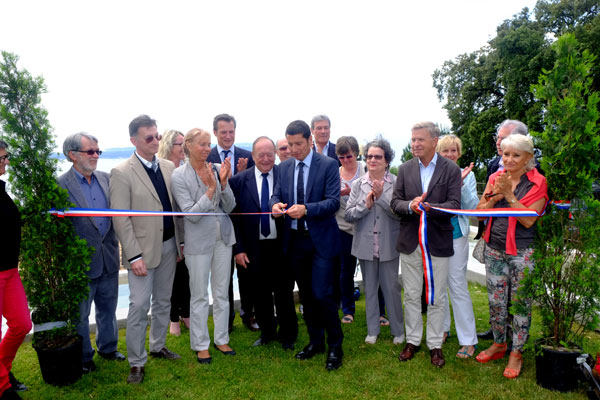 Awareness of water conservation
The work was funded by the SICASIL (Cannes Basin Intermunicipal Water Syndicate), via Suez Environnement – charged with the public service delegation for drinking water – in partnership with the City of Cannes which will maintain the site.
Through the new realization of the Belvédère Californie, the SICASIL continues its ongoing commitment to raise the inhabitants' awareness in the preservation of water resources, and the development of the Canal de la Siagne.
The Intermunicipal Park of the Siagne canal
The SICASIL had the original idea to create a green belt linking the mountains to the sea, from the Siagne source to Cannes following the course of the Canal de la Siagne. The progressive realization of the Intermunicipal Park of the Siagne canal will ensure an optimum protection of water resources by the public's ownership and responsibility the through this shared precious asset.
Awareness and information signage
A descriptive information and awareness signage was created especially along the route. It comes in different media: visual cues (totems), situation plans, milestones and educational panels.
This year, the Siagne Canal Festival will celebrate the tenth anniversary of the water and heritage festival from Saint Cézaire to Cannes through Grasse, Mouans-Sartoux and Mougins.
Support the candidacy of Cannes at UNESCO
David Lisnard invited those dreaming and relaxing at the Belvédère Californie facing the gorgeous view of the Lérins Islands, the Palm Beach peninsula and La Croisette, to support the Cannes candidacy for inclusion of the islands of Lerins and La Croisette on the list of UNESCO World Heritage by completing the form at the address below:
http://www.cannes.com/fr/index/petitions/formulaire-de-soutien.html
Click on pictures to enlarge – ©YesICannes.com – All rights reserved
Belvedere Californie Inauguration in Cannes
was last modified:
May 26th, 2015
by