The first Concours d'Elegance at Cannes Yachting Festival delighted a large audience who admired the superb vintage and modern motor boats and their elegant crews.
Thirteen motor boats and day boats under 12 meters, led by fine-looking crews, attended the first Concours d'Elegance at Cannes Yachting Festival 2015 and offered to fans a parade of great harmony and exquisite refinement in the middle of the Old Port of Cannes.
To honor the rich maritime history
In addition to presenting, from September 8 to 13, 2015, hundreds of boats, luxury yachts and sailboats, who went out in the magnificent Bay of Cannes for sea trials in front of the Lerins islands, the 38th Cannes Yachting Festival launched its first nautical Concours d'Elégance.
The Concours d'Elegance, the Ultimate Dayboat Défilé, brought together on Thursday, September 10th some vintage and modern boats in a parade organized in the heart of the Old Port, offering a rare spectacle in honor of the rich maritime history.
The large audience admired a fleet of the most beautiful classic yachts, antique boats and motor boats, as well as the latest innovations on display at the Festival.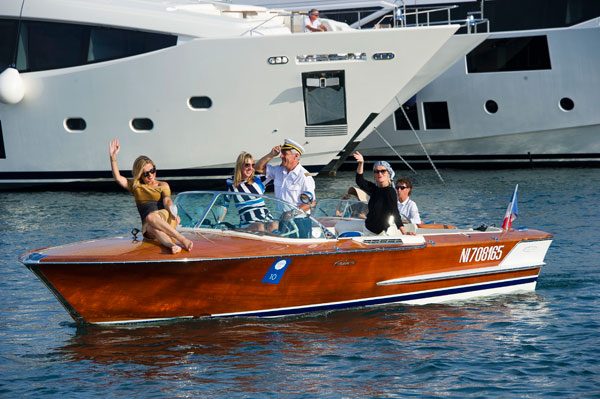 A jury of professionals and connoisseurs
Chaired by Mrs Annette Roux, President of the Yachting Festival, the Jury was composed of Mr Olivier Piquet – DG Lise Charmel, Mr Dominique Gabirault – Pharmacist passionate about boating, Mr Nicolas Kappenberger – Audemars Piguet's Switzerland market director and Mr Roberto Franzoni – Journalist.
The Jury was on a boat around which the participants have evolved, often a glass of champagne in hand, smiling and greeting the public. The mahogany hulls of gorgeous motorboats sailed the waters of the Old Port, mingled with those of metal or composite materials of modern boats.
The selection criteria were the quality of the restoration, conservation status, the design of the boat, the elegance of the crew and the quality of the défilé, the rarity of the model and the history of the boat.
And the Concours d'Elegance winners are…
Category 1 (2000 to 2015)
1st: Frauscher – 1017 GT – Aeternum (2015)
2nd: Spirit Yachts – Spirit 40 Coupe (2015)
3rd: Violetta – Ariston Junior (2003)
Category 2 (before 1975)
1st: Riva Aquarama – Roméo Charly (1965)
2nd: Riva Tritone – Grail (1963)
3rd: Riva Olympic n°29 (1969)
Women, Prizes of Elegance:
1: Riva Olympic n°29 (1969)
2nd: Poole Power Boats (Sunseeker) – Sovereigne Hostess 17 (1969)
3rd: Fiart Mare – Saggittario (1963)
Jury's Coup de coeur: Violetta – Ariston Junior (2003)
Special Jury Prize: Riva Rudy – Orla (1976)
The winners were presented with many prizes offered by Audemars Piguet, Lise Charmel, Fred, or Frederique Constant.
www.cannesyachtingfestival.com
Click on pictures to enlarge – ©YesICannes.com – All rights reserved
Cannes Yachting Festival Concours d'Elegance
was last modified:
September 16th, 2015
by