The 39th edition of the Cannes Yachting Festival was inaugurated on September 7, 2016 with a ribbon cutting at the Espace Riviera and followed by a visit of the largest afloat boat show.
The Cannes Yachting Festival 2016 was inaugurated by its President Mrs Annette Roux, David Lisnard, Mayor of Cannes, Franck Dosnes representing Bernard Kleinoff, President of the CCI Nice Côte d'Azur, Yves Lyon-Caen, President of Reed Expo France, Alain Pichavant, Director of Division Sea and Leisure, Reed Expo France, Sylvie Ernoult, Yachting Festival Show Manager, Franck Cammas, skipper of Groupama Team France, the New Zealander skiper Dean Barker, executive director of Japanese SoftBank Team Japan, the Deputies to Mayor Gilles Cima and Franck Chikli and Serge Botin, Director of the Faculty of Trades – École Hôtelière de Cannes.
An exceptional ecosystem of yachting
The ceremony ended with a speech on the stand of the Nautical Industries Federation (Fédération des Industrties Nautiques). During his speech, David Lisnard said that the marine leisure sector was part of Cannes cultural DNA, a city with two huge ports open on the Mediterranean and the world. The Yachting Festival is an important socio-economic issue for the Cannes territory, but it is as well a major asset of French expertise worldwide. David Lisnard then drew attention to the local businesses: "We have French entrepreneurs who create an eco-system of yachting absolutely exceptional such as the Cannoise company France Hélices, became in no time the French number 1 producer of propellers."
The latest novelties and innovations
The Mayor of Cannes was then praised the great success of the Cannes Yachting Festival, the largest afloat boat show in Europe, which has been bringing together for 39 years the major professionals of yachting and sailing industry to showcase to the public their latest products and innovations. He also mentioned his attachment to the French Nautical Industries Federation which strives every day to strengthen and helps move forward the marine leisure sector and its actors through the NauticLab, the Chamber of Commerce and Industry Nice Côte d'Azur and Riviera Port, tirelessly working.
Finally, David Lisnard revealed a bit of the program of the fortieth edition that will take place from September 12 to 17, 2017. He wishes to extend the Yachting festival to Port Canto – already integrated in the Yachting Cannes Festival – with many animations on the Croisette, which connects the two ports, and its surroundings, so that the public makes the most of the festival of the sea and boats.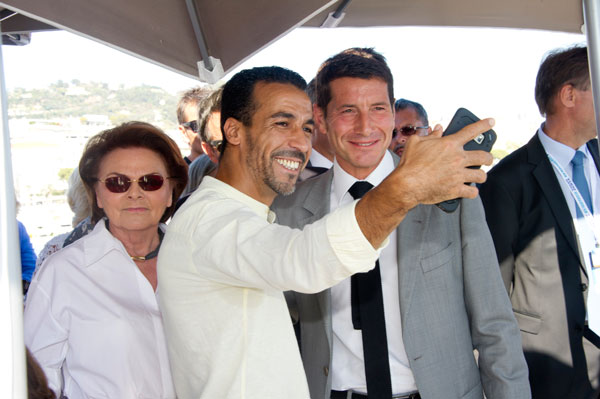 Cannes Yachting Festival: Economic Issues
was last modified:
September 21st, 2016
by