Le Clos Pierrepont distills happiness in Provence, as much in the gastronomy as in the welcome of this beautiful house where generosity and kindness reign in all serenity.
Le Clos Pierrepont: in Montferat at the gateway to the Haut Var, Mother Nature inspires from its prodigality all the thoughts and actions of Magali and Julien Lépine to make this haven of peace stands for great cuisine and hospitality. This jewel of celebration has become a must in the region and welcomes discerning gourmets and lovers of authenticity. In a paradisiacal setting that suffuses the well-being and the art of living in Provence, the delight of the landscapes and its exceptional light, inspiring the paintbrush of many artists, combine with the pleasures of the senses at a table awarded with a Bib Gourmand by the Michelin Guide.
A former post-house
Bordered by the Artuby, a river flowing down from the nearby mountains, the Clos Pierrepont is a former post-house that has naturally become a vast hotel-restaurant that Magali and Julien Lépine have completely renovated by embellishing the dining room, creating a magnificent terrace and a beautiful garden of aromatic plants and lavender. The old stones in soft ochre tones bear witness to a rich past of hospitality where the brown exposed beams and the large fireplace in the dining room with its tablecloth tables give their tokens of tradition, authenticity, conviviality and comfort in the cold weather. In a room close to the stoves, a huge solid wood farmhouse table can accommodate large numbers of guests. The walls are decorated with superb colourful paintings and sculptures where water plays a dominant role.
Furnished with metal and glass tables and light chairs, in the company of large barrels, the shaded terrace opens onto a vast park where children can romp about in complete safety.
Inspired by the treasures of nature in every season
Born in Ollioules in the Var, Julien Lépine was immersed at a very young age in the perfumes of fine gastronomy with his parents, owners of the Auberge du Teillon in La Garde, near Castellane (Var). Julien studied at the Lycée Hôtelier Paul Ogier in Nice before becoming imbued with the working methods of talented and starred chefs. After honing his talents with Olivier Brulard, two Michelin stars and MOF 1996 at La Réserve de Beaulieu, he joined Jean-Luc Rabanel in Arles, the double star forerunner of organic and vegetal cuisine. His culinary career will then take him to Philippe Da Silva's stoves at L'Hostellerie des Gorges de Pennafort, who will teach him the art of sauces and where he will meet Magali. Julien and Magali will take over the family business, the Auberge du Teillon, before settling in Le Clos Pierrepont at the end of 2017.
Producers who have become friends
At L'Auberge du Teillon, Julien succeeded his parents, who owners of a Bib Gourmand for 25 years and he had to gradually impose his style. But at Le Clos Pierrepont, the chef can really express his identity in seasonality and the return to nature. This is reflected into a priority for nice products from local producers with whom he needs to feel an affinity in order to "find some meaning and share the vision of the product with others". Lamb from Nans Bellini, a childhood friend, at the GAEC du Graou in Chateauvieux, cheeses from the nearby Ferme de la Pastourelle in Chateaudouble, a village from where Bruno Debon's apples, pears and tomatoes also come from, the Bio d'Olivier in La Seyne-sur-Mer for rare black shallots, saffron and honey from Jean-Philippe Mandat in Draguignan. In love with "fine cuisine", Julien Lepine also works with sweetbreads, squab, foie gras and caviar.
When natural beauty becomes gastronomy
This highly talented chef is cultivating his culinary identity in the Provencal terroir and the aromatic herbs that line along the terrace of his restaurant. Rosemary, lavender, sage, laurel, rose, lavender, thyme and verbena shape his gastronomy with inventiveness, and he likes to associate them with his culinary creations. His bubbling spirit and expert hands give birth to masterpieces in which the flavours reveal the prodigality of nature. His gastronomic creations rich in gustatory emotions and authenticity express his passion for excellence and know-how, which he cooks with love.
Défilé de haute goûture
Julien Lépine's dishes are radiating generosity, refinement and originality and each bite is an explosion of flavours singing an ode to eating well. Flavours, fragrances, colours, cooking and seasonings are perfectly mastered and tuned in a "défilé de haute goûture" born from simple but noble products, sublimated with a nice play of textures golden with olive oil from Château de La Martinette. As in a Cézanne painting depicting an altitude pastoral scene of ochre and gold, from land to sea, from amuse-bouche to dessert, elegant dressings and perfect service, all the ingredients are combined to make Clos Pierrepont one of the most prized tables in the region.
Menu "La Dégustation" (photos YesICannes.com)
Mise en bouche: Small choux with rillettes, sardine, a touch of cumin and purslane; Valrhona chocolate, smoked herring, Jerusalem artichokes and herring caviar; Emulsion with black garlic, calf's head, mushrooms in vinegar and roasted hazelnut.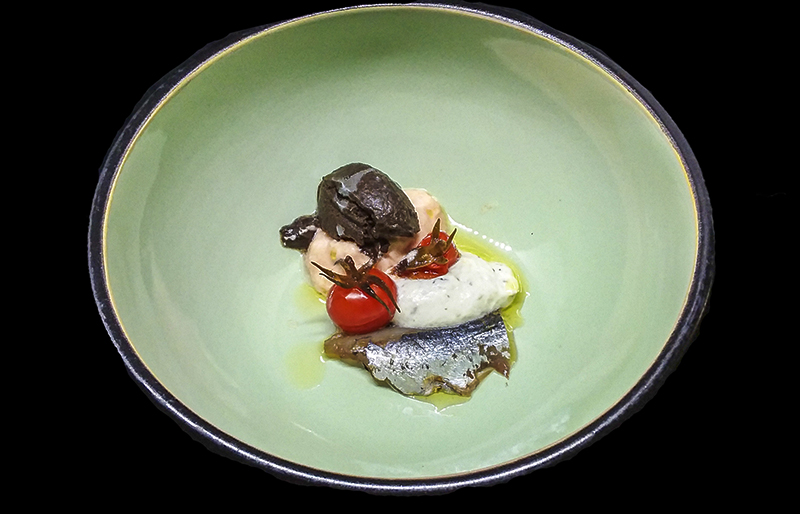 Amuse-bouche: Anchovies marinated in olive oil, crémeux basil, roasted tomato emulsion, olive sorbet.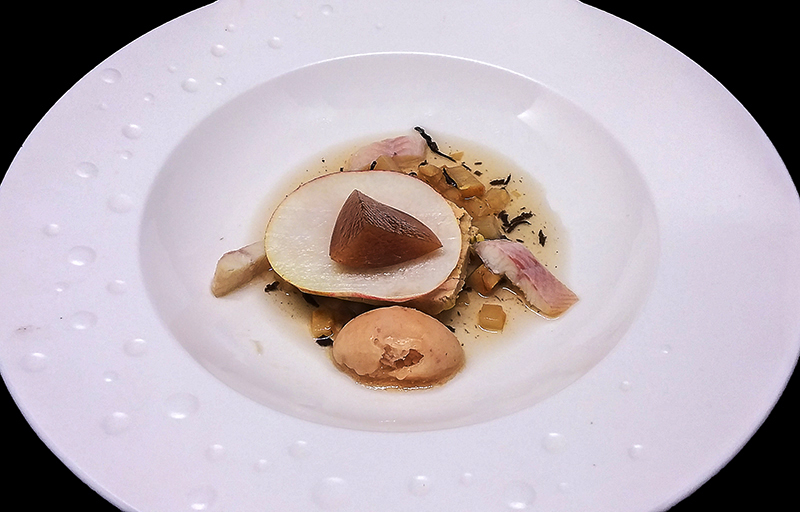 Foie Gras, smoked eel escabeche and nectarine.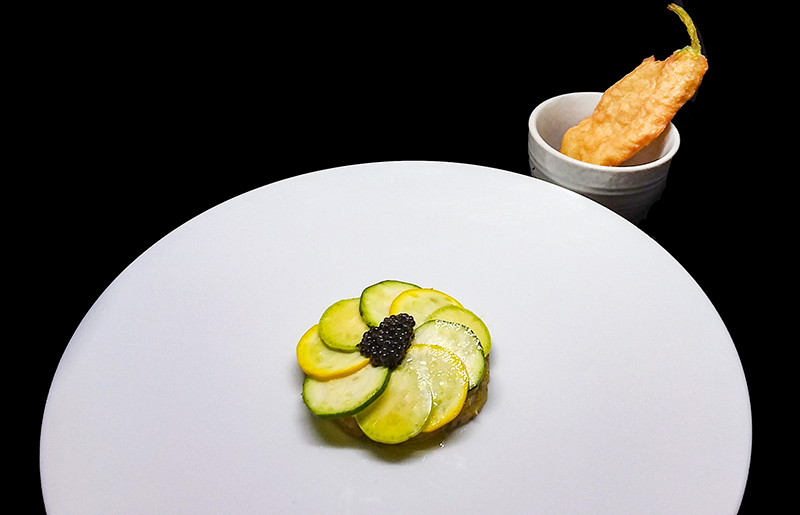 Marinated Gambero Rosso shrimps, crémeux courgette and courgette flower fritters, caviar.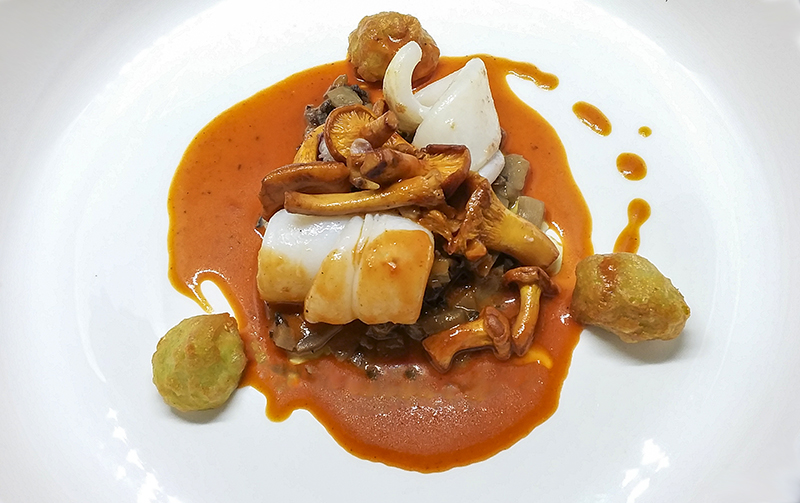 Grilled squid, pan-fried chanterelle mushrooms, pomme dauphine and its compotéed tomato juice.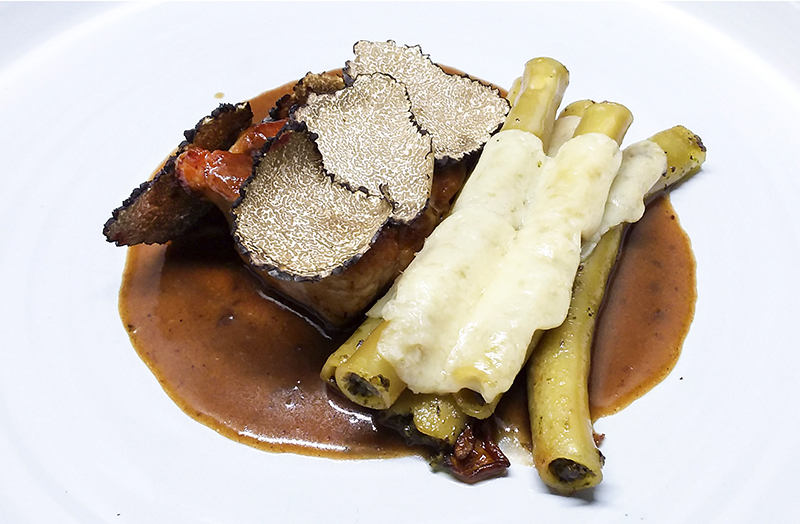 Braised sweetbread heart, zitones stuffed with mushrooms, piccorino, summer truffles, coffee-infused juice.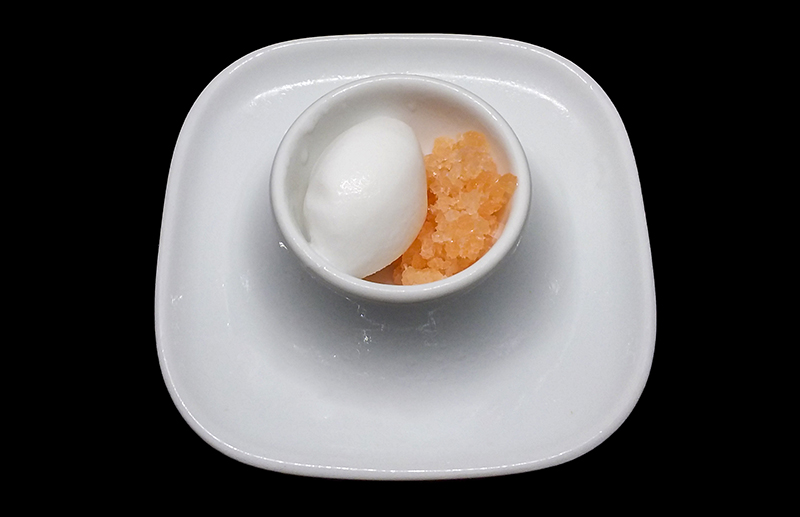 Pause Fraîcheur: Ponch granita and coconut sorbet.
Roasted squab supreme, juice with candied black shallot (oven-dried for 45 days) accompanied by fried panisse and vegetables from our market gardener Philippe Auda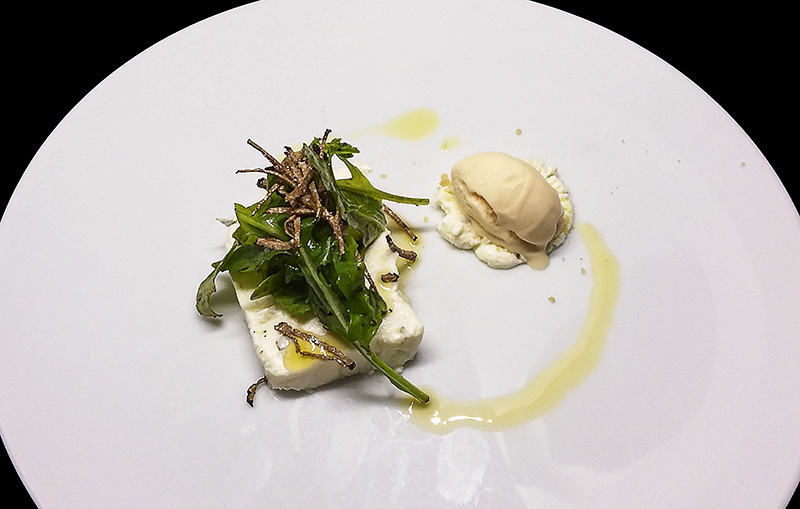 Ice cream with Tomme de Chèvre de la Pastourelle, fresh cheese made from sheep's milk worked in the spirit of a Boursin, young rocket shoots and summer truffles.
Dessert around Peach and Verbena, verbena mousse, madeleine with saffron and honey from Jean-Philippe Mansart in Draguignan, marzipan ice cream, rosemary from the garden. Fraîcheur de Melon refreshed with mint. Watermelon granita, melon water emulsion, caramelised pecan nuts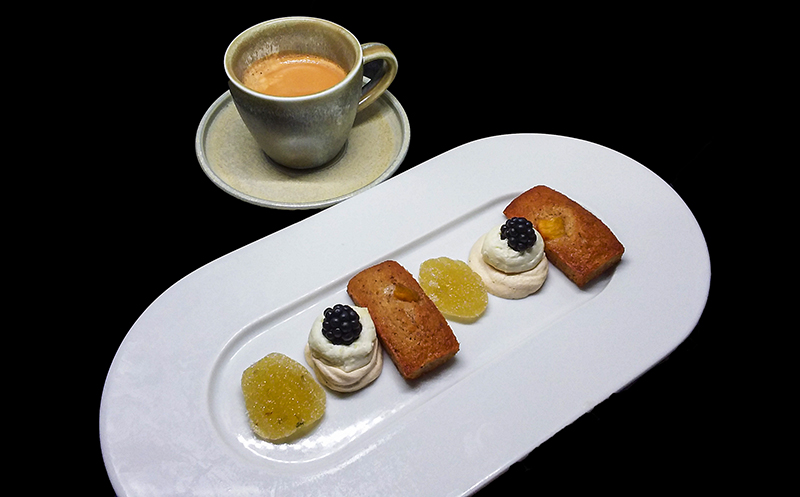 Mignardises: blackberry pavlova, fruit jelly, financier
Rosemary bread
Wines with great aromatic richness
To bring Julien's delights to the nirvana of the palate pleasures, the Clos Pierrepont wine list offers nectars from local vineyards such as Château de la Martinette in Lorgues, Château des Lices in Saint Tropez, Bomont de Cormeil in Fox Amphoux, Bastide du Plan in Callas… so many vineyards animated by enthusiasts. Light and intense Rosés, rich and robust Red vintages, dry or fruity Whites or late harvest for desserts… nuggets of great aromatic richness that Steven, the maître d'hôtel will be pleased to help you discover.
To select rarer and confidential as well as exclusive labels, such as Château des Lices, Julien Lépine calls upon the science of his friend Laurent Naudot, sommelier consultant who was chef sommelier at L'Élysée as well as at Château de la Messardière in Saint Tropez. The vintages, ranging from 20 euros and 60 euros in all regions, allow you to savour a wide variety of vintages at affordable prices, in line with the chef's menus.
Exclusively, the chef provides an insight into his future autumn menu which should certainly delight the gourmets' taste buds (photos YesICannes.com).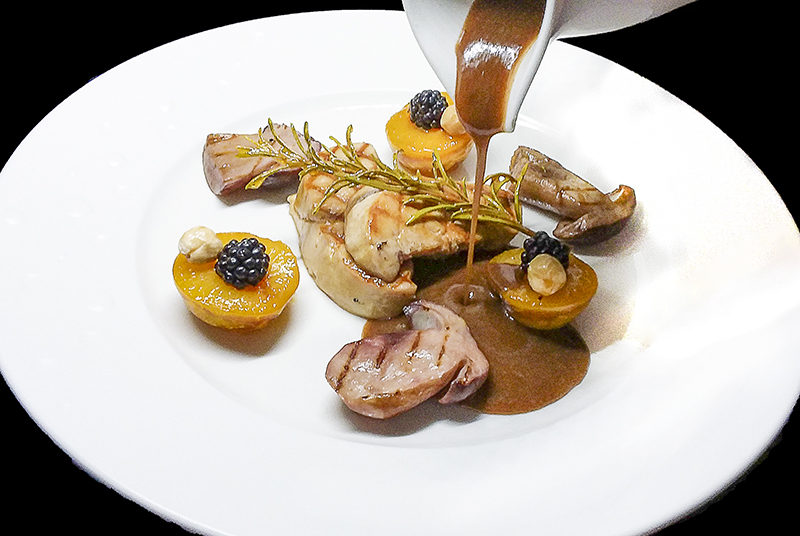 Pan-fried Foie Gras, porcini mushrooms, reine-claude, honey and rosemary compote, condiment with wild blackberry and roasted hazelnut.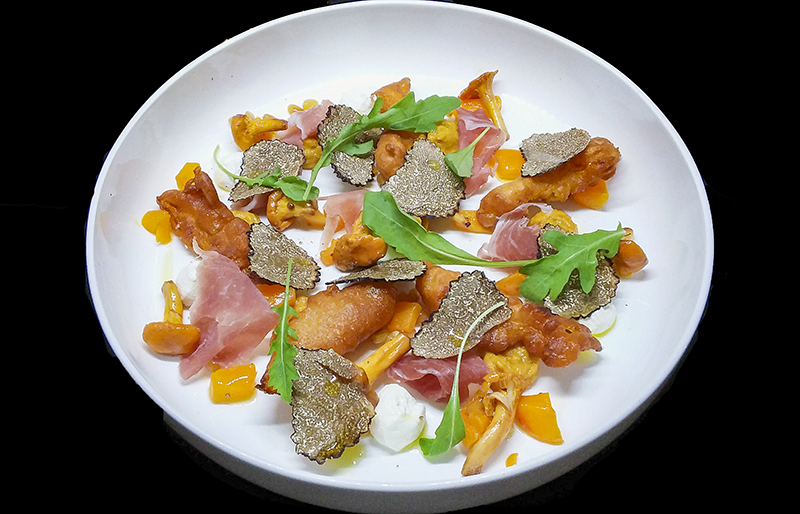 Haut Var Ham, pumpkin, pine nuts, mousse de brebis, chanterelles, rocket shavings.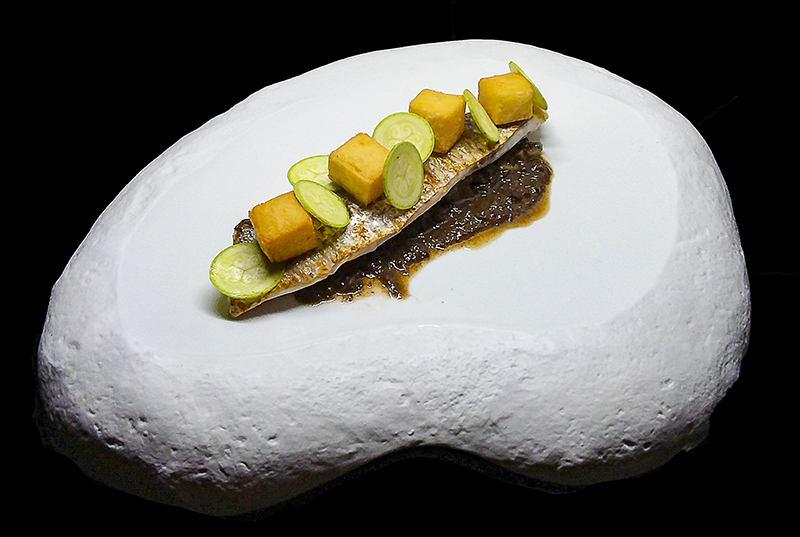 The Mediterranean Mullet, eggplant compotée, poultry juice with olive, cubes of crispy panisse, trumpet courgette scales.
Lamb from the Haut Var (shoulder, fillet and leg) from the Bellini Family, petits farcis with Philippe Auda's vegetables.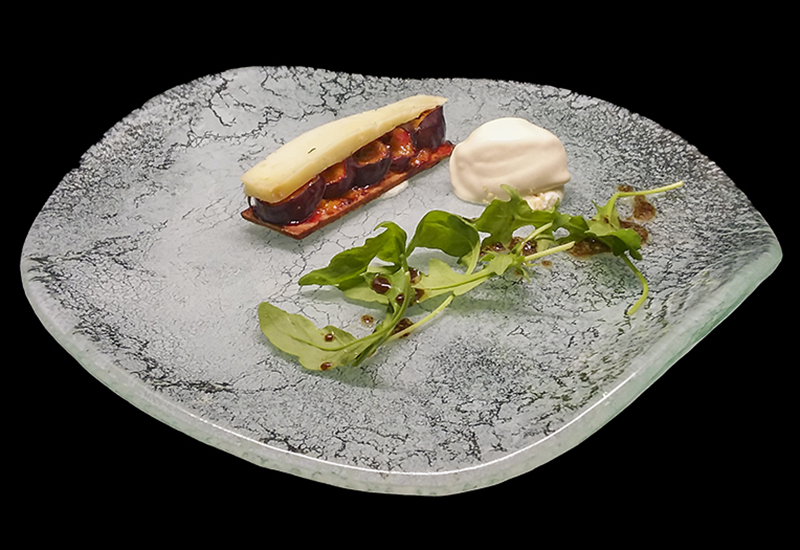 The refined goat and ewe Tome de la Pastourelle in Chateaudouble, hazelnut shortbread, candied Alsatian quetsches, iced milk with goat flower Tome.
A bastide of charm and character at the gateway to the Verdon.
Magali and Julien Lépine welcome you in the wooded and country setting of their bastide renovated in the Provencal spirit. Their 7 rooms are equipped with all modern conveniences: lift, free parking adjacent to the hotel, free wifi access in public areas and access for disabled guests.
Numerous nautical activities
Between sea and mountains, the hotel is located on the superb road of the Gorges du Verdon, its wild landscapes and steep cliffs are reflected in the rushing waters of the Verdon where you can indulge in the joys of water sports and outdoor activities: swimming, canoeing, canyoning, hiking and mountain walks, horseback riding…
Apple Festival, equestrian days, flea markets…
The hotel benefits from a beautiful terrace facing a large private, fragrant and flowery park, sloping gently down to the cool and shady banks of the Artuby river. The Montferrat Equestrian Days in May, the Fête du Four in September and the Fête de la Pomme in October, as well as other village activities such as farmers' markets and flea markets, will give you a taste of the picturesque village festivals that paint a pretty picture of the customs of yesteryear.
Menus:
Lunch formula (Wednesday, Thursday, Friday): starter/main course, main course/dessert at 22€
L'Éphémère at 32€ or takeaway at 25€ on reservation
L'Inspiration at 44€, La Signature at 56€, La Dégustation at 75 €
A la carte : 60 €.
Le Clos Pierrepont
56, route Draguignan
83131 Montferrat
Tél. +33 (0)4 94 50 21 30
Le Clos Pierrepont, Happiness in Provence in pictures
Click on pictures to enlarge – ©YesICannes.com – All rights reserved
Clos Pierrepont, Happiness in Provence
was last modified:
September 9th, 2020
by