Carnaval King of Five Continents has met his subjects on Friday, February 15 at his coronation on Place Massena in front of a captivated audience who cheered him and the Queen for a long time. Before Mr. Estrosi, Mayor of Nice and President of Nice Côte d'Azur Métropole, declare the Carnival open, a show combining choreographies and songs delighted the public, followed by a pyrotechnic show during the King and Queen paraded, surrounded by their subjects.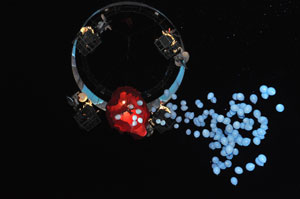 The opening festivities of the 2013 Carnaval of Nice began with the incredible aerial ballet by Belgian theater Company TOL, which had chosen the sky as stage. The show Heart of Angels in Paradise featured four angels hitch playing fiddlers and sowing hearts, hanging above the Place Masséna on a carousel, to which was added a diva in red dress, concealing an acrobat who performed acrobatic dance, suspended by a string. A stunningly beautiful and poetic show, courageous and creative.
1250 school children of the Metropolis, divided into 5 groups to represent the five continents, then began singing and make choreographies. The children wore colorful Asian, African headdresses and even a pizza packaging!
Following the release of clips on Carnaval, Christian Estrosi delivered the opening speech of the Carnaval with illumination of the place during the countdown. The King and Queen floats were then marched to the heart of the Place Massena during a fireworks was setting alight the fountain. Here we go for three weeks of madness!
Click on pictures to enlarge
Coronation of Carnaval King of Five Continent in Nice
was last modified:
July 17th, 2013
by