In a competition that is coming to an end, the Festival de Cannes screened on May 17 Capharnaüm by Nadine Labaki and Knife + Heart by Yann Gonzalez. Yesterday, Dogman byMatteo Garrone staged a mild and weak man who will find the strength to free his neighborhood from the tyranny of a hardened criminal.
For her first selection in Official Competition, the Lebanese director Nadine Labaki stages in Capharnaüm non-professional actors in a lawsuit as a child sues his parents… Knife + Heart by Yann Gonzalez is a thriller that brings us into the porn world. Yesterday, Matteo Garrone presented Dogman, a Western in a glaucous suburban, where a man delivers his district from the racket of a dangerous gangster, thus redeeming his innocence.
Tame the vicious dogs
Matteo Garrone's hero, Marcello (Marcello Fonte) a kind dog groomer, survives in his shabby shop with the sign "Dogman", surrounded by decrepit buildings in a deprived maritime suburb. His happiness is to scuba dive with his daughter Sofia (Alida Baldari) who lives with her mother, from whom he is separated. Lover of dogs, this man with a sweet face calls them "amore", and knows how to mollify even the most ferocious dogs. On the other hand, taming his friend Simoncino (Edoardo Pesce) is impossible. Simoncino is a brutal ruthless colossus, whose will and needs do not support any refusal or limit, under penalty of unleashing the violence of his former boxer's fists.
A gloomy suburban western
Marcello takes Simoncino for his friend, but the brute uses shamelessly of him for his needs in cocaine or wrong doings. The whole neighborhood fears the malabar's fury and blows to the point that Simoncino's friends seek a radical way to get rid of him. Definitely… The district is tinged with an ambiance of western in a suburb without sheriff. But nobody dares to confront the thug directly. Then Simoncino forces Marcello to help him rob his neighbor who runs a gold shop. Simoncino will lose his reputation, his friends and freedom. After a year in prison, he finally dares to face his fearsome friend, under the eyes of the boarders of his kennel.
Redemption of a certain innocence
Marcello is an ordinary person, an anti-hero whom circumstances push to horror and to believe in the redemption of a certain innocence. But while he thought of being a liberator, it is almost indifference that faces him. Matteo Garrone's staging in dark lights, the desolate environment and the hideous buildings are the setting where the talents of Marcello Fonte and Edoardo Pesce give life to convincing characters.
The film gives a reflection on the excesses of the habit of living the tail between the legs, to display the loyalty of a dog, the subjection to always say yes, until the consequences push to say "no", guided by the demon of ultimate violence.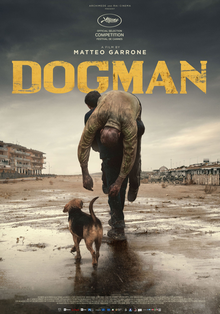 Matteo Garrone already won the Grand Prix at Festival de Cannes 2008 with his famous Gomorra and another Grand Prix with Reality in 2012 Festival de Cannes.
Dogman by Matteo Garrone
1h42 – Color
The Red Carpet of Capernaum by Nadine Labaki
Click to enlarge – © YesICannes.com – All rights reserved
Dogman Bites Back by Matteo Garrone
was last modified:
May 17th, 2018
by