At Cagnes sur Mer, the idyllic setting of the Hippodrome de la Côte d'Azur, nestled between mountains and sea, on February 16, 2013, hosted the Fegentri day (International Federation of Gentlemen- Riders and Cavalières) featuring two races in the afternoon, bringing together 10 nations: the Prix Hotel JW Marriott Cannes (Cavalières) and the Prix JW Marriott Cote d'Azur (Gentlemen Riders). On this occasion, starred chef Jacques Chibois, one of the two chefs of the Hippodrome de la Côte d'Azur Gastronomy Week, delighted the guests invited to the event.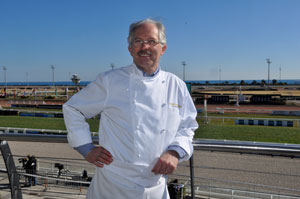 The tender-hearted artist, this discreet and maestro with elegant and tasty cuisine, has developed as an alchemist a light symphony of recepes composed with produces of land or sea, fruits and vegetables from the hinterland gardens. It is with extraordinary skill that this creator won his bet, with an entrée subtly mixing sun and ocean: "The royale of oyster cream and lettuce with tears of Saint Jacques". His second dish: "The tender roasted duck breast, served with a tomato mashed potatoes and basil, bitter orange juice" enthused our senses as the delicacy of this duck meat, melting in the mouth, revived by the juice of bitter orange. Then was the apotheosis with the dessert: "The fine smooth milk chocolate, garnished with a stick of passion fruit sorbet and cherry coulis". Our eyes lit with sparks of gourmandise when seeing the white finely drawn shell, headed with a square of dark chocolate, in a rare finesse worthy of an artist. We enjoyed it gently, with delight, to prolong the pleasure of the senses as long as possible.
Jacques Chibois, a passionate man for a passionate cooking, here are the real values that he wanted to share with his friend Fabrice Lavergne, caterer Groupe Pavillion's SEO, for the occasion and both passionate about horses. Jacques Chibois has the project to create and fund in collaboration with perfumers of the region and the Ministry of Finance, a taste school dedicated to producers from hinterland Mediterranean countries.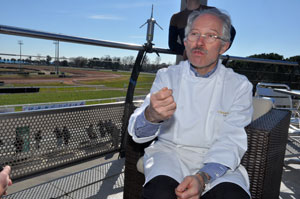 Jacques Chibois Treated Fegentri Guests With Delights
was last modified:
July 14th, 2013
by