Le Bistrot Gourmand is one of the nicest gastronomic addresses in Cannes where its young chef Guillaume Arragon has been diffusing waves of flavors for 10 years through his home-made bistronomic cuisine with subtle Mediterranean accents.
Le Bistrot Gourmand, at a stone's throw from the "belly of Cannes", the picturesque and very Provençal Marché Forville, was created in 2007 by Guillaume Arragon, a young chef whose view from the courtyard of his school on Georges Blanc's restaurant (3 stars since 1981) in Vonnas made him dream of giving culinary happiness to his customers. The chef's cuisine, awarded in 2014 by the title of Maître-Restaurateur and a Toque at Gault&Millau, is playing a winning hand in home-made cuisine in a bistro and locavore spirit, with cuisine à l'ardoise.
Cooking in the middle of Forville Market
A short distance from the Old Port of Cannes and the famous Croisette walked by stars from around the world, at the foot of the Suquet, the Forville Market is full of local products grown by the market gardeners of the Cannes basin but also products from the nearby Italian terroir. The market also gives pride to the stalls of fishermen offering their freshly caught fish in the bay of Cannes. Adjoining this formidable pool filled with the fabulous treasures from the Mediterranean terroir, the gourmet restaurant Le Bistrot Gourmand offers its customers a varied and inventive cuisine du marché with, at lunch, a particularly attractive menu to feast without breaking the bank. At the head of the establishment, the young chef Guillaume Arragon highlights the work of the farmers, producers and fishermen in the Cannes basin and finds each morning the finest and freshest products that will be honored in the menu of the day.
Southern Art of Living
Before singing in Guillaume's saucepans, the Forville Market is already on the walls of the dining room with a bright and airy atmosphere, with a discreet and elegant decoration. The tables set with beautiful cloth tablecloths and braided sets, delicate porcelain, large slate or white plates, crystal-clear glasses subtly marrying with mauve napkins, and dim lights make pupils and taste buds feel like lingering in this place oozing the authenticity of a good cuisine, a pledge of Art of Living in the South.
Gourmande creations with Mediterranean flavors
In the kitchen, Guillaume develops a home-made cooking with the fresh products gleaned on the stalls of his suppliers. His gourmande creations with Mediterranean or transalpine flavors are both simple and elegant and always tasty like his signature dish, Ravioles with Mushrooms and Truffle Cream, Parmesan Chips or Risotto with Mushrooms, Truffle Butter and Parmesan.
The chef, who does not forget that Cannes was once a fishing village, also offers dishes with iodized flavors such as wild Dorin Ceviche with fresh Coriander and marinated Avocado and – by reservation – a real Bouillabaisse simmered with fish from the local fishery.
Appetite for high quality products
Chef Guillaume Arragon comes from Vonnas in the Lyon region. He formed his palate with the taste of good vegetables grown by his father in the family garden, where he crunched freshly picked beans, peas, green beans, strawberries, raspberries… The beautiful poultry from the nearby Bresse gave him the appetite for high quality products. After studying cooking at the Lycée Hôtelier of Marseille Bonneveine, he joined the Maison Lenôtre for three years. In Monaco, he acquired his first chef position at the restaurant Waterfront before joining in 2006, the Mala Beach in Cap d'Ail. Guillaume celebrated the tenth anniversary of Le Bistrot Gourmand in April of last year. In 2014, the title of Maître Restaurateur rewarded the excellence of its home-made cuisine.
Homemade in a bistro spirit, from the dish to the bread
Difficult to make your choice in the short menu as the dishes are full of promise. One can trust this discreet and friendly chef by opting at dinner for a 4-course tasting menu according to Guillaume's inspiration and the market of the day. The cooking is perfect, seasoning is right, and elegant but unfussy-dressed plates are rich in powerful tastes. Guillaume succeeds in the challenge of offering a bistronomic cuisine that favors quality, freshness and taste while maintaining affordable prices such as the 24 € lunch menu (starter, main course, dessert). Note: the homemade bread is absolutely delicious, and the water – still and sparkling – is also produced on the spot, thanks to the Castalie concept.
To enjoy these delicious dishes without looking at the clock, Le Bistrot Gourmand offers its customers 2 hours of parking for an addition over 30 € .
An example of tasting at Le Bistrot Gourmand
Aperitif: Kir with Grapefruit, Emulsion with Passion accompanied by Papadums (Indian lentil chips) and homemade Tapenade. A burst of sunshine and freshness to brighten the taste buds with an exotic note.
Entrées:
Oeuf Parfait with Leek and Smoked Bacon Emulsion. The creamy taste of the egg yolk blooms in a set of textures and flavors with the subtle sweetness of leek in a full-bodied emulsion, with vibrant bubbles of taste.
Golden Violet Artichoke Flower with Olive Oil, Parmesan Shavings. You eat the vegetable garden in this artichoke cooked to perfection, both tender and crunchy, with petals goldened in the sun of olive oil; the fruitiness of Parmesan cheese and its unique pungency, evokes the gentle undulations of the Tuscan hills.
Main courses:
Medallion of Limousin Milk-Fed Veal with Mushrooms and fresh "du pays" Spinach. A melting calf, with white, tasty and fragrant flesh, to be sprinkled with the sauce of cepes with undergrowth flavors, accompanied by spinach and a mouth-watering sweet carrot puree.
Solomillo of Bellota Pork and sweet potato puree. The Belotta pork meat (Iberian pork) is the best in the world, and to the eye, evoques some red meat. This pork jewel develops a rare intensity of flavor accompanied by the scented sweetness of a sweet potato puree.
Desserts:
Café Gourmand and homemade Pastries. A farandole of desserts, including the Crème brûlée with Orange, in the Catalan spirit, with a chocolate mousse, a lemon tart and a flan. In the middle, under its chocolate fishnet, lies a delicious caramel ice cream like a pearl!
Lemon from Carros in Untreated Texture. Gourmands will be surprised and delighted by this delicious lemon tart revisited with its candied lemon zest.
Le locavore à la carte
Les fruits et légumes du marché Forvile viennent de chez Frédéric Chaudet (La Martre dans le Var) et de chez Nicoletta Molinard à Carros. La viande vient de chez Jérémie Darmigny (Viande de bêtes de concours sélectionnée, de la région de l'Aubrac). Le poisson vient de la pêche locale de chez Pierre Rouvier ou de chez Alain André. Le fromage provient de la maison Fromage et Gourmet. Côté vins, le Bistrot Gourmand propose des crus du terroir provençal comme le rouge cuvée Allégorie et le blanc, cuvée Mando, du Domaine de Barbossi à Mandelieu, ou les vins de l'Abbaye de Lérins et les vins de Bellet. Le Var est présent avec notamment le Château Maïm, Cuvée Origine mais on trouve aussi des vins de vignoble Français comme la Bourgogne, avec un Pinot Noir Bio en rouge.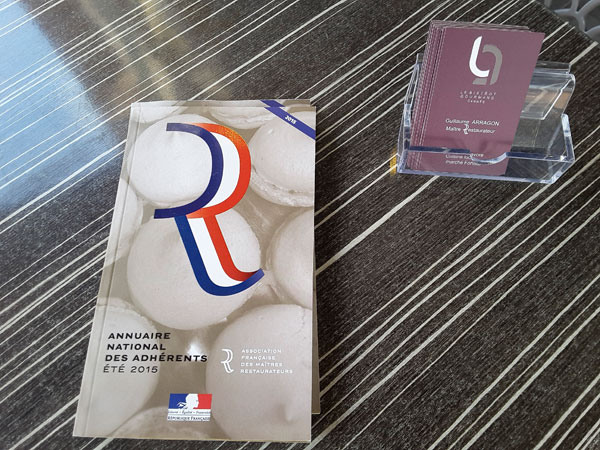 Le Bistrot Gourmand
10, rue du Docteur Gazagnaire
06000 Cannes
Menu Découverte Retour du Marché: (lunchtime except holidays) Starter + Main Course + Dessert = 24 €
Starter + Main Course or Main Course + Dessert = 20 €
To choose on the slate of the day (visible on the Facebook page from 10am)
Gourmet Menu (Starter + Main Cours + Dessert) at 34 €.
Tasting menu: 47 €
Closing: Sunday evening and Monday
Tel: +33 (0)4 93 68 72 02
Le Bistrot Gourmand in Cannes: from Market to Plate in pictures
Click on pictures to enlarge – ©YesICannes.com – All rights reserved
Le Bistrot Gourmand in Cannes: from Market to Plate
was last modified:
February 28th, 2018
by