Le Figuier de Saint Esprit, table of excellence of starred chef Christian Morisset in Antibes, reveals its sublime flavors of terroir in a haven of greenery and old stones.
Leaning against the ramparts of Old Antibes, near the Port Vauban and the Picasso Museum, this beautiful house smells of Provence and its old stones with a picturesque character. Open on one side to the spray of the Mediterranean and the other on a historic alleyway, Le Figuier de Saint Esprit of Michelin-starred chef and Maître Restaurateur Christian Morisset, offers a corner of gastronomic and romantic paradise where, under the fig tree, each dish flourishes as a masterpiece.
Old stones and poetry of the floor
The old wooden beams and the fig tree in the middle of the patio are living witnesses of a place steeped in history, dating back more than 40 years. In a soft and serene atmosphere, the charm of the old stones tutoes the poetry of the colored pebble floor where fish and jellyfish swim, drawn by the former owner, a potter, to remind the gastronomes of the nearby sea. The calm and cozy atmosphere is enhanced by touches of natural wood, sublime modern paintings, fruity wrought iron. The gnarly vines of the vine and the wisteria running along the walls rub shoulders with the fig tree and its arms stretching to the sky.
Escaping the turbulence of life
A platform edged by wrought iron welcomes in intimacy those who want to escape the turbulence of life. In this oasis of serenity, the sunroof opening onto the azure sky allows to enjoy at the same time the caresses of the sun and the iodized scents of the Big Blue. The large porcelain plates delicately placed on the beautifully-dressed tables, the crystal-clear glasses, the 30-year-old glass-paste chandelier and its subdued lights, are bringing notes of pretty chic and elegant romance into an oasis of idyllic calm.
Masterpieces of culinary composition
With his mustache quivering and his eyes sparkling, the starred chef and Maître Restaurateur Christian Morisset welcomes you into his little corner of paradise. His delicate dishes subtly combine the flavors and tones of the Mediterranean terroir, skilfully combining the scents from the soil and the flavors from the sea. Chosen over the seasons, the freshest quality products form a palette of authentic and colorful flavors staged by the talent of this exceptional chef. Each dish is a masterpiece of culinary composition, bringing to the enjoyment of pupils and taste buds with explosions of tastes, just seasonings, perfect cooking, in a sunny harmony of olive oil.
A family in the kitchen
On a gourmet escape, discover the two "haute goûture" specialties, some signature dishes that have made the fame of Le Figuier de Saint Esprit. The Saddle of Lamb cooked in clay from Vallauris, a dish created in 1988 by Christian Morisset for the birth of his first son Jordan and the Cannelloni of Supions with Cuttlefish Ink, imagined at the birth of the cadet Mathias. Real gastronomic nuggets! In the kitchen, Christian Morisset has since inoculated the virus of cuisine to his son, Jordan, a wonder child who has won all the awards of excellence when he was at the Hotel School of Nice and his brother Mathias, who is already excelling in pastry. Presented on its plate of herbs, the Saddle of Lamb is accompanied by its number engraved in clay, to be given to the customer: already 30 450 tasted in 30 years!
Alchemy in symbiosis with all your senses
In the landscape of high gastronomy, surrounded by his two sons, Jordan and Mathias, his second Christophe Griss, the pastry chef Sébastien Mucia and his faithful brigade, the "maestro des fourneaux" Christian Morisset is mastering his art to perfection with only one and unique goal: delight your palate! This talented and passionate chef will make you live intense and unforgettable moments. His dishes will mark your culinary memory and create, with wine&food pairing by the sommelier Nicolas Veilleville, an alchemy in symbiosis with all your senses. Josiane, the Chef's wife, who illuminates the premises, welcomes you with the spontaneity, warmth and kindness of an outstanding "maîtresse de maison". During the meal, the ballet of the kitchen brigade preparing your meal in the high-tech kitchen is displayed on a large screen.
High quality local products
Seasonal products are directly leaping from neighboring markets and the nearby Mediterranean on the plates, such as vegetables and fruits from Forville Market in Cannes, mini vegetables and flowers by Philippe Auda, market gardener in Roquebrune-sur-Argens, seafood from Denis Genovese (fishmonger at the Vieil Antibes market), meat from the Boucherie Agricole in Cannes. The sublime breads and pissaladière, served as a preamble to the meal, are prepared by Jean-Paul Véziano, Master Baker in the Old Antibes (3rd generation baker), who baked the bread for the wedding of Prince Albert of Monaco.
Honor to the beautiful terroirs of Provence
For food and wine pairings, the sommelier Nicolas Vieilleville, Master of Sommelier with 12 years of experience in France and abroad, offers an eclectic list, rich of 450 references, which immediately seduces the most demanding palates. Delicious wines labeled "Vins de Provence" or vineyards from the French Riviera (Bellet, Toasc …), alongside the prestigious Bordeaux wines, wines from the Loire Valley, Burgundy, Sancerres and Roussillon wines, as well as wines from vineyards around the world. The cellar of Le Figuier de Saint Esprit also honors the beautiful terroirs of Provence by offering some confidential labels to enjoy without moderation. It also provides a magnificent collection of Champagnes!
Tasted dishes: (Photos YesICannes.com)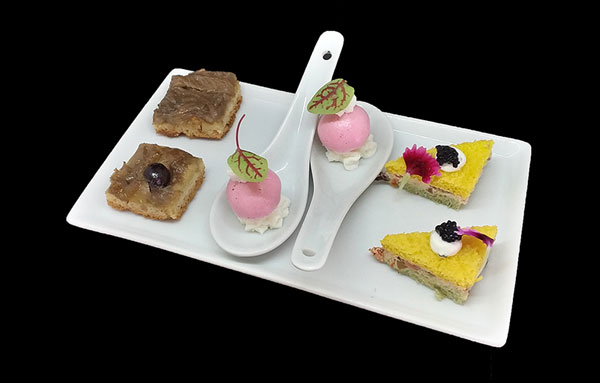 Amuse-bouche: Sandwich Riccota, Black Olives, dried Tomatoes; Mousse of Chèvre Frais with Raifort et its Meringue with Beet; Pissaladière by Jean-Paul Veziano.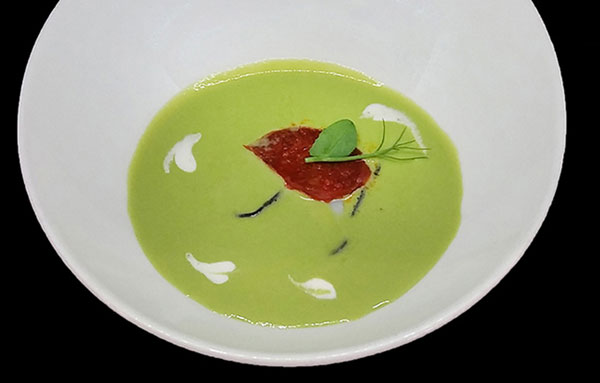 Velouté of country's fresh Peas, Tagliatelle of Squid and Chorizo (45 €).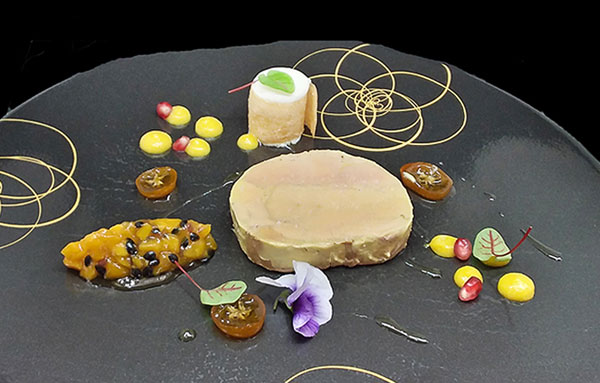 Duck Foie Gras from Landes, Mango Chutney, Red Onion and Passion, Crémeux Kumquat, India Coffee Tuile and Tonka Bean Espuma (45 €).
Steamed "Obsiblue" Shrimps from New Caledonia, Shrimp Tartar Cannelloni with tangy Daikon, Avocado, Piquillos, Red Meat Radish Carpaccio, Haddock Cream (38 €).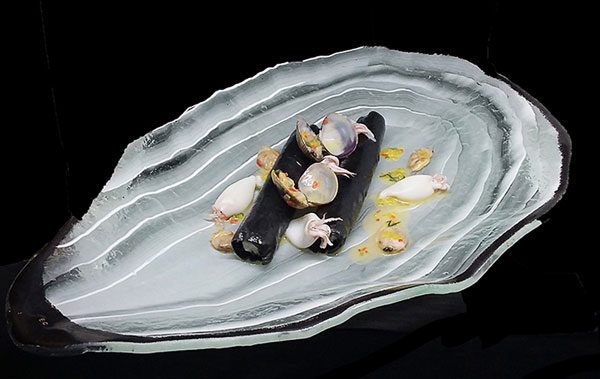 Cannelloni with Small Squids and Clams served with Squid ink, Shell Juice and Basil Leaves (58 €).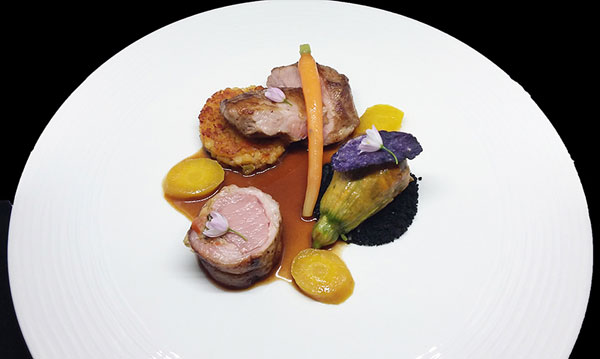 Roasted Fillet and Veal Chest confit and stuffed with Vegetables from the sun, crispy Taragna Polenta, Lemon purée, candied Fennel and tangy Condiments, Veal Jus with Sweet Onions (46 €).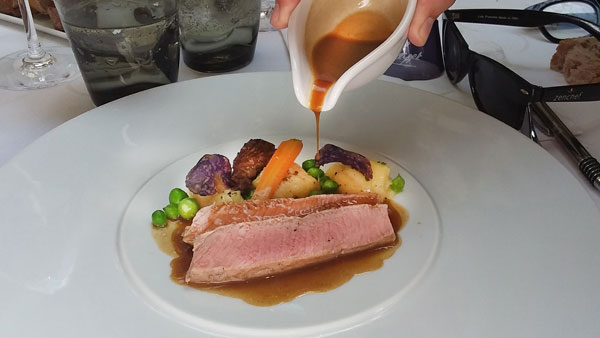 Saddle of Lamb from the Alpilles cooked in Vallauris clay, Gnocchi with "Tuber Melanosporum" Truffles, season Vegetables, Thyme Flower Gravy (75 €).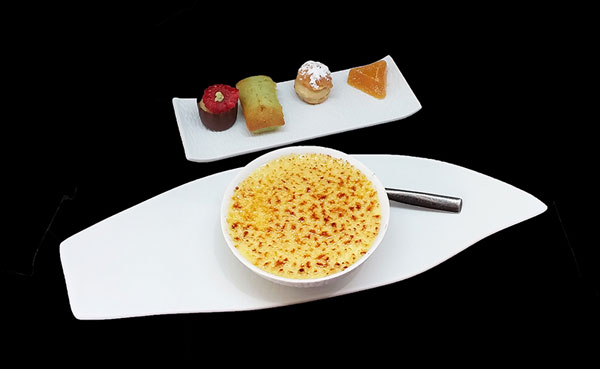 Pré-Dessert: Traditionnal Crème Brûlée scented with Lavender Flowers from our Provence.
Strawberries "Clery" from Carpentras, Creamy Basil, light Mascarpone Cream with Vanilla from Tahiti, Opaline with Espelette Peppers, Strawberry Sorbet and Basil Oil (22 €).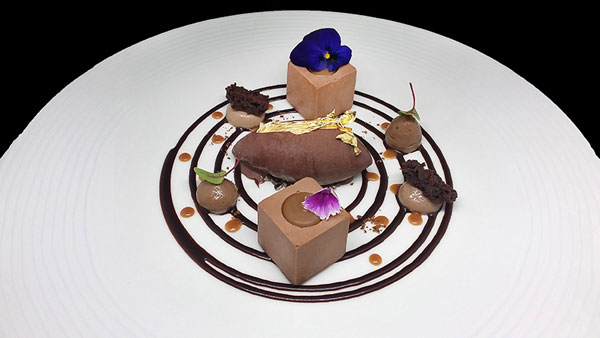 Organic chocolate from Equatoria 78% Cocoa Grand Cru Manufactor "Duplanteur from Grasse" in all its forms (23 €).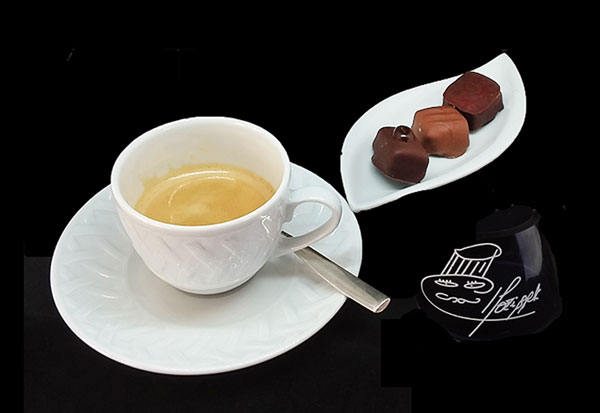 Café and Chocolates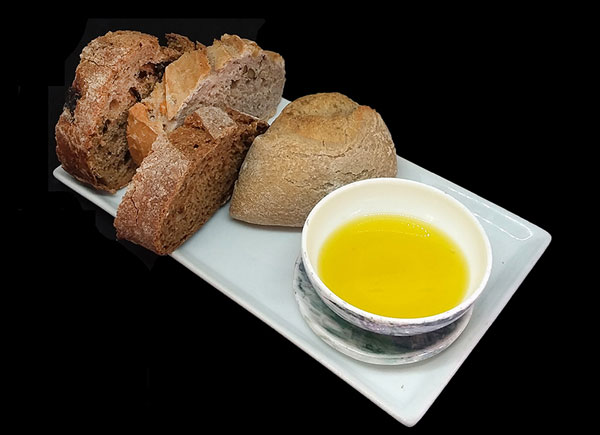 Breads by Jean-Paul Véziano and olive oil from l'Olivade – Domaine Lessatini
A technical, rigorous, light cuisine
Poitevin of origin and antibois of adoption since 25 years, Christian Morisset discovered at a very young age a true passion: that of pastry. At age of five, his favorite playground is his mother's kitchen where he makes pancakes. He then climbed all the steps to become a "pâtissier". In 1977, he continued the experiences: Le Mas d'Artigny in St-Paul de Vence, La Chèvre d'Or t in Eze, La Bonne Auberge in Antibes and perfected his skills with Alain Ducasse and, at Le Moulin de Mougins, with Roger Vergé. From pastry, he naturally went to the cuisine, and, as a chef, he entered the Château d'Esclimont in Eure et Loire in 1985. In 1987, he returned to Antibes, to succeed Alain Ducasse as chef at La Terrasse at Hotel Juana where he will keep two Michelin stars for 30 years.
In 2017, Christian Morisset buys an old convent in the historic district of Antibes and opens Le Figuier de Saint Esprit.
This exceptional chef develops an extremely technical, rigorous, light, fresh and instantaneous cuisine. Adept of short cooking, he respects the product, relying on the essential nature of a taste, a perfume.
Le Figuier de Saint Esprit, starred catering
Under the leadership of his sons Jordan and Mathias, Christian Morisset reveals another facet of his passion by creating a haute cuisine catering service to offer the customer gastronomic and high-end know-how and services. Do you dream of a Michelin-starred chef so that your receptions, weddings, anniversaries, professional events, cocktails, remain an unforgettable moment? Le Figuier de Saint Esprit, the starred caterer, offers takeaway meals to be delivered or at home, tailor-made menus, petits fours, verrines, appetizers… end-of-year menus: foie gras, Christmas logs…, birthday cakes, chocolates and creations…
Menus: Lunch 42 €, Evening 92 €. Carte: about 110 € (excluding drinks). Closed on Tuesdays and Wednesdays. Valet service.
Le Figuier de Saint Esprit
One Michelin star
14, rue Saint-Esprit
or Promenade Amiral de Grasse/ Les Remparts
06600 Antibes
Réservations :
Tél : +33 (0)4 93 34 50 12
www.restaurant-figuier-saint-esprit.com
Starred caterer: restaurant-figuier-saint-esprit.fr/le-traiteur-du-figuier-de-saint-esprit/
Le Figuier de Saint Esprit, Delights and Romanticism in pictures
Click on pictures to enlarge – ©YesICannes.com – All rights reserved
Le Figuier de Saint Esprit, Delights and Romanticism
was last modified:
May 15th, 2019
by