MarediModa 2014, the top european fabric and accessories festival for beachwear and underwear in Cannes Palais des Festivals was very successful.
The 13th edition of MarediModa, held on November 11-13, 2013, closed on increased attendance of 5% compared to last year, confirming the growing success over the years of the most famous BtoB fair for beachwear and lingerie fashion in the world. Fabric or accessories manufacturers were showcasing the finest collections for the sea and lingerie fashion as well as matching accessories lines.
Trends for 2015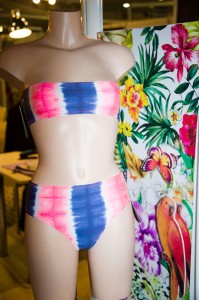 At MarediModa | IntimodiModa, over 100 exhibitors introduced the styles, colors and new creative stimuli for 2015 collections of beachwear and lingerie. The 2015 trends giving us the desire to be as soon as possible back in summer to plunge into the turquoise waters of a distant paradise.
The silhouette highlighted by the perfect swimsuit, adorned with a transparent sarong, twirling in the scented Caribbean wind or playfully seducing in chic and sensual underwear, these are the enticing images MarediModa sought to create.
High quality products
MarediModa displayed the best producers of high-quality fabrics for lingerie or beachwear. The trade show exhibitors are selected on specific criteria of creativity, quality and ethics, each should be at least since two years in the swimsuit industry to participate. The reputation of the Made in Italy is recognized worldwide thanks to its creative imagination and its high quality manufacturing process.
Gorgeous fashion show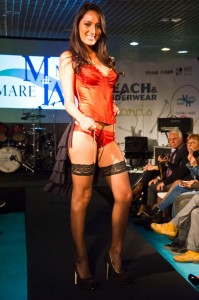 The creativity contest The Link, dedicated to the most talented fashion students from European schools, was Maredimoda's highlight with its much anticipated fashion show attracting a large audience. Pretty models presented the creations of the young international designers in lingerie and beachwear before an audience of experienced professionals and the press.
In the Lingerie category, the winner was Inge Van de Ven from the Arnhem Arts Institut and in the Beachwear category, the winner was Lara Bui Marelli from the new Milan Fine Arts Academy. The two winners will work as an intern and develop thier skills at Parah, the industry reference.
Click on pictures to enlarge – ©YesICannes.com – All rights reserved
MarediModa 2014 Plunges Into Creativity
was last modified:
November 17th, 2014
by