Mercedes-Benz Perfume presented at Cannes TFWA WE 2014 the Mercedes-Benz VIP Club, the first perfume collection by five internationally renowned Master Perfumers.
Five Master Perfumers from Firmenich, one of the world's largest and most prestigious perfume house, brought their talents to Mercedes-Benz Perfume to turn the Mercedes-Benz VIP Club collection of perfumes into a legendary successes. INCC for Mercedes-Benz Perfume presented the Master Perfumers at a prestigious evening at the Majestic Hotel.
Mercedes-Benz VIP Club celebrates perfumery stars
INCC for Mercedes-Benz Perfume decided to create a new kind of exclusive cooperation with five Master Perfumers from Firmenich, each one a genuine star in his or her domain. The result is the creation of an outstanding perfume collection of five fragrances. Five fragrances devoted to those who appreciate luxury and beauty, excellence and rarity, who aim to being exceptional and always choose the very best.
A legendary bottle
The slender silhouette of the Mercedes-Benz Club bottle is pure, clean, aesthetic and boasts an innovative spirit through its declension in glass and color. The glossy, metallic cap echoes the instantly recognizable bottle set in the glass, while the silver signature of the Master Perfumer authenticates the Master Perfumer's composition.
Energetic Aromatic by Annie Buzantian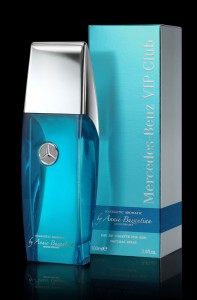 The top of this creation starts off with a pure, refreshing blend of juicy bergamot and grapefruit enhanced with the fizzy fruitiness of blackcurrant. Its heart is sensual, composed of green ivy leaves blended with rare, precious galbanum and refined dry cedar wood. An exclusive masculine base brings out powerful touches with sensual tonka bean surrounded by precious amber and suave, creamy sandal wood.
Annie Buzantian says her "timeless, refined and authentic fragrance" boasts "an energetic freshness."
Pure Woody by Harry Fremont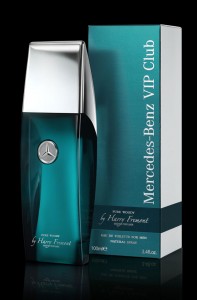 The top of this fragrance offers a refined and original accord of fresh apple, fresh cardamom and the aromatic spiciness of clear ginger. The heart is composed of clary sage enhanced with the sweet, green freshness of violet leaves and geranium. A contemporary masculine drydown liberates a luxurious accord of rare cachalox, surrounded by precious amber.
Harry Fremont defines his perfume as a "concentrated elegance, quintessence of woods, the symbol of genuine classic chic!"
Black Leather by Honorine Blanc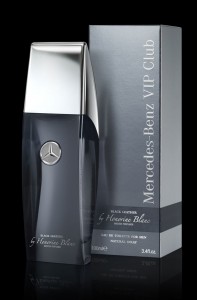 The juiciness of bergamot blended with voluptuous accords of orris gives a very distinctive, lively and suave departure. Surrounded with delightful, woody accents of patchouli, the heart unveils an unexpected encounter of the rare incense with aromatic sage. The base notes are composed of precious resinous labdanum and sensual notes of amber combined with the deep, enveloping character of the leather.
Honorine Blanc says of her fragrance: "It's an exclusive, intensely masculine and modern creation, based on an innovative "Black Leather" accord."
Infinite Spicy by Olivier Cresp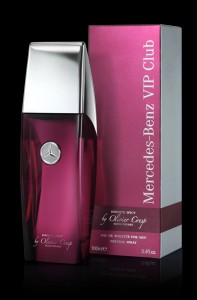 The fragrance starts off with a spicy blend of exotic Sichuan pepper enhanced with star anise and aromatic coriander seeds. The heart is highlighted by the spicy freshness of ginger, cardamom and the elegant subtlety of juniper berries. Sophisticated cashmere woods blended with ambrox compose the base notes with exotic teak wood that gives the perfume its character.
Olivier Cresp defines Infinite Spicy as "a vibrant spicy fragrance, a unique signature that last for hours with the same intensity."
Addictive Oriental by Alberto Morillas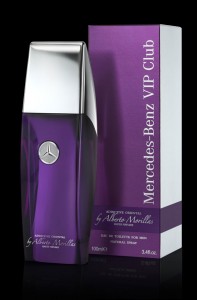 The fragrance starts off with a cascade of refreshing lemon zest blended with green, aromatic mint essence enhanced with the beautiful and refined notes of paradisone. The heart opens with an airy freshness of lavender and clary sage aromatic, blended with the original fi g leaves accord. The base notes are composed of very rich, sensual facets of cashmere woods and creamy sandalwood rounded off by tonka bean.
Alberto Morillas tells his fragrance is "the very essence of sensual perfume, a mesmerizing oriental fragrance that has been revisited with modernity."
Monaco Parfums coming soon
At the end of the party, in his vivacious and cheerful ways, INCC's CEO Rémy Deslandes hinted the arrival next year of the new fragrance line: Monaco Parfums, under official license from the Principality of Monaco. Monaco Parfums will embody heritage, sport, entertainment, nightlife, fashion, luxury and glamour.
Click on pictures to enlarge – © Mercedes-Benz Perfume & YesICannes.com – All rights reserved
Join Mercedes-Benz Perfume VIP Club
was last modified:
June 12th, 2017
by