The pâtissier-chocolatier Pascal Lac celebrated 20 years of Desserts at the Negresco Hotel with a collections of Yule logs to enhance Christmas 2015 tables.
It is in the Royal Hall of the majestic Luxury 5-star Hotel Le Negresco on the Promenade des Anglais in Nice that Valérie and Pascal Lac presented on November 28th their new collections gourmandes for year-end holiday season. Comprising a wide range of sweet treats, the range was staged on the Christmas theme on a huge wooden table in the salon.
A realm of high-end gourmandise
To magnify the childlike magic of the holiday season, the pastries were decorated with pine-tree with "mendiants" (dry fruits eaten at Christma), Santas, gourmands sleighs, or pastoral scenes made out of finely carved chocolate. Among this tasty decor, sat a whole panorama of appetizing works like haute couture dresses: the famous Yule logs of passionate and talented pâtissier-chocolatier Pascal Lac from Nice.
The pastry and chocolate maker takes us on a delightful daydream on this late November afternoon. A dream that made our taste buds travel well beyond the Négresco's Salon Royal, became for a moment too narrow for our desires for sweets and escape with exotic flavours.
Ultimate pleasure to melt with happiness
The show took us to an exceptional journey through the world of luxury, Art and the Art of Living, all under the magic of Christmas, represented in the most diverse scenes and masterfully crafted by Pascal Lac, chocolate and pastry virtuoso.
Treasures of work and creativity, the lines of his unusual Yule logs, their shapely curvaceous, their soft, creamy texture, color ranging from retro orange to brown chocolate to a snowy white like a month of December, their powerful chocolate flavors, excellence, refinement and elegance, kept all their promises.
The chocolate caramel, crispy praline, dark chocolate mousse, milk chocolate ganache, strawberry and raspberry coulis, mandarin ice, gave us a pleasure so intense that it made us melt with happiness.
20 years of passion for chocolatier
Adulated by all gourmets in the region, Pascal Lac is a prominent member of the prestigious association Relais Desserts International. He is now considered one of the best pastry chefs and chocolatiers in France, always in search for new flavors. Pascal Lac is unique in his ability to stage the taste. He likes to create, produce and convey his passion. A true merchant of happiness, each of his creations is an invitation to travel. This couturier gourmand magnifies the art of chocolate by using the best raw cocoa and sublimates their texture and fragrance in an inimitable way.
The haute couture logs
Pascal Lac's logs come in different flavors like the Manon log: Biscuit with almonds, crunchy Pine Nuts, Vanilla mousse and Mandarin heart; the Chestnuts log: Chestnuts cream, Chestnut pieces, Chantilly with Chestnuts and soft Almond Biscuit.
Miss Tatin: soft Almond Biscuit, Cinnamon Croustillant, Milk Chocolate mousse and sauteed Apples, Tatin Caramel.
The Desire log: Milk Chocolate Ganache, creamy Milk Chocolate praline, Croustillant with Hazelnut pieces, Hazelnut-Almond Biscuit.
The Noah log: crispy Biscuit coated with Gianduja, Milk Chocolate mousse and creamy heart of dark Chocolate from Peru.
The Pearl log: Vanilla Mousse, Strawberry and Raspberry Coulis, Biscuit Cuillèr and Biscuit Madeleine.
The Craquelin: Chocolate Mousse, Crispy Praline and Chocolate Biscuit.
The Hazel Ice log: crunchy Hazelnut Biscuit, Dark Peru Chocolate Ice, Hazelnut Praline mousse with pieces of caramelized Hazelnuts.
The Mandarine Ice log: Almond Biscuit, Tangerine Sorbet, heart of Vanilla Ice Cream.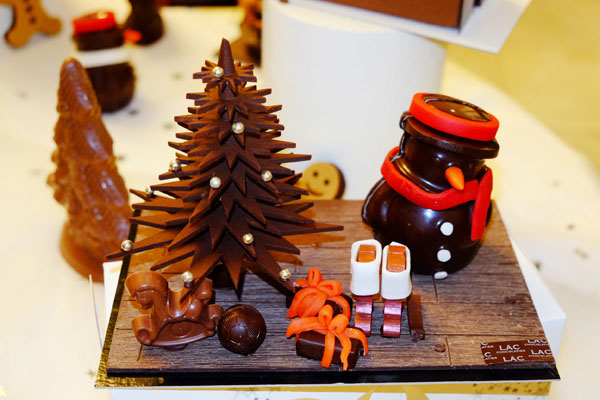 A passion born in childhood
Pascal Lac was born in Lyon on September 1967. At the age of eight, he discovered for the first time the world of chocolate artisans through an uncle, a professional pastry baker. Since then, Pascal Lac had the dream of becoming a big name in pastry and chocolate.
After studying pastry-chocolatier at the Rabelais hotel school in Dardilly, he then continued his career in Switzerland, becoming a pastry chef at Hotel Alpenrose in Schönried.
He now owns several Pascal Lac shops and ranks among the 100 best chocolatiers in France.
Contest of Nice Best Macaroon
Pascal Lac had organized the Best Macaron Contest in Nice, open to all amateur bakers. Candidates must achieve and present to a panel of 10 pastry chefs 10 macaroons of the same taste, the scent of their choice. Macaroons are scored according to three main criteria: the taste and texture, visual appearance and consistency of achievement.
The award-gving ceremony took place during the anniversary event.
Click on pictures to enlarge – ©YesICannes.com – All rights reserved
Pascal Lac Celebrates 20 Years of Desserts at Negresco
was last modified:
November 30th, 2015
by