The Wolford luxury lingerie fashion show that took place on March 30 at Cannes Shopping Festival 2013 was both sexy with lace-up baroque-style satin bustier, full of charm with its soft bodys made of soft fabric, beautiful with fishnet pantyhoses or decorated with lace, all perfectly matching body lines. Youthful also with its skirts, lingerie, and casual dresses full of retro-style colors.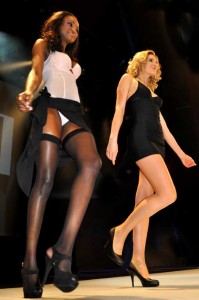 Wolford is headquartered in Bregenz on Lake Constance in Austria. The brand operates 15 subsidiaries and markets its own products in the Hosiery, Legwear, Ready-to-wear, Lingerie, Shapewear, Swimwear and Accessories segments in 68 countries via more than 260 monobrand boutiques, 3,000 trading partners and online shop. A casual yet still well-dressed look defines Wolford Summer Collection. Fashionably flared miniskirts worn on top of pencil skirts create this season's silhouette. Playing with sheer and net fabrics allows sexy glimpses of bare skin. Bodies and dresses are also canvasses for graphic-inspired patterns and trompe l'œil paint splash effects; colourful accents are provided by fashionable black & white, hot red, various shades of blue and a sunny yellow. This theme again incorporates striking legcessories for eye-catching legs.
The extensive Spring/Summer 2013 legwear collection features a wide range of striking patterns, summery ajour and luxurious legging reinterpretations with small appliqué bows, silver sequins, fringed bottoms or glittery elements. The season's underwear is trendy yet also figure-flattering and cleverly combines a touch of retro with boudoir charm: balconette bras and panties that come up almost to the waist, thus discreetly shaping the figure although they simply couldn't be sexier! These two lingerie ranges naturally include basic items such as push-up bras, high-waist panties, dresses and bodies. The appeal of the two other ranges lies in the summery, airy qualities and romantically pale colours, interpreted in charming floral or filigree diamond and dot patterns.
The main collection's cheetah patterns, as presented at Cannes Shopping Festival, playing with sheer fabric, and glittery style elements, are also reflected in the seasonal swimwear collection. Through the clever use of shape and control fabrics in all the right places, the concept is also continued on the beach. Striking pool-side and swimwear highlight is a plain-coloured bandeau swimbody with glittering metal sequins on the front. This spring/summer's accessories collection is dominated by creative legcessories. These versatile accessories in elegantly tied leather, strikingly cut fabric or decorative tulle can be worn in many different ways, effortlessly complementing any outfit. High-quality leather belts in various designs define the accessories collection: wide waist belts for a 'couture' silhouette or narrow versions with glittery elements. The collection is completed by an elegant scarf and a feminine headband.
Wolford 17, La Croisette – Cannes
Click on pictures to enlarge
Wolford Summer Collection Glitters Under Cannes Shopping Festival Sunlights
was last modified:
July 20th, 2013
by