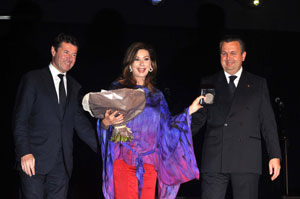 On February 1st, at the Palais de la Méditerranée in Nice, the italian evening organized by the France Italy Friendship Association (AFI) took place in the presence of Mr Christian Estrosi, Deputy Mayor of Nice and President of Nice Côte d'Azur Metropolis, surrounded by numerous French and Italian personnalities, including the Italian Consul Luciano Barillero.
The evening celebrated the birth on last December 12 of the France Italy Friendship Association, allowing to bring together the Italian community in our region, since 8,000 italians are living in Nice, 7,000 in Monaco, (out of a total of 380,000 on the French territory), along with the French-born Italians who are about four million and the people recognizing themselves in this friendship. The association aims to promote cultural, sports and economic exchanges and relations between our two countries and cultural experiences including cross-border cultural exchanges between associative structures.
The AFI head office is installed on the territory of the Nice Côte d'Azur Metropolis, in the heart of the Mediterranean, and its members wishes for 2013 to organize events on the occasion of the bicentenary of Giuseppe Verdi as well as an Italian Film Festival in Nice.
The evening was peppered with musical entertainment with theatrical singer Iva Zanicchi, and a raffle with gifts for the happy winners. Then, in the second part, the famous Latin Lover Albano set the ladies' heart on fire and delighted the public by interpreting his greatest hits, concluding this cheerful and friendly evening as Italians know so well to do it.
Click on pictures to enlarge
Please share with your friends - Sharing is caring
Tweet
France Italy Friendship Association Celebrates First Anniversary
was last modified:
July 13th, 2013
by