On February 15, 2013, the Mayor of Villeneuve-Loubet, Mr. Richard Camou and Mrs. Thérèse Dartois, Deputy to Culture, had the press discover the new and majestic Pôle Culturel Auguste Escoffier (Auguste Escoffier Cultural Centre), dressed in exotic wood, bearing the huge words "Spectacle and Médiathèque" on the frontispiece. This achievement, mid-community (the CASA is the contracting authority for the library part) mid-communal represents a total investment of € 8.5 M.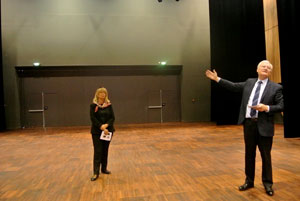 The designers of this key equipment in Villeneuve-Loubet favored the use of wood, omnipresent noble and ecological material: floor, walls and acoustic panels in the theater and ceiling and interior wall decoration in the hall and the library. Natural light also plays an important role, led by an atrium. The visit began with the future Mediathèque accessible to residents of the CASA (Urban Community of Sophia-Antipolis), the space for cooking classes with 6 adjustable cooking stands, adjoining a room where participants can follow the development recipes on screens.
The Mayor presented the beautiful brand-new auditorium, fully equipped with cutting-edge technology, also covered with good-smelling wood, whose bleachers are filled with red armchairs. This theater has a capacity of 450 seats, and bleachers are retractable, enabling to leave room for a space that can be resituated with each act, and the 170 sqm stage has an opening at the back to the outside for open-air shows.
Mr. Richard Camou and Mrs. Thérèse Dartois commented the launch program of the Auguste Escoffier Cultural Centre, taking place throughout the month of March. Richard Camou said: "The inauguration will take place over a month to share it with the greatest number of people." This exceptional month of March offer viewers a very attractive program with the best theater companies in the region, traditional concerts with world music, and new horizons around the classical music and choral singing, cinema every Wednesday with three sessions and films for all audiences. Performances by dance schools…. entertainment for young audiences, but also an outstanding "Ladies Cabaret" dinner show at 25 € ! and other surprises. March promises to be electric! There will be something for everyone.
But people will however have to wait a few more weeks to take advantage of this new cultural facility in all its dimension with the opening of the community library in May. Actually, few spaces for public welcome and installation of various collections, including the largest – dedicated to gastronomy and arts of the table – remains to be completed. Gastronomy is the flagship of the establishment, which, with its kitchen space, can accommodate cooking classes for children and adults, amateurs or professionals, demonstrations by chefs, gourmandes signing sessions in partnership with the Escoffier Foundation. At Villeneuve Loubet, Culture is also delicious… at the table!
Click on pictures to enlarge
Auguste Escoffier Cultural Centre in Villeneuve Loubet
was last modified:
July 21st, 2013
by