Vallauris, capital of ceramics, presents "Café, thé, chocolat", a gorgeous exhibition at the Museum Magnelli mixing ancient and contemporary coffee and tea pots in raku.
On the ground floor of this former priory that had previously belonged to the Lerins monks, now converted into Musée Magnelli – Musée de la Céramique, the city of Vallauris offers its exceptional collection of coffee and tea pots dating from yesterday and today, as well as works of artists from Vallauris.
Daily aromas
From the most ancient times down to a much more modern era, the exhibition presents the raku pots created by ceramic artists Sandrine and Benoit Coignard, on the theme of coffee, tea and chocolate.
Other great Vallauriens artists, also inspired by those flavors that punctuate our daily routine, are exhibiting their works: Régine Deneux, Dale Dorosh, Marcel Giraud, Arsenio Invernizzi, Stéphane Margolis, Kyriaki Moustaki, Martial Quéré, Esti Reich, Justine Ribeira, Zani.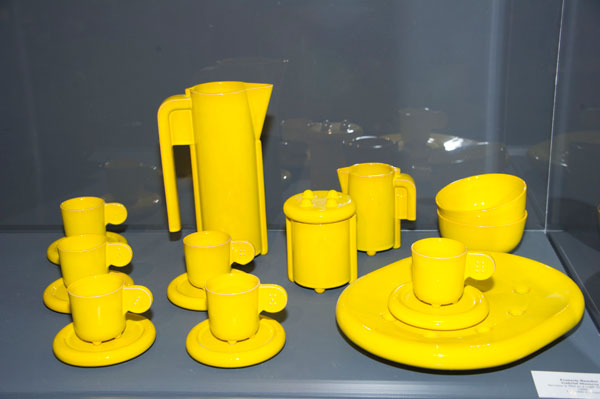 Carried away by a scent
This somptuous exhibition on the theme of the three nectars will undoubtedly attract and make dream a lot of visitors. Who has not seen his romantic spirit escape to the fragrance of coffee or tea from distant country such as the East and its lost paradises, or South America with its scents of spices and colors?
What if you ventured to the Middle East where the fragrant sweetness of coffee with aromas of cardamom, nutmeg, cinnamon, ginger, black pepper and fennel, would flow from a bazaar stall in a market of Zanzibar?
An ancestral cooking process
The Raku is a quick cooking process and enameling technique developed in Japan in the 16th century. As the pieces must withstand drastic temperature changes, the artists are using a sandstone grog. The contemporary Raku is an adaptation of these traditional methods.
Gourmet animations
Humor, creativity and gourmandise are waiting for you at this magnificent exhibition dedicated to the evocation of the P'tit Crème, the Five O'clock Tea and Hot Chocolate from our childhood.
During the exhibition, many gourmet activities in partnership with the Confiserie Florian from Pont-du-Loup will delight the children, young and old.
Café, Thé, Chocolat
Musée Magnelli – Musée de la Céramique
Place de la Liberation – Vallauris
From December 13, 2014 to May 18, 2015
Infos and agenda of the animations on:
www.vallauris-golfe-juan.fr/Cafe-The-Chocolat.html
Click on pictures to enlarge – ©YesICannes.com – All rights reserved
Have Café, Thé, Chocolat In Vallauris
was last modified:
December 17th, 2014
by