Will Smith, actor, producer and musician, was speaking at Cannes Lions to Jackie Cooper, Edelman's Global Chair, Creative Strategy, in an exclusive The Pursuit of Impact session.
Will Smith's career went from music to television and to Hollywood blockbusters. Before starring in I, Robot, Independence Day, and Men in Black I ,II & III, he sold millions of records worldwide, played in Fresh Prince of Bel Air. This summer, he will appear in the highly anticipated DC Comic's Suicide Squad.  He's been honored by two Academy Award nomination and a Grammy Award.
He was in conversation on the stage of the Lumiere Theatre at Cannes Lions with Jackie Cooper, Edelman's Global Chair, Creative Strategy, about the global minded approach of his career.
How would grandma feel about this?
The session began with a short film showing extracts of Will Smith's many-facet talent before the artists hit the stage, shouting his joy of meeting Cannes Lions delegates. The actor then talked about the beginning of his career and his true inspiration: his grandma! He recounted how the lady returned his book of raps he wrote at the age of 12 with a note telling: "Dear Will, intelligent people don't use these words. Show you're a smart guy"! That made him realize that "the thing you create have an effect on the people who interact with your art…" At every creation, he then thought: "How would grandma feel about this?"
Universal story and relatable emotions
Will Smith told that the creation "starts with the seed of the idea, a universally relatable core. I connect with the power of storytelling: people will know if your product is keeping its promises, he added, you need to be authentic".
Referring to 1999's Wild Wild West, he said: "Smoke and mirrors in marketing and sales is over." He mentioned the use of smartphones to spread word-of-mouth in 10 mn, whether the product is good or not. "Hollywood tells:"We have to make good films!" he joked.
According to the star, the power has gone away from the marketers. He added: "Creating isn't about me: if people don't want it, no matter how good it is, you can't sell it. People purchase because of a connection with values", making a difference "between a target and a goal". He thus advocates a "shift from product to people" and wonders "How does this improve lives" in his creative approaches.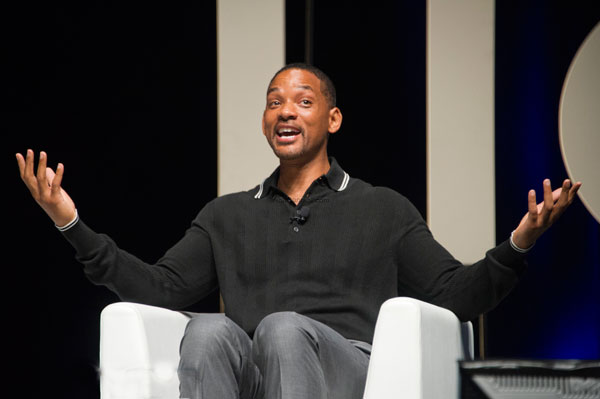 I consider myself as a marketer
The actor said he spent his life marketing himself globally: "I wanted to win and be the biggest movie star, and I found myself promoting something because I wanted to win versus promoting something because I believed in it". After his grandma, Will Smith mentioned many times his children Jaden and Willow, whose own careers were growing up: Jaden in the remake of the Karate Kid and Willow with her hit song Whip my Hair in 2011. During the "year of the mutiny", he joked, "my family decided they were no longer going to function under my tyranny". The 10-year-old Willow taught him a lesson when she left a tour with Justin Bieber because she was no longer enjoying performing: "I'm done", she said. "Selling, marketing, and creating cannot be about me, and my parenting is connecting to the way I make movies and the way I interact with people," Will Smith explained.
Create things we want people to tell about
In addition to his artistic achievements, Will Smith evoked his commitment with sustainability. Jaden's concern about the environment and an island of plastic pollution in the Pacific Ocean led Will Smith to becoming involved in Just Water. He then told that Muhammad Ali inspired him to focus on philanthropic activities: "He was unwilling to compromise for money. He was living his values rich or poor," he said. Adding that after years of Hollywood success, he was more concerned about being a movie star than living true to his values: "If your purpose is less than noble, it will show. On a day to day basis, we have to create things we want people to tell about", he said, ending on: "Improving lives is how I want to move forward."
Will Smith's charming personality shines through a great speaker, mixing humor traits and profound thoughts and insights on creativity: "The power in in the end of the audience. The digital revolution showed the audiences role."
Cannes Lions is bringing Hollywood heavyweights such as Harvey Weinstein, Gwyneth Paltrow and the all-star cast of Star Trek Beyond to Cannes.
Click on pictures to enlarge – ©YesICannes.com – All rights reserved
Cannes Lions: Will Smith's Universally Relatable Core
was last modified:
June 21st, 2016
by