Gwyneth Paltrow, oscar-winning actress and successful business woman, underwent the BBC HARDTalk treatment by Stephen Sackur at Cannes Lions.
Gwyneth Paltrow spoke to BBC star journalist Stephen Sackur, hosting the BBC HARDtalk recorded on the stage the Debussy Theatre in front of a live audience at Cannes Lions 2016. Ms Paltrow evoked the challenges of running both her weekly lifestyle publication Goop and her parenting, and living in the public eye and protect her family.
A  multi-talented artist
The oscar-winning actress,who first gained attention in her role in the thriller Seven by David Fincher in 1995, was honored with a Best Actress award at the Golden Globes and honors at the Screen Actors Guild Awards and Academy Awards for her role in Shakespeare in Love. She is also a singer: the album featuring her song Coming Home went gold. And she is a cookbook author, crowned with two New York Times Best Selling cookbooks (My Father's Daughter and It's All Good). In 2008, Paltrow launched Goop, a brand and a lifestyle website focusing on health, wellness, and clean eating, offering an insider's perspective on the very best places to eat, shop, and stay in the world's most compelling destinations.
A project of film for next year
Gwyneth Paltrow appeared on the stage dressed, smiling in a plain pink dress, wearing gold bracelets. Stephen Sackur started the interview by asking her if she rather felt like an actress of a business woman. She explained that she opened a new chapter in her life: "I built my success as an actor. I had a wonderful carrier, but now I'm focusing on my business and rising my children" – she has two: Apple, 13, and Moses, 11. She added: "I coudn't possibly make a film right now!' During the off-camera question and answer session, she admitted she had a movie plan for next year, but hush! she would'nt give a clue about it.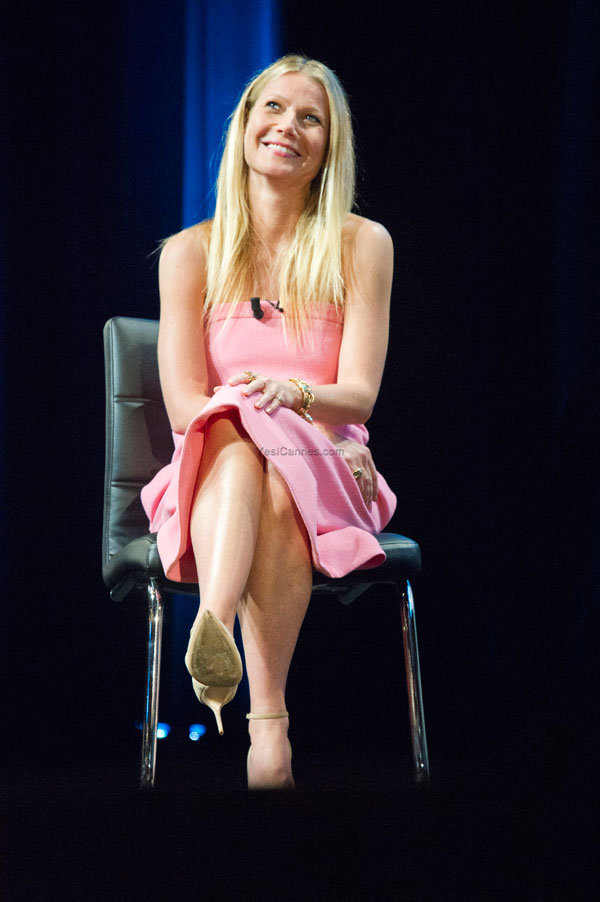 What about a female president?
Stephen Sackur asked her about her feeling about the "Hollywood disfunction" resulting in a lack of female stories and directors. To tackle the prevailing machoism, the actress used the image of a tanker whose wheel is hard to turn: "But we are on the right track", she declared. Later on, in the same line of thoughts, as Mr Sackur evoked the upcoming presidential election in the States, the audience learned she was a declared democrat and she was applauded. The question was: as an influential actress and business woman, is she for a female president? She said: "It's about ime! Countries with a female leader are doing well."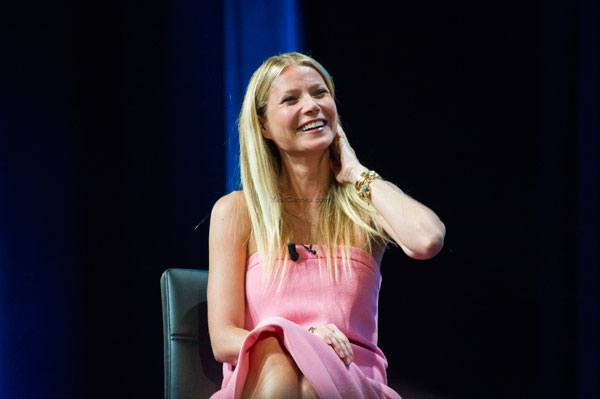 Goop, a lifestyle publication
Paltrow launched in 2008 as a weekly online newsletter; her curiosity for the Internet led her to publish content to speak to a community. If at the time, teh questions could be about "how to roast a chicken", the publication, growing a large group of followers, has since grown to an LA-based company with some 50 employees (mostly women), focusing on family, good food and non toxic values.
Goop offer a large scale of consumer goods, at all kind of prices. Gwyneth Paltrow joked about an affiliate link through which one could by a 15 000 € gold dildos! Although attentive to the quality of non-allergenic product, the actress told she also liked sometimes some different food: "French fries are my life!" Asked about the future growth of Goop, she told that she believed in contextual commerce: "People need a context, they need a point of view…" She interact with the e-commerce site's public by opening pop-up stores and thinks of a magazine.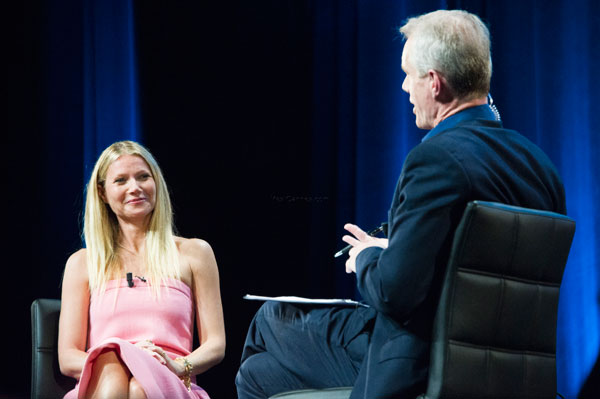 A close bond with ex-husband
Asked why she mentioned in March 2014 her parting with husband Chris Martin on Goop, Gwyneth evoked her close bond with ex-husband, even if they are non longer a couple. Putting this part of her intimate life on the website Goop was an attempt to control the damage of divorce, shield her children and keep love in a relationship even if there's no longer romance. "My children know that we're in a loving family," she said. "I had to strike the right balance between opening my life and protect my family". She later admitted that parenting is where she made the most compromises.
Along the interview, Gwyneth Paltrow delivered an insightful message, resuming her life philosophy: "If you listen to your instinct and stay in line with yourself, you'll reach where you want to go!"
The interview will be broadcast on BBC World News the following week.
Click on pictures to enlarge – ©YesICannes.com – All rights reserved
Cannes Lions: Gwyneth Paltrow at BBC HARDTalk
was last modified:
June 22nd, 2016
by