Iggy Pop, guest of the Grey 10th Annual Music Seminar: Do Not Go Gentle, brought a breath of punk rock to Cannes Lions, in discussion with Nils Leonard, Grey London's chairman.
Iggy Pop was on the stage of Grey Group's music seminar at Cannes Lions 2016. "Stages come higher and higher and I become older and older": does this statement applies to legendary rocker Iggy Pop, a force of nature onstage? The godfather of the Punk music put on quite a show sharing with humor his experiences, feels and fears in discussion on 22 June with Nils Leonard, Grey London's chairman and Chief Creative Officer.
True to his legend, 69-year-old Iggy showed his wild side and ended up stripped down to his waist!
Gimme Danger and the stage living legend
The "iguana" is back in Cannes a few weeks after having walked the prestigious Red Carpet of the Festival de Cannes for Gimme Danger, a documentary presented by his friend Jim Jarmusch on The Stooges, "the greatest rock band in history", after the american director. Rock star Iggy Pop has built a successful career with his late-60s/ early-70s band The Stooges and inspired both 70s punk and 90s grunge musicians. In 2010, Iggy and the Stooges were inducted into the Rock and Roll Hall of Fame.
Iggy's solo albums, the first two co-written by the late David Bowie, cemented his status as a true innovator. In 2016, Iggy makes a solo return with his new album Post Pop Depression, a collaborative album with Josh Homme, leader of Queens of the Stone Age, that reache No. 1 on a Billboard chart.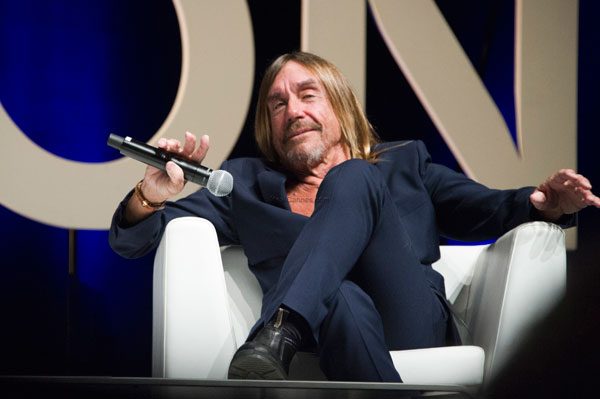 People hate advertising
After discussing the era of electronic devices that give "unnatural selection but many more possibilities", Iggy Pop discussed his relationships with advertisement. Over time, his music appeared in many commercials – the most controversial being the use of Lust For Life, a song about shooting up junk to praise Royal Caribbean maritime comfort. The rocker recalled his first experience: "I heard this voice, and it was a f… Stooges song (Real Cool Time). It was me! I was so thrilled. I felt like I was somebody!" He added, laughing: "It only took me 30 years to realize I never thought about getting paid for that."
Iggy said that people hate advertising: "I skip ads, except if there are nice girls and cars!" The singer gave insightful advices to creative people: "When I was at college, the kids would try to see how many people could fit into a VW Beetle. That's fun and is worth more than all the campaigns to make people forget about the lies on emissions."
Ad guys are like Voodoo priests
After suggesting a VW Beetle with a sign outside reading "naughty" and a women in leather whipping it, "that would elicit sympathy for the VW", he went on opining about ads. The rocker said: "In my work, I have a god. The public is my God! But they don't want supplicants. And advertising guys are like Voodoo priests in between the audience and the God. They promise clients to make it rain and when it does, they try to convince them they did it!"
"Everybody lies. Each of us is alone against everyone. Each of us can easily be outnumbered which can lead to timidity. So people lie, cover the truth about themselves. He cited Courtney Love: "I always lie, but never in my lyrics."
Iggy Pop mentioned the marketing people at music labels: "They had two faces, three mouths and ten sets of ethics!"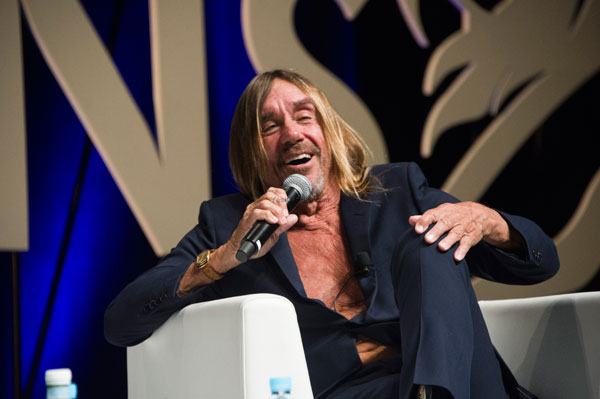 I would rather buy a funeral yacht
Nils Leonard evoked the death of his longtime friend David Bowie and asked "Do you feel old?" Iggy said: "I think for most, becoming old means giving up, giving ground. In my case, I fell pretty good. I can still do music. As I'm a kind of loony, the less I can do, the better off I am!"
Later, he added: "I don't want anyone to get inside me with a knife. When the times come, I would rather buy a funeral yacht, sail off to Cannes and party myself to death rather than having an operation".
On the stage of Cannes Lions, at Grey Musical Seminar, the great Iggy was amazing, very funny, insightful and witty, proving he is still jumping off and his rebellious spirit still alive despite of age. At the end of the discussion, he told Nils: "We'd better tear our jacket off, or people will be pissed!" And both ended up naked to their waist.
Click on pictures to enlarge – ©YesICannes.com – All rights reserved
Cannes Lions: Iggy Pop Talks to Voodoo Priests
was last modified:
June 23rd, 2016
by