Harvey Weinstein was Publicis Groupe's CEO Maurice Levy's guest to the seminar Beyond the Big Screen: The Future of Storytelling in Hollywood at Cannes Lions 2016.
Harvey Weinstein, Co-Chairman, The Weinstein Company and Co-Founder, Miramax, shared his anticipation in the future of Hollywood storytelling and entertainment on a discussion with Publicis Group's CEO Maurice Levy. On Friday 24 June in the Lumiere Theatre, the two leaders, both witnesses and players in a rapidly evolving industry, evoked the future of film consuming on mobile, television, the use of brands in films, and the gamble you have to take for the future.
A seminar with the Hoolywood touch, in continuation of Gwineth Paltrow and Will Smith talks at Cannes Lions.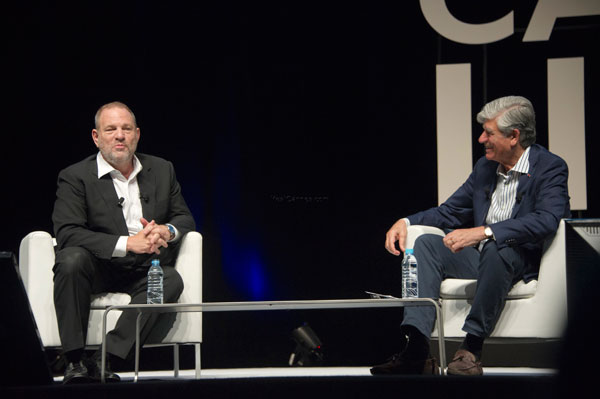 We have won 7 Palm D'or
Harvey Weinstein and his brother Bob founded Miramax Films in 1979, naming the company after their parents first names, Miriam and Max. In 2005, the two brothers launched The Weinstein Company, a multi-media company. The two companies have released such acclaimed films as Shakespeare in Love, Inglorious Bastards, Carol, The Incubator, The King's Speech and The Artist… TWC is greatly involved in TV scripted series like War and Peace and Marco Polo, a series Harvey Weinstein mentioned many times.
Upon the beginning of the conversation, as Maurice Levy humorously asked: "This is the first time you are in this room?" Harvey Weinstein answered: "This is a very special room. In the past 20 years, we have won 7 Palm D'or in this room."
Over sixteen years, both companies have garnered sixteen Best Picture nominations, received 351 Oscar nominations and won 82 Academy Awards.
Entertainment "beyond the big screen"
Harvey Weinstein & Maurice Levy discussed the future of entertainment "beyond the big screen". "On a plane, I saw someone watching Pulp Fiction on a smartphone and I thought: Why did I bother?" Predicting an unstoppable mobile movie watching, he seems to believe the Big Screen is over… Nevertheless: "With so much going on, you are either going to be great or you are not going to last. But if you do good things, the word gets out."
Later, in reference to some Netflix series using Big Data, that analyses the viewers feelings. maurice Levy asked Weinstein if they used Big Data for Marco Polo. "We used our guts, which is big enough!"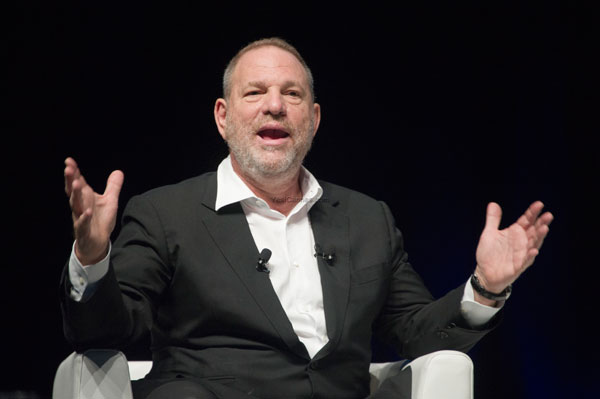 Google and Apple as key content player
"Google and Apple are not far behind Netflix and Hulu. This is the future: I believe Google and Apple will emerge as global content player in the next second. They have the pipes…" Netflix, Amazon, Google and Apple are going to be key content producers for films.
Weinstein said: "The model is going through deed deep changes." But, wether the future Oscars will display on smartphones of big screen, one thing remains: subject matters. "Epic size and scope will be everything. Movies have to be fantastic to work in theatres. The movie has to captivate!"
Weinstein said that the feature films would stand over time, but that content will be specially created for each screen. Asked by Mr Levy: "How can you convince Tarentino or Scorcese to make ten minutes movies", Harvey Weinstein snapped: "You can't!"
Intersection of brands and entertainment
Harvey Weinstein isn't again product placement, "but it cant be overdone: "Pepsi 27 times in a movie is too much. If a product placement appears more than three times in a movie, that's too much. But if Bradley Cooper orders a Grey Goose, it's not bad for the film". He added that Audi does a great job for the industry, as well as Samsung: "Samsung has done amazing things with the movie industry: they are generous… I love when a brand endears itself to the community, generous, smart and outward-facing is important. People become affectionate with the brands. For Weinstein, as Nespresso ads are written for Clooney, "it's great and funny! That's using the star properly!"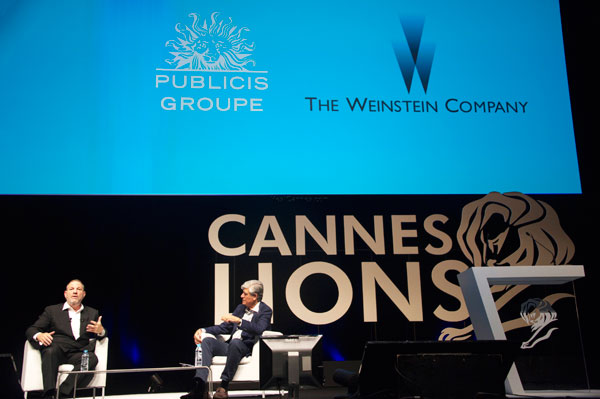 Critics can't kill you on TV
TV represents 60% of our business and it's moving to more. The future of TV? According to Weinstein: "The TV will be event oriented and series will be bigger and bigger. What I like about TV, is that the critics can't kill you on TV. If people watch one, they will watch two or three. Netflix is paramount in that."
Netflix and Amazon have improved television immensely, they are innovative and break the mould. They have the courage to produce content for small audiences, like a film on transgender. I can't see CBS do that…"
In the end of the seminar, Maurice Levy asked which rules he could give the audience. Harvey Weinstein said: "Never get late to a movie screening. I made a big mistake: I was ten minutes late to the screening of Nikita. I didn't understand the drug addict part in the beginning and didn' t buy the film. And it was a big success."
www.canneslions.com
Click on pictures to enlarge – ©YesICannes.com – All rights reserved
Harvey Weinstein Predicts Content For Each Screen
was last modified:
June 24th, 2016
by