From July 16 to August 15, Chateau Rasque vineyard exhibits intense moments of life photographed by eclectic and passionate artist Francois Millo.
As part of Art & Vin, the event that, each summer, turns wine Domaines and Châteaux in the Var region into artists galleries, Chateau Rasque presents a photo exhibition by François Millo, a passionate photographer and a hunter of instants. The photos offers another way to discover the incomparable natural beauty of Provence and a vineyard transformed by an artistic approach.
Capture the moment
When introducing his photo work, François Millo said: "Beyond the technical capability of nowadays sophisticated cameras, I want to find the impulse and spontaneity of the moment. I mainly use my camera tuned on automatic mode, favoring to be there at the right time, with the right light, to catch hold of one moment of time."
François Millo's photos capture moments of life, with natural light and without artifice, giving photos full of expression and freshness, like the picture of Amalia, a young girl caught by an unexpected storm, or pictures of hands at work, steeped in history of life.
Artistic vocation
Born in 1950, in Brignoles in the heart of Provence, Francois Millo is an agronomic engineer who worked in Ivory Coast and Mexico, before working in Provence and Corsica. At 35, he took over the position of Managing Director of the producers union of "Bordeaux regional appellation" wines and then, returned to Provence as General Manager of the CIVP (Comité Interprofessionel des Vins de Provence).
Now retired, Francois Millo, author of several books on Provence wines and culinary Art de Vivre, dedicates himself to his artistic vocation. He just released a collection of short stories inspired by the Rosé wine: "Camille, petites histoires autour d'un verre de rosé", a culinary book : Provence Food and Wines, the Art of Living and an iBook: Nice Cuisine and the Art of Living.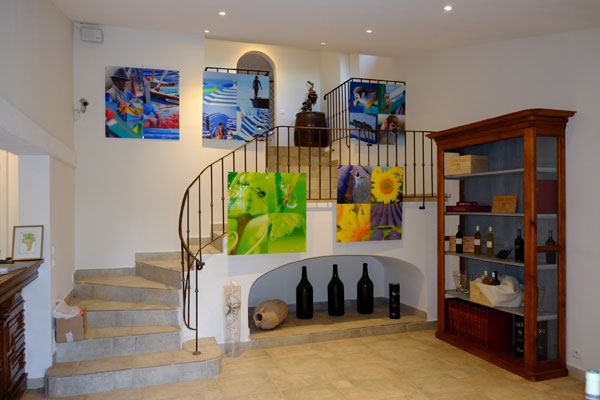 About Chateau Rasque
Chateau Rasque vineyard is located in Taradeau, on the road from Les Arcs to Lorgues. Covering an area of 100 hectares in a preserved nature, the vineyard produces Red, White and Rosé wines of great elegance, both powerful and well balanced. Le Chateau Rasque has the distinction of having innovated in presenting its wines in a "frosted" Bordelaise bottle, which gives a "fresh" appearance to the bottles, especially for Rosés and Whites.
Francois Millo
From July 16 to August 15, 2015
Chateau Rasque Vinothèque
2897, route de Flayosc
83460 Treadeau
Tel. 33 (0)4 94 99 52 20
Click on pictures to enlarge – ©YesICannes.com – All rights reserved
Chateau Rasque Presents Francois Millo
was last modified:
July 23rd, 2015
by