On Friday, March 20, 2015, the Chateau Vaudois presented its delicious 2014 vintages and launched its artistic season with the exhibition Les Peintres et la Lithographie.
At a reception at the Chateau Vaudois, many guests could visit the wineries, taste the 2014 White, Rosé and Red vintages and attend a rare live art performance of lithograph printing with an antique hand press. The opening of the exhibition "Les Peintres et la Lithographie" (Painters and Lithography) of five renowned artists was accompanied by beautiful Provencal culinary discoveries and an outstanding Sushi buffet.
A vineyard steeped in history
Located in the Argens Valley, halfway between Roquebrune sur Argens and the seaside resort of Saint-Aygulf, the Chateau Vaudois gained notoriety within a few years thanks to the passion and perseverance of Mary and Gérard Delli-Zotti.
The name Vaudois comes from the fact that in 1205, the valley hosted the itinerant preachers of the Vaudoise religion, created in 1173 in Lyon by Pierre Valdès, eager to follow an ideal of apostolic poverty.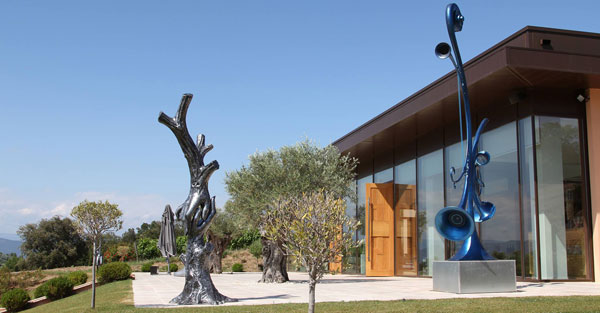 A rich wine offer
Le Chateau Vaudois offers its customers a collection of AOP Côtes de Provence appellation wines including "Chateau Vaudois" – Red & Rosé; the "V de Vaudois" – Rosé & White; "Vaudois Prestige" – Cuvée Jonathan 2012 Red & Cuvée Christelle 2012 – Blanc de Blanc ; "Les Perles de Marie" – a very fashionable sparkling Rosé and the "Exceptional Products" – Marc de Provence and Olive Oil.
Rosé Vintage 2014
In a clear bright salmon color, the 2014 Rosé expresses notes of red fruits, a mineral touch and freshness. Excellent balance between acidity and roundness, red fruit notes, long finish.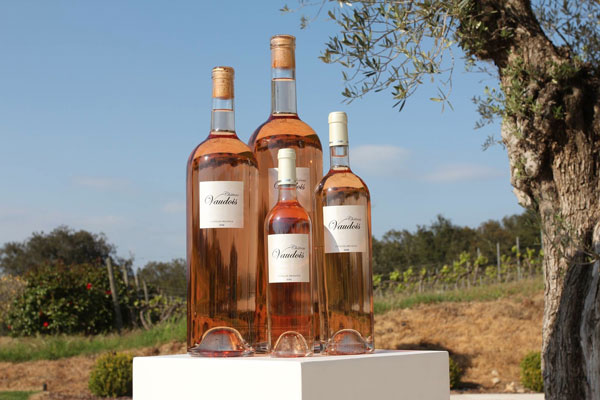 Exhibition "Painters and Lithography"
The Delli-Zotti family, very involved in the sponsorship of Art and Art crafts, launched the artistic season of Chateau Vaudois in honoring lithographic art through the exhibition of a hand press – handled by the Master lithographer Mario Ferreri – and an exhibition of paintings by renowned artists: Martine Delaleuf, Claube Abba, Hervé Loilier, Alain Bonnefoit and Michel-Henri.
The exhibited artists
The influence of Matisse and Martine Delaleuf's training as an architect make that she can't separate the lines in her drawings – thick or delicate, soft or hard lines – but all in one fell, according to the technique of calligraphy.
Born in 1937 in Montmartre, Alain Bonnefoit celebrates Women, nudity, beauty and pleasure with such talent that he became the "reference" since forty years.
Claude Abba practiced all painting techniques: watercolors, oil painting, gouaches, drawings, engravings, lithographs and especially the "glacis" and inlaid with gold leaf
Michel-Henri is the painter of happiness, he gained fame for his still lives, bouquets of flowers and landscapes that he very often set in the forefront of his paintings.
Through his dedicated and friendly painting, unobtrusive and yet communicative, Hervé Loilier is striving to show how an artist concerned with originality, is liable to the time he contributes to define.
Creation of a lithograph book
Besides the paintings on display, on the occasion of the new vintages at Chateau Vaudois, the artists worked in Master Mario Ferreri's lithography workshop to create and edit, with Art Azur "Au-delà du Regard", an exceptional collection of lithographs in limited edition of 100 copies, numbered and signed by the artists.
Mario Ferreri, who was demonstrating the printing of lithographs with a traditional hand press at the event, is one of two remaining master lithographers in France.
Les Peintres et la Lithographie
Exhibition from March 20 to May 3, 2015
Chateau Vaudois
Lieu-dit Vaudois
Route de St Aygulf
Roquebrune sur Argens
Click on pictures to enlarge – ©YesICannes.com – All rights reserved
Chateau Vaudois 2014 Vintages
was last modified:
March 21st, 2015
by