The 2016 calendar "Les Chefs à Poêles" brought together 12 chefs from the Var, posing as sexy supermodel for the charity "Un Fauteuil à la Mer".
One evening, on social networks, some friends chefs tease each others about their physical appearance. Conversationally, one of them launched the slightly crazy idea of a calendar "Les Chefs à Poêles" (in French, "à Poêles" – with a frying pan – sound like "à poil" – naked). Pascal Bonamy, chef of La Colombe in Hyères, keeps this project in mind and, a year ago, he decided to get his Varois friends together to have them pose them in their birthday suits.
This friendship impetus gave birth to this beautiful charity project in which all of the profit from the sales of this calendar on gastronomy background will be given to the association Un Fauteuil à la Mer. The calendar was launched on November 16 at Audi RS Prestige in La Garde in the presence of the chefs.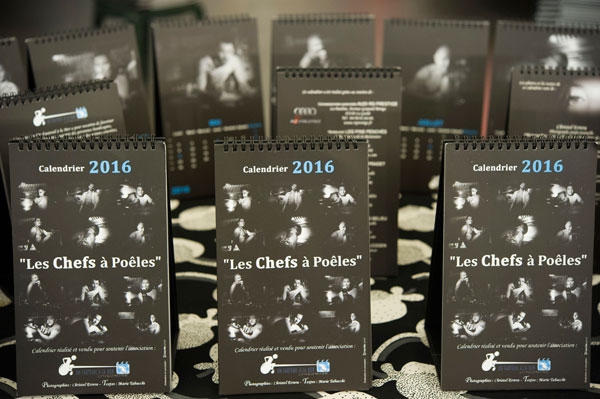 A caring and sexy calendar
In a beautiful spirit of solidarity and with the help of Mary Tabacchi, culinary journalist, creator of the Var des Gastronomes and Nicolas Barraqué for the realization of the calendar layout, the 12 chefs from the Var embarked on this bold "corps à corps" to give sense to this great charity project. All united around this great cause, they humbly posed in front of on Christel Errera' lens to ornate with pictures of their anatomies the 12 months of the 2016 calendar "Les Chefs à Poêles".
Luxury, cars, and charity
At the charity event launch, one minute of silence was observed in honor of the victims of the attacks in Paris o the sad November 13. Then, after a short speech, the 12 chefs symbolically posed their calendar Les Chefs à Poêles for souvenir photos. Then, the 250 guests were able, during their stroll among the magnificent luxury car Audi, acquire for the modest sum of 15 euros, the sexy 2016 calendar for a noble cause. In the evening, 3,000 euros was raised for the association Un Fauteuil à la Mer. The calendar is now on sale in the restaurants participating in the operation Les Chefs à Poêle.
The 12 participating chefs
Pascal Bonamy, La Colombe in Hyères, Anthony Lopez, La Farigoulette, Planches & Gamelles in Le Lavandou, Alain Mari from Le Moulin du Gapeau in Belgentier, Benjamin Collombat, Côté Rue & Brasserie Le Bertin in Draguignan, Sébastien Sanjou, Le Relais des Moines in Les Arcs-sur-Argens, Benoit Simian, Le Riviera III in Le Brusc, Christophe Pineau, Chef à Domicile in Hyères, Fanette Aimé, La Table de Fanette in Fox-Amphoux, Denis Matyasy, Traiteur Matyasy in La Crau, Eric Girardo, La Sirène in Hyères, Benjamin Piffet, Hôtel-Restaurants Le Provençal in Giens, Geoffrey Poësson, La Badiane in Sainte-Maxime.
The partners of the operation
Many partners have embraced this great charitable cause including: Audi RS Prestige (La Garde), Hyper Casino (Le Pradet), Domaine Bertaud Belieu (Gassin), Cogen (Toulon), Société Marseillaise de Crédit, Restaurant Les Pins Penchés (Toulon), Lunch Service (Toulon), Turtle Prod, Promocash (Toulon).
The association Un Fauteuil à la Mer
Un Fauteuil à la Mer, created in 2001 by Thierry Ortega, performs every year the necessary adjustments to improve accessibility for disabled people to the sea. Its mission is to promote the wishes of the vast majority of disabled people in overcoming their daily stresses in concrete actions, including a fun and therapeutic type, especially in access to swimming and to the beach.
This summer, in partnership with other associations, nearly 18,200 people from across Europe have benefited from Ponteau and facilities on the beach La Vignette, a beautiful beach located at the Hôpital René Sabran on the Presqu'Isle of Giens.
Click on pictures to enlarge – ©YesICannes.com – All rights reserved
Chefs à Poêles For Un Fauteuil à la Mer
was last modified:
November 24th, 2015
by