The Chefs au Sommet d'Auron welcomed David Graziani, chef of La Merenda de la Place in Gattières and pastry chef Christian Cottard, Maison Cottard in Antibes, for a gourmet dinner at Le Farban in Auron.
From January 19 to 25, 2019, the Chefs au Sommet d'Auron – 8th edition – offered memorable gastronomic experiences to tourists and locals alike. In addition to chefs' shows-cooking at the ice rink, renowned chefs officiate each evening in the restaurants of the Haute Tinée resort and offer sumptuous gourmet dinners at a unique and privileged price of € 45 per person. Chef David Graziani from La Merenda de la Place in Gattieres and pastry chef Christian Cottard, Maison Cottard in Antibes, delighted the gourmets' taste buds at Le Farban restaurant.

Haute gastronomy at the foot of the slopes
For eight years, the Festival of Mountain Gastronomy has been bringing together many talented chefs and pastry chefs from the French Riviera who share an authentic moment of culinary pleasure and conviviality in the heart of the sumptuous Mercantour mountains. During the Festival, big names in the culinary world perform every night of real gastronomic feats by cooking dinners on "pianos" unknown before.
On Tuesday, January 22, 2019, David Graziani and pastry chef Christian Cottard transposed the delicious culinary experiences of La Merenda de la Place and Maison Cottard in the wooded, warm and mountain setting of Le Farban restaurant in Auron.
David Graziani, enlightened self-taught
It is his Italian grandmother who passed on David Graziani the passion for cooking and the generosity of tasty, sunny Italian cuisine, all in the heat of sharing and conviviality. She taught him how to cook with market products and even with what remains in the fridge. A landscaper at the beginning, David created at the age of 32 a food truck proposing nicoise cuisine whose success has strengthened his passion for cooking. Simultaneously, he set up a catering business: La Meranda and then opened his restaurant La Meranda de la Place in Gattières in the Nice hinterland. For two years, David has been cooking market cuisine with Niçois influences, with menus dictated by his inspiration and the seasonal produce from local producers. On his menu: three starters, one of which is Niçoise, and three dishes with a fish, a meat and a vegan dish. David Graziani is a member of Toques Brûlées, a group of talented and generous chefs, led by David and Noëlle Faure, who deliver every year a breathtaking barbecue at the Chefs au Sommet d'Auron.
Christian Cottard, Master Pastry Chef
Christian Cottard has created the Pâtisserie Cottard for over 25 years on Antibes. Six years ago, the Maison Cottard settled in a classified home in the city center where his art of gourmandise gives all its expression. With the successful experience of La Cour des Thés, his wife Andréa opened and runs the restaurant La Closerie. Christian has also opened a pastry school. Christian Cottard started his apprenticeship in Menton in the pastry shop of his parents. He perfected his talents in Paris, in the United States, at Louis Outhier's L'Oasis. As pastry chef of the famous Louis XV in Monaco by Alain Ducasse, he helped to win the three Michelin stars of the famous restaurant. His artisanal pastries are 100% homemade, favoring flavors and lightness, and his bubbling creativity always leads him further in projects and creations for the greatest pleasures of gourmands.
Generosity and creativity in the plate
David Graziani's cuisine is instinctive: he practices the cuisine he loves, a local cuisine with noble products and seasonal that titillates his imagination to deliver generous and high in flavors dishes. His signature dish is the pork, which he cooks every week, in confit, with hay, in slow cooking or just pan-fried. It served as a dish to the chef at Chefs au Sommet d'Auron, simmered at low temperature, with aromas of hay, is a masterpiece. Christian Cottard also composed a masterpiece of creativity and taste, inspired by the Alpine peaks, crowned with a sweet flower and a branch of chocolate.
The tasted dishes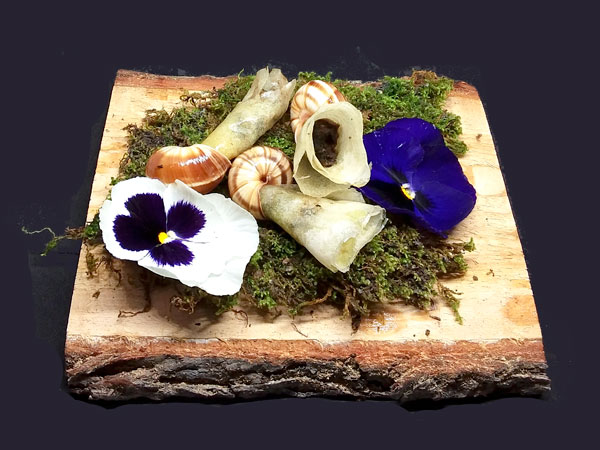 Appetizer: Crispy Snails from here in Persillade and Tapenade of Black Olives. On their environment of frothy greenery, three "petits gris", homegrown cagouilles, delight us with their succulent flesh spieced up with the pronounced flavors of parsley and tapenade.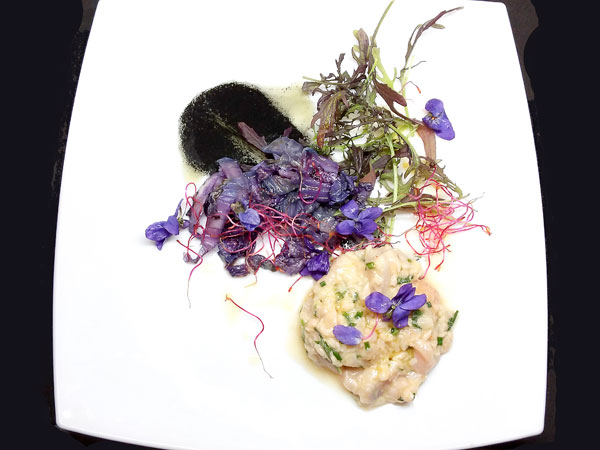 Starter: Trout Tartar, Citrus and Mountain Honey, Chinese Cabbage and Young Salad Sprouts. The freshness of the trout tartare nicely contrasts with the crunch of the slightly spicy cabbage salad.
Dish: Slow Cooked Confit Pig, Mushroom Juice, Creamy Risotto with Nice Squash and Chips od Blea. The sweet chest of pork delicately cooked at low temperature expresses all its juices, in a beautiful set of flavors spiced by the mushroom-flavored juice, in a melting accompaniment of the risotto.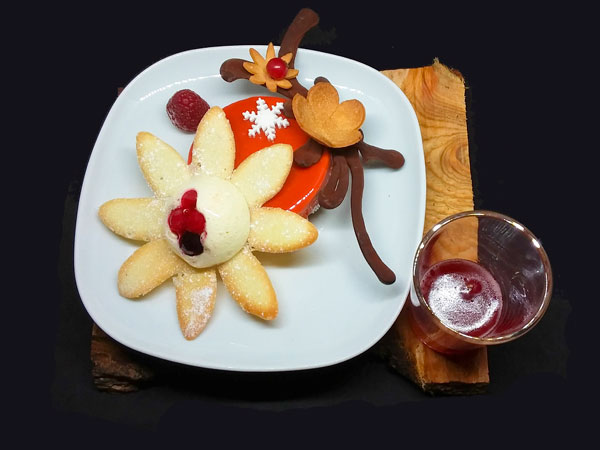 Dessert: Sublime Aroma of Summits. The Maître Pâtissier has created a raspberry dessert, creamy and melting, covered with a large flower in cat's tongue with a branch of blooming chocolate.
Le Farban, "homemade" cuisine from starter to dessert
At the foot of the slopes of the popular resort of Auron, the mountain restaurant Le Farban, taken over two years by a new management, offers a "homemade" cuisine from starter to dessert, and alpine specialties with a special mention for the tartiflette. In a chalet setting, the dining rooms are pleasant and spacious, with an indoor fireplace and a sunny terrace. Fresh salads, quality meat, blueberry pies, so many delights to taste directly on the slopes.
Les Chefs au Sommet d'Auron
From 19 to 26/01/2019
Restaurants in Auron, St Etienne de Tinée et St Dalmas-le-Selvage
Information: Office de Tourisme d'Auron
+33 (0)4 93 23 02 66
Chefs au Sommet d'Auron, David Graziani and Christian Cottard at Le Farban in pictures
Click on pictures to enlarge – ©YesICannes.com – All rights reserved
Chefs au Sommet d'Auron, David Graziani and Christian Cottard at Le Farban
was last modified:
January 24th, 2019
by