The Chefs au Sommet d'Auron welcomed Déborah Georges, cheffe of L'Auberge Lo Robur in Roure, and pastry chef Pascal Picasse from Le Park 45 in Cannes for a gastronomic dinner at Le Gratusier.
From January 19 to 25, 2019, les Chefs au Sommet d'Auron – 8th edition – offered memorable gastronomic experiences to tourists and locals. In addition to the chefs' show-cookings at the ice rink, renowned chefs officiate each evening in the restaurants of the Haute Tinée resort and offer sumptuous gourmet dinners at a unique and privileged price of € 45 per person. The cheffe Déborah Georges from L'Auberge Lo Robur in Roure and pastry chef Pascal Picasse from Le Park 45 in Cannes delighted the gourmets' taste buds at Le Gratusier restaurant in Auron.
Haute gastronomy at the foot of the slopes
For eight years, the Festival of Mountain Gastronomy  has been bringing together many talented chefs and pastry chefs from the French Riviera who share an authentic moment of culinary pleasure and conviviality in the heart of the sumptuous Mercantour mountains. During the Festival, big names in the culinary world perform every night real gastronomic feats by performing four-handed dinners on "pianos" previously unknown. On Friday, January 25, Déborah Georges and Pascal Picasse have transposed the delicious culinary experiences of Lo Robur and Le Park 45 in the warm wooded and mountain chalet decor of the restaurant Le Gratusier at the foot of the tracks.
Georges Deborah, the love of local product
Déborah Georges and Kevin Soria, a young couple of cooks, have chosen a meaningful life in a gorgeous and peaceful place, L'Auberge Lo Robur in the charming village of Roure. In her kitchen, which opens onto a superb panoramic and deep view of the Tinée valley, Déborah sublimates with love the local products into delights to be enjoyed in the soothing and enchanting setting of the Mercantour mountainous landscapes. In the dining room, in a warm and friendly atmosphere, Kevin makes gourmets savor these local, organic and fresh products, cooked with passion and creativity. The two lovers of cooking have followed a carrier rich in nice starred addresses: La Chèvre d'Or in Eze, the Hôtel du Cap Eden Roc in Antibes, La Folie Douce in Val d'Isère and Le Majestic in Cannes for Deborah, La Chèvre d'Or and La Place de Mougins for Kevin. Deborah and Kevin are members of the Toques Brûlées, a team of talented and generous chefs, led by David and Noëlle Faure, who every year deliver a breathtaking barbecue at the Chefs au Sommet d'Auron.
Pascal Picasse, passionate pastry chef
After having obtained a CAP of Cuisinier in 1995 and one of Pastry Chef, Glacier, Confiseur Chocolatier at La Côte Saint Jacques in 1997, Pascal Picasse perfected his talents in great starred houses like La Côte Saint Jacques (3 Michelin stars) in Joigny, at the Restaurant Pic by Anne-Sophie Pic in Vienne (2 stars), La Pyramide in Vienne with chef Patrick Henriroux (2 stars). In 2002, he took the post of Pastry Chef at La Ballade des Lys in Gordes alongside Chef Christian Nee. He will then be Pastry Chef with Alain Parodi at Lou Cigalon in Valbonne (1 star) and at La Passagère at Hotel Belles Rives***** in Juan-les-Pins before joining Sébastien Broda at Le Jarrier in Biot (1 star) and finally followed him in 2009 at Le Park 45, restaurant of the Grand Hotel in Cannes (1 star). In perfect harmonies, Pascal plays with his sweet high in color and full of finesse notes to delight the palates fond of good delicacies.
Flavors from the mountains
Behind each ingredient, farmhouse or local product, a name or a place resonates with an authentic and poetic echo: Ferme de Lavancia, Agnès Papone, Ruchers de Sallagriffon, Ferme du Poussinet, potager de Saint Blaise… The fresh and seasonal products cooked by Déborah have the accent of Provençal mountain terroir and are every day enhanced in beautiful and generous plates in the gastronomic restaurant Lo Robur. At the Chefs au Sommet d'Auron, Déborah and kevin has beautifully staged the locavore advocated by the Festival of Mountain Gastronomy, highlighting the true taste of raw materials produced by farmers and breeders who passionately devoted to their craftand terroir. The dessert with the beautiful geometry of Pascal Picasse delighted as much the pupils as the taste buds of the gourmands.
The tasted dishes (photos YesICannes.com)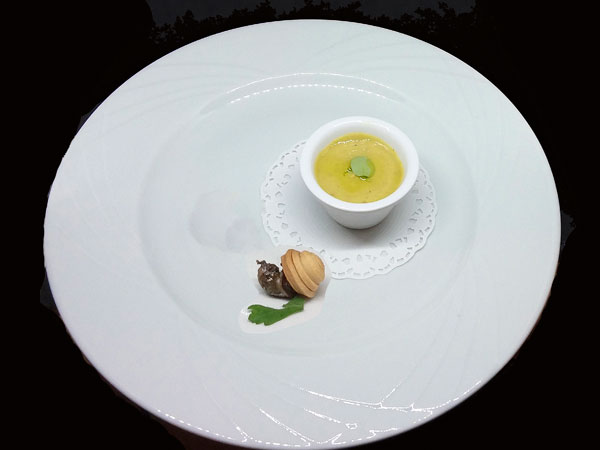 Amuse bouche: Velouté of Split Peas, Snail Sablé with Parsley. Forgotten dry vegetable from our grandmothers winter menus, the split peas with their pronounced flavor stars on the slopes to warm us with a nice gourmande find: a snail dressed with his shortbread shell!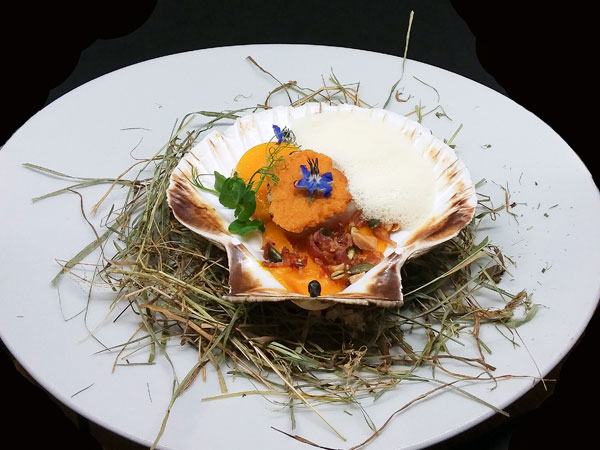 Entrée: Saint-Jacques smoked with Hay from Roubion, Declination of Squash from La Ferme Lavancia, Emulsion with roasted Almonds, crispy Bacon. An original way to revisit the scallops in a mountain nod to sea. Smoked with mountain hay and accompanied by a game of squash in silky muslin and pieces, the nuts are spiced up by the crisp bacon.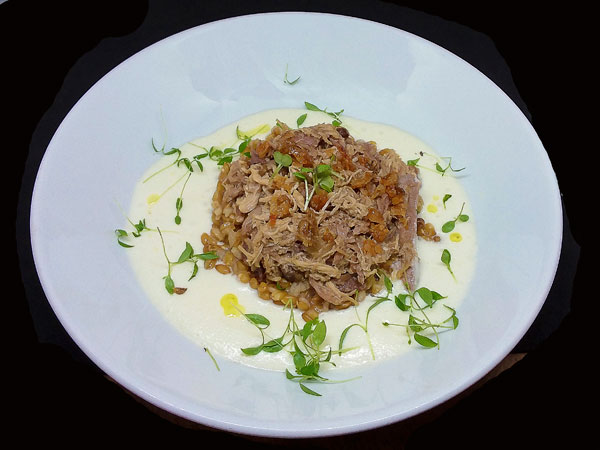 Main course: Risotto of Small Spell from the Ruchers de Sallagriffon, Confit of Poultry from the Ferme du Poussinet, Roasted Jerusalem Artichokes, Sweetness of Ewe. The poultry plays the gourmandise in this dish with the authentic flavors from the mountain terroirs, mixing the spell, a cereal full of healthy virtues with aromas of hazelnut, with the velvety goat cheese and the sweetness of Jerusalem artichoke.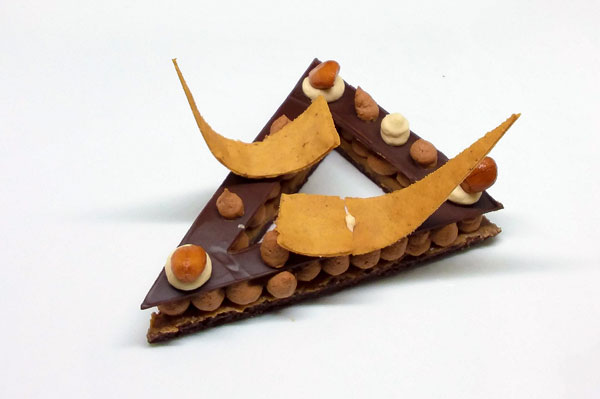 Dessert. Kéops Chocolat. Pascal Picasse's signature dessert always delights the most picky gourmands! With its delicacy and its work on Chocolat-Praliné flavors, the pastry chef at the starred table of La Croisette plays a sweet and soft partition that leaves an intense taste in the palate.
Le Gratusier and its solarium terrace
In the heart of the Mercantour mountains, on the snow front of the very popular Auron resort, Le Gratusier deploys its sun loungers on the tracks to welcome skiers wishing to rest in the sun, after a morning spent skiing down the slopes. This family restaurant, set in the middle of the snowfields, was created in the 90s. Its intimate and warm architecture, conceived as a charming mountain chalet, houses a dining room that majestically opens onto the beauty of the landscapes and peaks that surround its solarium terrace. Throughout the winter season, Le Gratusier (named after the "cheese graters" adorning the walls of the alpine establishment) offers a fresh and traditional cuisine with its tartiflette and its unmissable and sublime "profiterole gargantua".
Les Chefs au Sommet d'Auron
From 19 to 25/01/2019
Restaurants in Auron, St Etienne de Tinée et St Dalmas-le-Selvage
Information: Office de Tourisme d'Auron
+33 (0)4 93 23 02 66
Chefs au Sommet d'Auron, Déborah Georges and Pascal Picasse at Le Gratusier
Click on pictures to enlarge – ©YesICannes.com – All rights reserved
Chefs au Sommet d'Auron, Déborah Georges and Pascal Picasse at Le Gratusier
was last modified:
January 27th, 2019
by