The second edition of the Dîner des Chefs Châteaux & Hôtels Collection in the PACA region brought over 21,000 € to the benefit of the Restos du Coeur.
On December 4, 2014, 15 big-hearted chefs from Châteaux & Hôtels Collection establishments in the Provence-Alpes-Cote d'Azur region put together an irresistible dinner at the restaurant Les Pins Penchés in Toulon, offering their talents to gather funds for the still necessary Restaurants du Coeur.
Alain Ducasse's support
The Dîner des Chefs was originally initiated in 2009 by Stéphane Lelièvre, chef and owner of Les Pins Penchés. Since then, the chefs from the Var used to get together every year at Les Pins Penchés to offer a gala dinner to the benefit of the Restos du Coeur. Last year, 20 chefs took part to the dinner and collected over € 25,000.
Last year, Alain Ducasse, the President of Châteaux & Hôtels Collection, took over the concept and signed a national agreement with Les Restos du Coeur, the only existing national agreement with Restaurants du Coeur to date – apart from the concept Les Enfoirés.
Opening of Restos du Coeur's 30th campaign
Four dinners, with 40 concerned chefs, took place simultaneously in different French regions: Toulon (Var), Dijon (Côte d'Or), Valence (Drôme) and Bordeaux (Gironde).
All the revenues were donated to the Restaurants du Coeur, at the opening of the 30th collecting campaign of the association. Every winter, the Restos du Coeur help the people in need and need money to operate; the chefs' dinner is thus a providential source of funds.
The Dîner des Chefs at Les Pins Penchés brought over 21,000 € – last year it was 16,000 €.
The committed PACA chefs
Stéphane Lelièvre, Les Pins Penchés, Toulon (Var)
Fanette Aimé, La Table de Fanette, Fox-Amphoux (Var)
Jean-François Bérard, L'Hostellerie Bérard (Var)
Marc Crendal, Bastide de Calalou, Aups (Var)
Denis Fétisson & Didier Chouteau, L'Amandier de Mougins (Alpes Maritimes)
Robert Lalleman, L'Auberge de Noves, Noves (Bouches du Rhône)
Noël Mantel, Le Restaurant Mantel, Cannes (Alpes Maritimes)
Christophe Martin, La Bastide de Moustiers (Alpes de Haute Provence)
Christian Morisset, Le Figuier-Saint-Esprit, Antibes (Alpes Maritimes)
Stephan Paroche, La Magnanerie, Aubignosc (Alpes de Haute Provence)
Marc de Passorio, L'Esprit de la Violette, Aix-en-Provence (13)
Sébastien Richard, La Table de Sébastien, Istres (Bouches du Rhône)
Guillaume Sourrieu, L'Epuisette, Marseille (Bouches du Rhône)
Ludovic Turac, Une Table au Sud, Marseille (Bouches du Rhône)
Benoit Witz, L'Abbaye de La Celle (Var)
A several-hand succulent menu
The big-hearted chefs have dedicated their talents to prepare a several-hand gala menu.
The diner started by a delicious Marbré de Volaille with Foie Gras, followed by a crispy Back of Salmon marinated with organic café, Ratatouille de Chateaurenard, Cromesquis of Pieds et Paquets. Then came a Long-cooked Veal Shoulder, with its carrots and agrumes, meat juice au pain brûlé. A wonderful Otucan chocolate Dome was served as dessert before the Mignardises and coffee.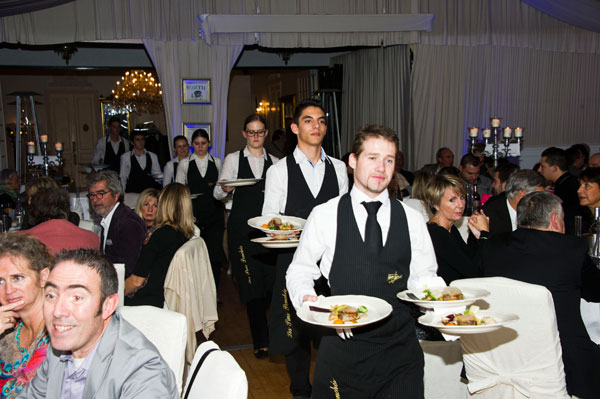 Generous staff and sponsors
The Gala Dinner was made possible by the participation of a generous staff and a generous support of many donors: Casibel – Philippe Sauvagnargue; Gilbert Hugou; Max GT Primeurs – Stéphane Giral; Boucherie Sulas in Brignoles; Le Jardin de Manon – Aiguille; Valrhona Chocolate; Metro Prestige; Sup Viande; Ballico; Montaner Pietrini; Terre d'Azur; Sturia; Champagne Moët et Chandon; Marie Brizard; Georges Duboeuf and Illy Cafés.
At the end of the Gala, a sparkling cake was brought in the dinning room to celebrate the 30th anniversary of the Restos du Coeur and the audience sang the Enfoirés' song, in ribute to the comedian Coluche, founder of the Restos du Coeur.
Click on pictures to enlarge – ©YesICannes.com – All rights reserved
Chefs Gala Diner For Restos du Coeur
was last modified:
December 8th, 2014
by