Christian Lobel present from August 13 to 30, 2015 in Théoule "France in 90 Paintings", a huge fresco, both pictorial, cultural and historical.
The Mandelieu painter and sculptor Christian Lobel achieved a gigantic work: a large historical, artistic and cultural fresco, in which, from the Ain to the Yonne, the departments from France and overseas are alive under the artist's brush in Théoule from August 13 to 30, 2015. The exhibition, born from thousands of sketches made during travels in France, is illustrated with historical texts and quotes by local personnalities. The exhibition is also gathered in a book: Rêvons le Temps Qui Passe.
An Art traveler
After a Parisian training at the academy of Port Royal, the City of Paris Ateliers des Beaux Arts, at the Académie de La Grande Chaumiere, at the Ateliers de la Glacière, Christian Lobel has refined his talent in contact with many contemporary great painters.
Through his artistic peregrinations and its cultural trips, the artist worked in the Carrara workshops with Italian sculptors, learned ceramic in Vallauris and met great masters glassmakers.
Always an eye on the outside and nature
Seduced by a light, the artist grabs his sketchbook, seizes the circulation of the light and take notes through shades of gray to later transcribe them in bright colors, in his style marked by his love for Chagall's colors, Bonnard's intimism or the touch of Van Gogh.
Christian Lobel explains: "Painting is not just a question of vocation; it requires considerable work, consistency, a permanent gaze on the outside and nature."
A monumental tribute to France's landscapes
Until 2000, Christian Lobel exhibits in France, in Europe, the USA, Japan. Between 2000 and 2010, he achieves a tour of France and its varied landscapes, and designs "Rêvons le Temps Qui Passe", a vast cultural and artistic fresco dedicated to the entrance of his young son Mathieu in adolescence.
On the field, he produced thousands of sketches and watercolors, drafts of the monumental work to the glory of France landscapes he then concretized in his studio in Tanneron, amidst its vast forests of Mimosas.
Christian Lobel in a figurative and expressionist style, expresses his emotions in a subtle alchemy of poetry and vigor, focusing primarily to translate the landscape identity of each department, retracing a journey into history, from the Paleolithic to the Great War.
Selective cultural quotes
Honored by Christian Lobel's painting, each department is illustrated by a quote typical of its landscapes or its culture, and a reminder of a marking historical episode that took place there.
So for the Lyonnais (69), one reads, by Gabriel Chevallier in his satirical novel Clochemerle: "The intelligence is there measured by the finesse of the palate. Whoever, with three gulps, rolled around the gums, do not say: "Brouilly, Fleurie, Morgon or Juliénas is a current model of idiot."
The works of Christian Lobel are on permanent display at the Gallery Lympia in Nice and the Gallery 25-25 in Villefranche sur Mer as well as in prestigious institutions like the Hotel Negresco in Nice, the Mas D'Artigny in Saint Paul de Vence or Jacques Chibois' La Bastide Saint Antoine in Grasse.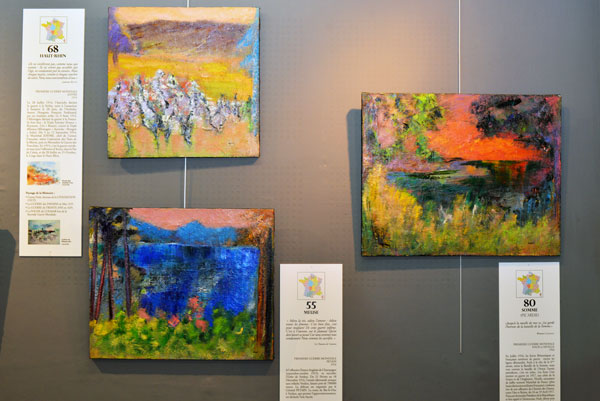 La France en 90 Peintures
Christian Lobel
Espace Culturel
10 H -13 H and 16 H – 20 H
Click on pictures to enlarge – ©YesICannes.com – All rights reserved
Christian Lobel Exhibits France In Theoule
was last modified:
August 15th, 2015
by