Kim Kardashian: Hollywood pioneered a new form of digital storytelling whose success may inspire the advertising industry about brand presence in the new media landscape.
Kim Kardashian: Hollywood video game huge success, offering to become a Red Carpet star and live Kim's dream life, brought the advertising industry to think about the opportunities of brand storytelling through new transmedia experiences. The reality TV star Kim Kardashian West was invited to Cannes Lions 2015 by Sudler & Hennessey, one of the leading global healthcare communication networks, alongside Niccolo de Masi, Glu Chairman and CEO. The discussion, themed "Hollywood and trends in digital storytelling" was hosted by Chris Duffey, Group Creative Director at Sudler, an award-winning creative director and mobile and wearable technologist.
Kim Kardashian teaches us to become a Hollywood star
The principle of Kim Kardashian: Hollywood is simple: Kim Kardashian is helping the aspiring stars to become famous in LA and walk the red carpet en route to fame and fortune. After creating one's character and customizing facial features, looks and haircut, the character is stopping along the way at photo calls, business appointments, travel, castings, exclusive clubs, upscale boutiques, and luxury homes… As the game progresses, you reach new levels – for example, at 19+, you sunbathe with Kim in Santa Barbara! And why not having a second baby?… Alas, to continue to play and to buy new clothes and accessories, account for paying options for the character to keep energy.
The game, downloadable on smartphones and tablets, counts over 35 million downloads worldwide.
Branded messages in a digital world
Kardashian: Hollywood, an entirely new gaming genre, has been breaking new ground with innovative new forms of storytelling and a highly engaging mobile game intertwining the virtual world with the real world. The transmedia experience is pushing gaming beyond basic storytelling: it merges pop culture, comedy, fashion and branded messages in a digital world. The success of the game brings the creative thikers to analyze its components.
The challenge for the creative thinkers is indeed to achieve passing a marketing message through a story, a story that arouses emotions, joy, surprise, fear, which gives weight to the brand's speech and supports its approach with a sincere example.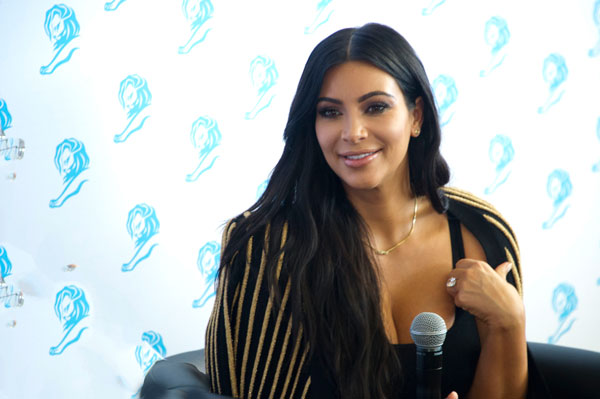 Karl Lagerfeld will be featuring on the app
The discussion has been exploring the integration of creative and digital storytelling to generate authentic audience and relevant and memorable user experiences on the Web, or on mobile and smartphones, in the fast-changing world of mobile marketing.
Approached by the gaming company Glu Gaming, the reality TV star launched the free-to-download game in June 2014, convinced by her husband Kanye West to get involved in Kim Kardashian: Hollywood – which made $100m in its first year.
Kim believes the app is perfect for those who "just want to make it in Hollywood". As it "mirrors her real life", Kim is constantly updating the wardrobe and beauty options that users can pick up, and revealed that Karl Lagerfeld will be featuring on the app. The players were also able to go on a virtual trip to Mexico when she was on holiday there.
Very talented at creating the buzz, Kim Kardashian said about her use of social media: "Some of the brands I work with might get frustrated but I only post a picture of a brand if I really love it. And my Instagram is off limits in my business contracts."
Seriously Popular night on MailOnline yacht
On June 24, on a huge yacht docked in front of the Croisette, MailOnline organized its Cannes Lions "Seriously Popular" night, welcoming many prestigious guests including Kim Kardashian, glamorous in a Laquan Smith black lace dress. Kim, currently pregnant, is expecting her second child with husband Kanye West. Arrived in the company of rapper Tyga, her mother Kris Jenner and his companion Corey Gamble, Kim's half-sister, Kylie Jenner opted for white and transparency, wearing a light dress by Francesco Scognamiglio, spring-summer 2015 collection.
Click on pictures to enlarge – ©YesICannes.com – All rights reserved
Kim Kardashian: Hollywood at Cannes Lions
was last modified:
August 31st, 2015
by