Clos des Roses wineyard presented its 2016 vintage around a food and wine pairing concocted by Nathalie Millo and Fabien Pasquale, new chef of La Bastide.
Le Clos des Roses in Frejus is a green haven nestled among the Massif de l'Esterel red rocks and the sea in the heart of the Var vineyards. Located between Nice airport, Cannes and Saint-Tropez, the estate is an ideal stopover for fans of oenological tourism and gastronomy.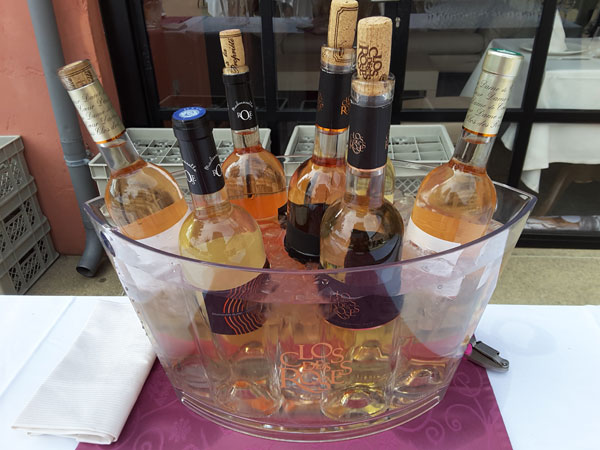 An exceptional terroir
Le Clos des Roses was purchased in 2006 by the Barbero family. The name Clos des Roses is the owner's tribute to his mother. The name also evokes a floral terroir, a generous nature, a family committed to the values of Provence, wine and ancestral knowledge. The estate spans on 36 hectares including 10 hectares of vines on a high and rich mineral soil, coming from the erosion of volcanic rocks that gave birth to the Esterel mountains.
The natural philosophy of the domain tends to an agro-ecologic agriculture, started in 2013. Eight varieties, carefully selected according to their adaptation to the soil, are pampered on 10 hectares of vines: Syrah, Grenache, Cinsault, Mourvedre and Rolle for Côtes de Provence, Merlot, Sauvignon Blanc, and Viognier for Vins de Pays.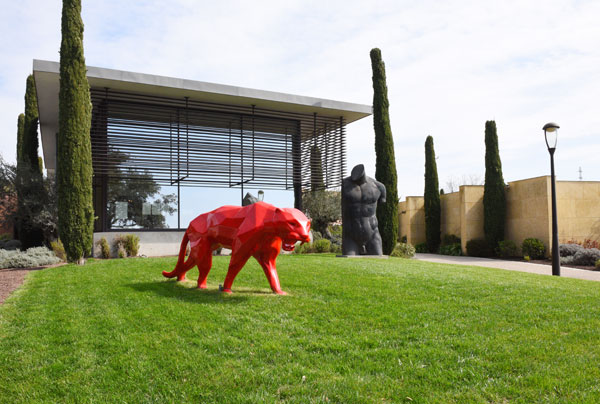 Oenological tourism
In recent years, the area of Clos des Roses gained great notoriety, multiplying the wine tourism activities. To the original winery has been added La Bastide du Clos, a superb guest house now belonging to the Château & Hôtels Collection network. A house with upscale services: luxuriously decorated rooms, a gourmet restaurant, an infinity pool, hammam and massage rooms… The domain also regularly organizes exhibitions, thematic events, cooking workshops…
Fine cuisine, full of flavors
La Bastide du Clos des Roses offers a refined cuisine, full of flavors, based on freshness and quality of products, made by its new chef, Fabien Pasquale. The chef, who has been during three years the second of the establishment, practices a modern and creative cuisine with Asian influences. In summer, the tables are set on the large terrace at the foot of the vineyard and in the winter, in the dining room by the fireplace.
The menu regularly changes according to the production of the estate's vegetable garden. The pleasure of taste and discovery is a true gustatory happiness. Ravishes taste buds, enchanting setting, great setting for a moment of relaxation and conviviality around a glass of refreshing rosé signed Clos des Roses.
Presentation of the new vintage
Clos des Roses AOC Côtes de Provence 2015: Dame de Cœur Rosé Côtes de Provence 2015 – Grenache (90%) – Syrah (10%).
Elegant and complex in its pale and luminous color, it combines exotic fruits, pineapple and strawberry marshmallow. Suave and sophisticated, it is savored at a temperature between 10 and 12°. Its elegance and freshness will enhance "fresh" dishes like a carpaccio of St. Jacques.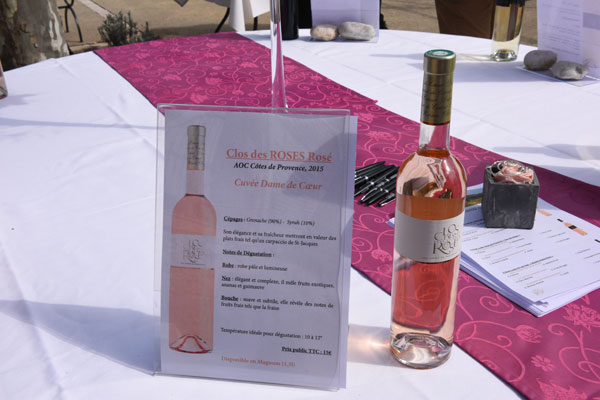 Clos des Roses Rosé: AOC Côtes de Provence 2015 – Grenache (50%) – Syrah (20%) – Cinsault (15%) – Rolle (10%) – Mourvèdre (5%).
With his skin color robe, it defines itself by a fine and elegant nose with floral notes and a citrus edge that give it a pleasant character. The palate is silky with nice finish, ending with aniseed and salty notes. Ideal temperature for tasting: between 10 and 12°. This lively and expressive rosé is delightfully expressed at the time of the aperitif or with fish and meat dishes.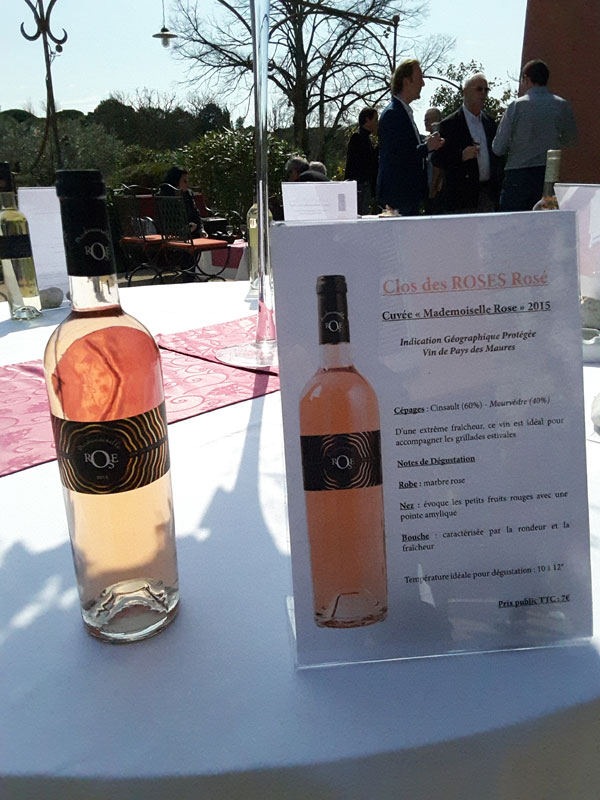 Clos des Roses Rouge: AOC Côtes de Provence 2014 – Syrah (50%) et Grenache (50%).
The Clos des Roses 2014 Red is the perfect wine to accompany stews, game and cheese with powerful character. The blend of Syrah and Grenache gives this wine its beautiful deep garnet color. The nose reveals notes of leather, spice, clove mingling with complexity. In mouth, its wide structure opens with tobacco flavors and stretches on more vanilla notes. The ideal temperature for tasting is 16°.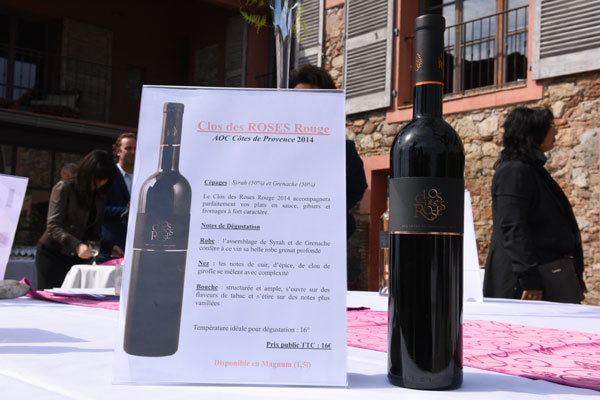 Clos des Roses Blanc: AOC Côtes de Provence 2015 (silver medal at Concours Général Agricole 2016 à Paris) – Rolle (100%).
In its golden robe, this wine will reveal its finesse and elegance with fish, fresh cheeses. The nose is complex and toasted, pleasantly combining floral notes and stewed fruit. On the palate, roasted smoky flavors blend harmoniously with very roundness, persistence and volume. The serving temperature is between 10 and 12°.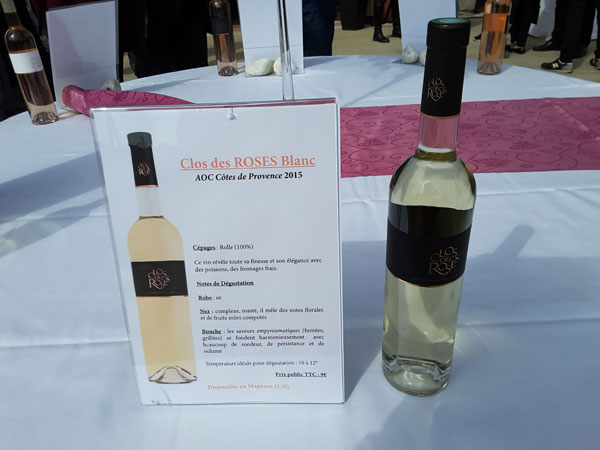 Clos des Roses Rosé: Cuvée Mademoiselle Rose 2015. Vin de Pays des Maures – Cépages: Cinsault (60%) – Mourvèdre (40%).
With its pink marble robe, it is of extreme freshness; this wine is ideal to accompany summer barbecues. Its nose evokes red fruits with amyl tip. On the palate it is characterized by its roundness and freshness. Its ideal temperature for tasting is between 10 to 12 °.
The presentation and tasting of Clos des Roses new vintage was elaborated by the Cellar Master Nathalie Millo and was attended by the owners.
Domaine Clos des Roses
1609, route de Malpasset
Lieu dit Sainte Brigitte – RD 37
Fréjus  (GPS: indiquer Chemin Saint-Pons)
Click on pictures to enlarge – ©YesICannes.com & Clos des Roses – All rights reserved
Cru 2016 Wines at Clos des Roses
was last modified:
March 23rd, 2016
by