On March 28, at the Palm Beach, French fashion designer Denis Durand presented his annual fashion show on the occassion of the Cannes Shopping Festival, showcasing fifteen sophisticated day dresses and fifteen evening dress and the highlight of the evening – the wedding dress. At the end of the parade, Denis Durand launched his first perfume tailor-made by perfumer Micallef, renowned for its deluxe fragrances presented in marvelous hand-decorated bottles.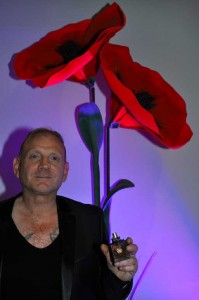 Creating for 20 years, the fashion designer from Lyon has achieved real fame with a demanding clientele permanently looking for exceptional pieces able to combine future trends, timeless elegance, and a perfect hand-made savoir-faire. Since the showroom opening in Cannes in 2010, the Denis Durand brand evokes wonderful creations, evening and wedding dresses. Each one is a unique piece, made in the most delicate fabrics and embroidered with semi-precious stones and Swarovski crystals, and recalls his personal universe referring to classic movies and legendary stars. His creations dress every years actresses for the Festival de Cannes Red Carpet.
The Parfum Couture Denis Durand for M. Micallef composition explodes on citrus head notes spiced with cinnamon. Intense and complex, the heart and the base cleverly balance the rose, orange blossom and honey softness with the strength of animalis and woody notes. Dressed with hand sewn delicate Chantilly black lace, the bottle is adorned with a little satin bow and a golden medal with the initials of the two artists.
Created in 1996 by Martine Micallef, beauty and wellness specialist as well as passionate painter, and Geoffrey Nejman, financial consultant, the M.Micallef brand was created from their love story and their desire to design luxury handcrafts combining art and perfume. The M.Micallef perfumes are nowadays available with 750 retailers spread over 39 countries. The perfume house M.Micallef has a very controlled distribution and is highly selective in the choice of luxury perfumeries. This has led its signature to become renowned worldwide.
www.denisdurandcouture.com
www.mmicallef.com
Click on pictures to enlarge
Denis Durand Couture Fashion Show and Perfume
was last modified:
February 19th, 2014
by