At Heavent Meetings Sud, the professionals event trade show in Cannes, the Château Sainte Roseline presented its steeped in history vineyard which is hosting throughout the year many events: seminar, product launch, gala evenings, Indoor and Outdoor incentive, shooting for fashion, design or any type of shooting. The Château Sainte Roseline, a prestigious vineyard created by Pope Jean XXII, is one of the richest historical sites in Provence.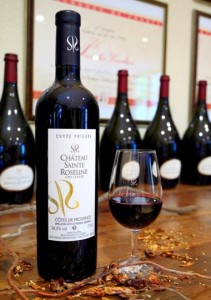 At the heart of a cru classé vineyard in the center of the Provence Alpes Côte d'Azur region, between Nice and Marseille, the Château Sainte Roseline welcomes you for your private receptions three minutes away from the highway exit of St Tropez. Between vineyard and Château stands the communal chapel where lies in its crystal shrine Sainte Roseline, prioress of the Abbey from 1300 to 1329, who was later canonized. Shrine and classified site, the chapel is also renowned for the works of Chagall, Giacometti, and Bazaine and Ubac it shelters, donations of Marguerite Maeght. In this magical place, steeped in history, the Château Sainte Roseline offers throughout the year its spaces for seminars, exhibitions and conferences in a friendly and professional atmosphere. Meeting rooms with natural daylight, equipped with the latest technologies are perfectly suited to success for events.
Different rooms are available for creating events:
Salle des Barriques (Barrels Room): renovated in 2011, the barrels room offers modern technology. Equipped with a high-end sound system with four VHS microphones, several video projectors and two screens. The view of the barrels in winery and two 16th century fireplaces, offers a warm and contemporary atmosphere and a high ceiling. Area: 250 m ² Seated meal: 250 persons, Cocktail: 300 persons, Conference: 220 people, U: 80 people
Salle des Vendanges (Harvest Room: this majestic Provencal style room is the ideal place to organize product launches, trade shows and conventions. Large openings on the outside allow access to your bulkier objects (vehicles, furniture, etc.) Equipped with a mobile sound, a screen, a modular platform (up to 36m ²). Sit-down meal: 350 persons, Cocktail: 400 Conference: 350 people, U: 80 people
Salle des Boiseries (Woodwork Room): renovated in spring 2011, this room is now equipped with all modern technologies. The room is named for woodwork covering its walls. Open to the outside, it receives the light of day. Equipped with a video projector, screen, sound system and air conditioning. Surface: 65m ² Seated meal: 50 people Cocktail: 80 Conference: 35 people U: 25 people
Salle de Dégustation (Tasting Room): it is so named because there are organized tastings of wines for groups. It can accommodate 40 people for dinner or serve as committee room.  Air conditioned, eqquiped with a TV projector. Open to the outside, it receives the light of day. Surface: 50m ² Seated meal: 40 people Cocktail: 50 people Conference: 25
Le Cloître (Cloister): attached to the chapel, the twelfth century cloister  is a magical and relaxing setting. With its profusion of roses, vines and old ambulatory, it is ideal to prepare the buffets. Area: 400 m² Cocktail: 180 people
L'Allée des Platanes (The Plane Trees Alley) runs along the twelfth century abbey on 60 meters. It can accommodate a large number of people, in the shade of the bicentennial plane trees. Area: 500 m ² Seated meal: 500 persons
A second property, the Château des Demoiselles located in the town of La Motte en Provence (only 7 km from the Château Sainte Roseline), comes to complete the offer.
Click on Pictures to enlarge
Your "Grand Cru" Event at Château Sainte Roseline
was last modified:
July 19th, 2013
by