Agecotel 2016 set the Truffle in all its states for the first Proam competition, thanks to duos of Maîtres Restaurateurs and celebrities.
Agecotel launched with the Association Française des Maîtres Restaurateurs, the first edition of the Proam Maître Restaurateur competition on February 1, 2016. The purpose of the contest was to engage professionals and local personnalities in a culinary competition based on products supplied by small regional producers. The contest was initiated by Mattéo Mansi, restaurant L'Auberge de Théo in Nice, President of the Association Française des Maîtres Restaurateurs for the Paca region. This competition also benefited from the complicity of Marcel Lesoille.
A contest of personalities
The 1st edition of the Proam contest – Pro for "professional" and Am for "amateur" – was held in the presence of Bernard Kleynhoff, Presdent of the CCI Nice Côte d'Azur, Honorary President of the Competition and Jean-Claude Guillon, president of the jury and former chef of the Grand Hotel in Saint Jean Cap Ferrat. The competition theme was: the truffle in all its forms and took place in the contest area in Agecotel in Nice.
The association Les Maîtres Restaurateurs has 98 chefs in the P.A.C.A. region; 6 of them – one per department – have formed a duo professional Maître Restaurateur associated with a cooking enthusiast. For two hours, the chefs have complied with the exercise and gave free rein to their imagination, aided by their celebrity as a commis.
Participants duos
Stéphane Avelin – Au Caprice des Dieux, Saint-Tropez, with José Cobos, former Captain of The OGCN and Sports Deputy at the City of Nice,
Chun Wang – Dame Nature, Saint Laurent du Var, with Martine Hess, winner of the quizz Nice Matin,
Christophe Jourdren – L'Epicurien, La Croix Valmer, with Philippe Lavardon, professional golfer,
Richard Bagnol – L'Oulo, Mazan, with Sandra Jouet, actress,
Cédric Manzoni – Les Olivades, Gap, with Boris Perdigon, President of the Hautes-Alpes Union for Entreprise,
Bernard Berthelot – Le Terroir  Divin, Nice, with a blogger, winner of the Manuel Dupont contest.
The chef Stephane Avelin (Au Caprice des Dieux, Saint Tropez) associated with José Cobos, former captain of the OGCN who won the Proam contest. Both had concocted an entirely revisited Filet Rossini. The delicious culinary preparation was a great success with the public and professionals.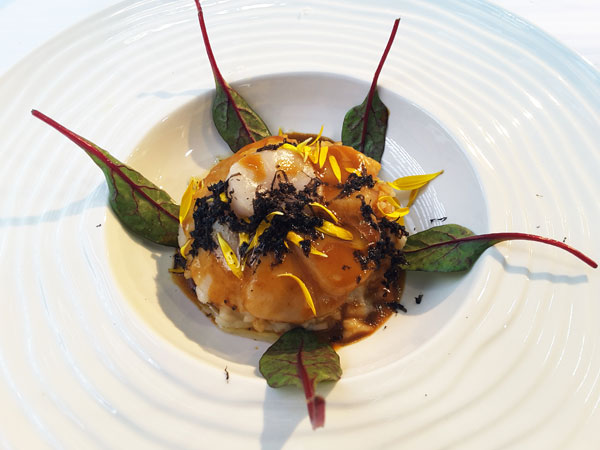 The label Maître Restaurateur
The title of Maître Restaurateur rewards the excellence of the best professionals in the traditional restauration, valuing their expertise and their commitment to quality. It is awarded by the department prefect; therefore, it is the only award given by the State in the restaurant sector.
The Maître Restaurateur must serve a cuisine prepared on site by a chef of recognized competence, mainly from fresh produce. It also guarantees the quality of service and hospitality in the restaurant and, of course, the compliance with hygiene standards.
Click on pictures to enlarge – ©YesICannes.com – All rights reserved
Duos Around the Truffle at Agecotel Proam
was last modified:
February 15th, 2016
by