On 4th day, the Festival de Cannes 2013 presented psychological films: french by filmmaker and screenwriter Arnaud Desplechin's "Jimmy P. (Psychotherapy of a plains Indian)" and "Like Father, Like Son" by Japanse director Hirokazu Kore-Eda.
"Jimmy P. (Psychotherapy of a plains Indian)" by filmmaker and screenwriter Arnaud Desplechin
Returned to his country after the Second World War, Jimmy Picard, a Blackfoot Indian who fought in France, was admitted to a military hospital. He is hosted in a facility specializing in brain diseases as  he is suffering from many problems: dizziness, temporary blindness, hearing loss… In the absence of obvious physiological causes, doctors diagnose schizophrenia. However, the hospital management decides to consult a French ethnologist and psychoanalyst, specializing in Native American cultures, Georges Devereux, to study this extraordinary patient.
Inspired by a true story, Jimmy P. (Psychotherapy of a Plains Indian) is the story from a 600-page book published for the first time in the United States in 1951. The book reports the clinical follow of Jimmy Picard, a Native American with post-traumatic stress disorder due to the war, at a time when this syndrome was hardly known. Georges Devereux was a specialist in the Mohave Indians, and spent many vacations with them. At his death his ashes were transferred to the Mohave Indian Parker reserve, Colorado, as he had wished.The film recounts the meeting and friendship that will develop between the two men during Jimmy's exploration of memories and dreams, an experience they work together with a growing complicity, in the manner of a couple of investigators. Jimmy P. brigs together Benecio del Toro and Mathieu Amalric, Desplechin's favorite actor. The French director has already walked up the red carpet six times: in 1991 (Life of the dead, Critics' Week), in 1992 (The Sentinel), 1996 (How I Got Into an Argument …), in 2000 (Esther Kahn) , 2003 (In the Company of Men, Un Certain Regard) and 2008 (A Christmas Tale).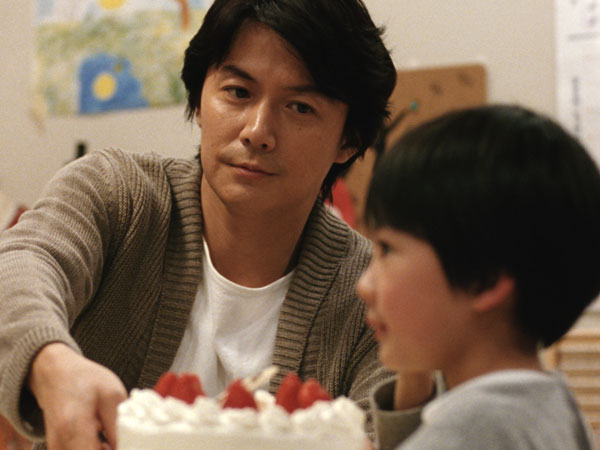 "Like Father, Like Son" by Hirokazu Kore-Eda
Ryoata, a rich architect and his young wife had the joy of having a son and are forming a family everyone could dream of and seem to live happy days. This ideal image is shattered when the maternity hospital where their child is born tells them that two babies were swapped at their birth.
The film by Hirokazu Kore-Eda focuses on father and son relationship beyond the ties of blood. Who is a genuine father? He who gives life or he who feeds? The sharing of genes turns a man into a father? Or is it the love a father pours over his child and days spent together? The children, who are now six years old, grew up in the two opposite social groups: Ryoata's family is well off, but, obsessed with professional success and pursuing his perfect life as a winner, he spent little time with his son. His biological son who grew up in a modest environment, however, is more radiant because his father has more connection with him.
The film shows in conclusion, that the ties of blood do not take precedence over love. But it also insists that no one becomes father by himself as a woman is a mother by nature, but the child makes you a father.
Hirokazu Kore-Eda, has been globally acclaimed  for "Nobody Knows", "Still Walking" and "I Wish"
Jimmy P. (Psychotherapy of a plains Indian) Red Carpet
Festival de Cannes 2013 Day Four Psychological Films
was last modified:
May 18th, 2013
by