In a crowded room all sports enthusiasts had gathered on March 7, 2013 to cheer the 350 medal winners of the fifth Victoires du Sport (Sport Victories) on the huge stage of the Apollo room at the Palais Acropolis. A beautiful celebration that honored athletes from Nice, either Olympic champions or world champions, European or France champions or national cup winners.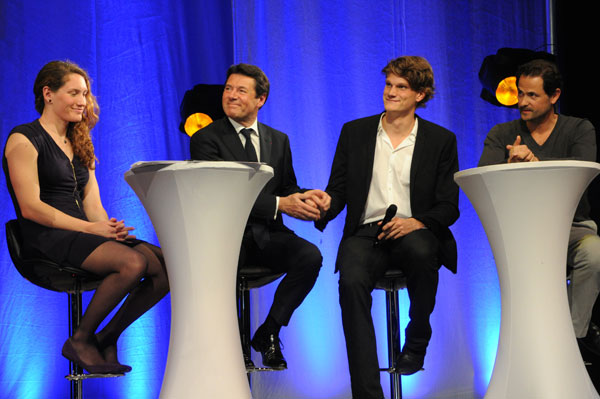 Mayor of Nice and President of Nice Côte d'Azur Metropolitan Christian Estrosi indeed presented a very prestigious line-up. Surrounded by our two wonderful and friendly Olympic swimming champion, Yannick Aniel and Camille Muffat, sponsors of this new 2013 edition. Their very successful arrival by air was applauded by a captivated audience since the wonderful performances of the Nice swimmers last summer in London basins. They were joined a few moments later by their coach Francis Pellerin.
The ceremony began with giant screens broadcasting the highlights of the sporting year 2012 in Nice, then ensued the tribute to Sonia Fiuza, recent European champion and bronze medalist of Karate world championships who put an end to her career to devote herself to her role as a sports educator in the city of Nice sports management. Then, Clement Lefert, also recently retired, was honored for his fabulous career and his 4x100m freestyle relay Olympic championship in London. The management was also honored with Diego Noto (Cavigal), Angel Ferracci (OGC Nice) and Francis Belmonte, rewarded for their dedication to sport in Nice by a trophy. A special award was also given to Valérie Nicolas, former goalkeeper of the handball France team which now organizes the ceremony of the Victoires du Sport.
350 medal winners from Nice then went onto the central podium to discover the championships of the sporting year 2012. Robert Sellem picked up the bronze medal in the Handisport category while Clara Perrin stood on the second step of the podium. Benjamin Landier, already a favorite, took down the first place until the next Paralympic Games in 2016. Three medals were awarded to women for six competitors. Sonia Fiuza picked up the bronze medal behind Nastasia Noens and Charlotte Bonnet, who was elected Champion of Champions for the first time in her young career.
In men, here also three high-level athletes were rewarded out of six nominees. Boxer Denis Saioni, retired last year, climbed the third step of the podium, while Guillaume Nervy, internationally renowned freediver, mounted on the second step and finally Clement Lefert, Olympic champion, converted today in finance, had the honor of being crowned Champions of Champions.
A shower of confetti closed this evening dedicated to the sport that hopefully will lead to beautiful vocations and provide the city of Nice who so much loves sport and reward it well with always more medals.
Click on pictures to enlarge
Fifth Victoires du Sport in Nice
was last modified:
August 13th, 2014
by