Located in Vence, the new event space Millenium was inaugurated on April 11 with a colorful show and a cocktail showcasing talents associated with the premices.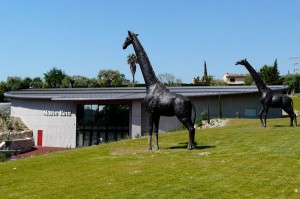 Formerly devoted to artists, the former Rétif Museum, with its unique and elegant architecture, surrounded by a beautiful Mediterranean garden, now hosts events for companies or individuals.
An ideal location
Millenium is located 25 minutes away from Nice airport and 15 minutes from the Cagnes sur Mer highway exit. The renovated former Musée Rétif in Vence spreads over 1,600 m2, surrounded by a garden of 7,600 m2, offering an unexpected and rare contemporary setting in the French Riviera. Outdoor, cocktails and garden parties can be organized on the esplanade to take advantage of Mediterranean gardens and its sculptures. Indoor, a 500 m2 room equipped with sound and light systems for the organization of different events: seminary, meetings, reception, wedding, business dinner, gala evening, private party…
Prestigious partners
The invited event professionals were welcomed by nicely 30s costumed hostesses. When entering one could discover the stand for Mic Mac maccarons by Bruno Laffargue, facing them, Fabienne Savaiva welcomed the guests with Galimard perfumes, perfumer in Grasse since 1747. Then, here comes forth "Monsieur le Marquis", all dressed in green, with make-up, to entertain the evening with a loud voice, dramatically providing the "event part".
Corinne Moncourtois and Marie Méhaye, from  Fleurs du Sud, won their bet to reopen this place once devoted to artists, inaugurated by Régis Lebigre, Mayor of Vence.
For this special launch party, the expertise of the gastronomy was rivaling of creativity with great renowned caterers who showcased their tasty work: One Shot Catering, Parfums et Saveurs, Pavillon Traiteur, Jérôme Ravel, Saveurs & Prestige… The owner of venue, Philippe Rétif, accompanied by wife Mireille, had his great wine tasted. The highlight of the evening was a show with pop group and dancers. The aesthetics of this exceptional event was provided by the company L'Art des Fleurs, florist, decorator.
www.espacemilenium.com
www.fleursdusud.com
Click on pictures to enlarge
Flavors And Colors at Event Espace Millenium in Vence
was last modified:
October 1st, 2014
by