The new Galerie Vendôme of contemporary art, exhibiting La Joie de Vivre by artist Mathias, gives a facelift to the antiques district in Nice.
The Galerie Vendôme just opened its doors in Nice. Located not far from the harbor and the old town, in the heart of the antique district and very trendy "little Nice Marais ", the gallery aims to provide visitors with a permanent, interactive and exciting art show. This summer, the artist Mathias will exhibit his joy of living through an exhibition of figurative works. The painter invites us to discover his version of the life he sketches with happiness over the course of his encounters and travels.
Mathias, painter of the ordinary
Born in Nice, Mathias is  a passionate traveler. After traveling the world, the artist offers us in this superb exhibition his paintings and drawings of a multitude of characters interwoven with each other, moving in a world that is or has been part of the artist' universe and life.
Sketched in gouache, watercolor or acrylic, and enhanced with grease pencil in a colorful original, refined and elegant style, Mathias' works invite us to travel into his world from childhood until in the autumn of life. A universe that reflects his course as a traveler, a lover of typical locations, regions or countries and that always includes situations and places dear to his heart.
Whatever the subject, the time entered or selected slices of life, the scenes exposed at Galerie Vendôme evoke a life course or friendship, travel, vacation, beach, entertainment, parties, cafes, art, happiness, joy.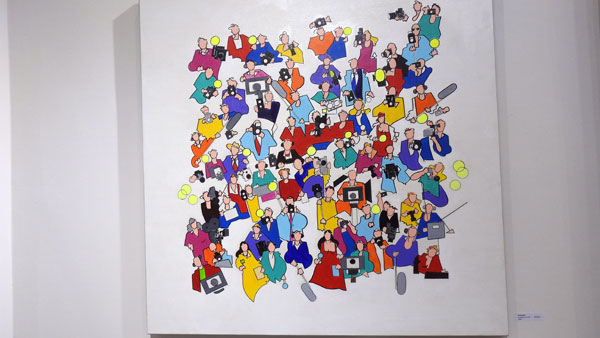 Works populated with icons
Beyond his seemingly ordinary characters, the artist also refers in his work to the great names of visual arts, photography and fashion such as David Bowie, Helmut Newton, Yves Saint Laurent, E. Green and Baryshnikov among others. In some of these works, these daily icons appear and sometimes repeat themselves as characters in scenes that flirt with cartoons.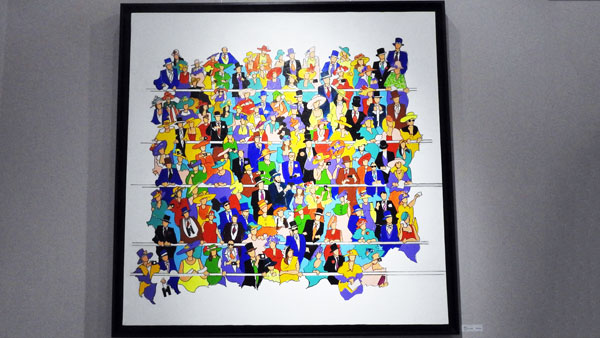 Mathias exhibition
Joie de Vivre
From August 11 to September 14, 2016
Galerie Vendôme
16 rue Emmanuel Philibert
Quartier des Antiquaires – Port of Nice
Tel: +33 (0) 4 92 04 50 32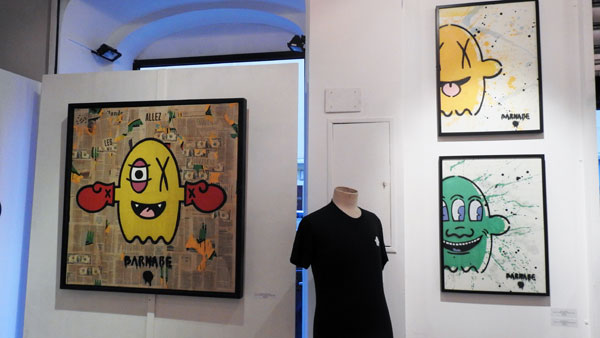 Barnabé at Nice Art Gallery
Adjoining the Galerie Vendôme, the Nice Art Gallery, in partnership with EDR architectural, presents the ephemeral exhibition of young and talented Nice artist Barnabé.
Barnabé's ghosts
Barnabé, whose real name is Pierre-Emmanuel, is 22 years old. Expert in Street Art, the artist who boasts a casual style, came to fame by creating a logo that quickly became a cartoon character. His paw and his signature is a funny little ghost that you can found throughout his works.
At the Nice Art Gallery, the artist shows us, through 24 monographic canvases with acid colors like apple green, yellow or turquoise blue, his playful, magical, merry universe like  the hilarious Pink Panther alongside a radiant schtroumf.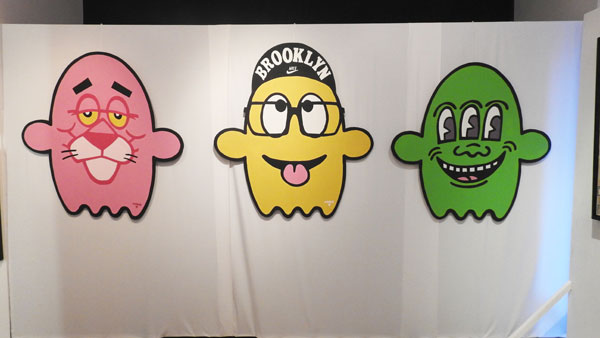 Barnabé
Nice Art Gallery
In partnership with EDR architectural
16 rue Emmanuelle Philibert
Quartier des Antiquaires – Port de Nice
Tel : +33 (0)4 93 31 21 46
Click on pictures to enlarge – ©YesICannes.com – All rights reserved
Galerie Vendôme: Joie de Vivre with Mathias
was last modified:
August 18th, 2016
by