The beach of the Hotel Gray d'Albion celebrated its opening on June 11, launching a summer of chic relaxation, farniente and culinary delights on La Croisette in Cannes.
The prestigious private  Gray d'Albion beach treated many guests to a sumptuous summer evening on June 11 for a gourmet taste before a summer season with privileged access to the azure sea and sky,  Southern sun and Mediterranean cuisine.
In the heart of the idyllic bay of Cannes, when the sun was slowly dipping into the deep blue sea, the haven of peace of the private Gray d'Albion beach was elegantly decorated to receive the guests to celebrate its summer opening.
Decoration in a subtle blend of colors
Design furniture in a subtle blend of colors – white and turquoise sofas, private lounges furnished with lounge beds, immaculate linen voiles and cushions – invited the guests to the pleasures of farniente. Giant star-shaped lights diffusing a soft and cozy light completed this subdued atmosphere and set the tone for an evening under the sign of the pleasures of the Mediterranean. All the elements were there to make inauguration this an unforgettable opening gala evening in the image of Cannes, the international Village of 7th Art, frequented by the most famous key figures of business and show business.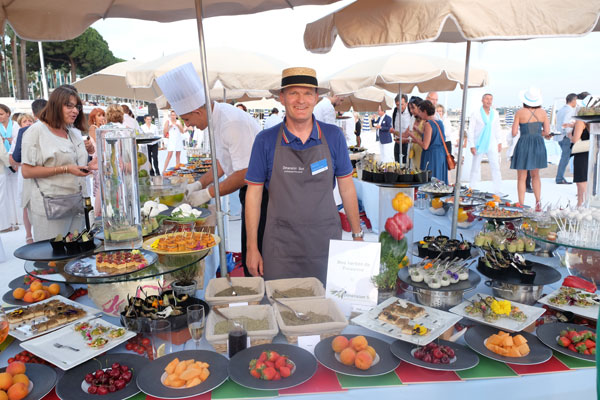 Prestigious colored gastronomy
For the opening of the Gray d'Albion beach, the Groupe Barrière teams had prepared outstanding buffets. In the center of the vast beach, sat a huge buffet shaped in a rectangle, filled with the thousand southern flavors such as vegetables and seasonal fruits in the colors of our beautiful sunny region: beef tomatoes, marinated peppers in olive oil flavored with basil or in colorful salad, purple artichokes, zucchini flower fritters.
Bright yellow lemons with tangy and juicy flesh, covered with a bumpy skin full of fragrant essential oils rubbed with baskets of apricots with orange skin, stained with red, with mellow and refreshing flesh. Cluster of cherries in a shiny dark red, crisp to perfection, made a guard of honor to many verrines composed of salad, fresh cheese, fresh melon soup, petits farcis and many other assortment…
Freshness in the plates
The freshness of the tasting plates of mozzarella "Di Dufala" Campana or Piana del Volturno accompanued with a green slice of tomato, served by a charming chef, regaled us with this light Italian touch with blue skies and bright sunshine. For lovers of seafood, oysters directly coming from the Arcachon basin, accompanied by rye bread, butter from Echiré, the famous shallot vinegar, was to be washed down with a glass of Mouton Cadet white wine, produced by Baron Philippe de Rothschild. An entire hymn to the love of the sea and its products of excellence.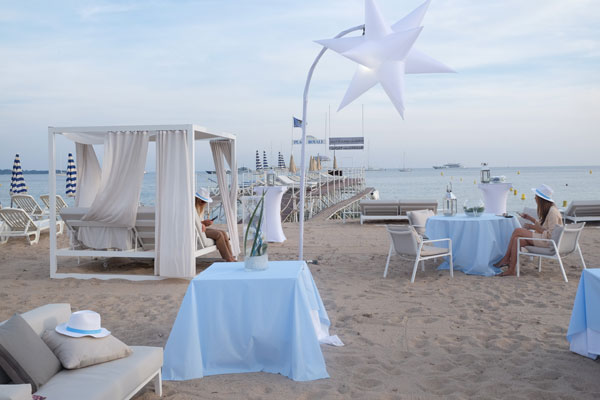 Giant barbecues by the sea
Having reveled in all its savory treats, our buzzing taste buds brought us straight to the booth installed on each side of the beach. Some Chefs at barbecues proposed grills composed of fragrant sausages, lamb ribs, tender beef skewers, prawns, bass, bream, Saint Pierre and scallops.
Cheese and desserts
The cheese stand opened its arms to finish. A huge bread, iconic sign of the south of France, set on a long low wooden table, sported traditional local cheeses accompanied by honey, jam and Olio olive oil. One last note composed of multiple deliciously sweet desserts, closed this refined gastronomic journey concocted by chef Maryan Gandon and his team of artisans of savors.
Food and wine pairing
On the Gray d'Albion beach, Provence wine tasting booths allowed to deepen our knowledge in oenology: the Côte de Provence 2013 Les Jolies Filles offered a red or rosé wine, modern, combining freshness, plumpness of fruit, fresh and elegant, with notes of red fruits and citrus. The Château Gordonne, located in Pierrefeu, offered a tasting of rosé wine made from vines of Grenache, black Cinsault and Syrah. The classic elegant vintage from Château Roubine, located in Lorgues, offered its aroma of a blend of Cinsault, Grenache, Cabernet Sauvignon, Carignan, Tibouren, Sirah and Mourvedre.
Champagne until the end of the night
After the lesson about wines, that of cocktails was necessary with the famous Mojito prepared with Bacardi rum or the Italian Aperol, composed of orange liqueurs. And finally, to finish off, soaking the lips into a glass of Champagne Pommery and bubbling until the end of the night in chairs stamped Gray d'Albion Barriere.
Click on pictures to enlarge – ©YesICannes.com – All rights reserved
Gray d'Albion Beach Opening in Cannes
was last modified:
June 19th, 2015
by