Freely accessible, Midem Discovery Zone offered to the general public the unique opportunity to discover and experience the innovations of tomorrow's music.
The 49th edition of Midem has innovated this year with the Midem Discovery Zone, an exhibition area where the general public met with designers, brands and start-ups with innovative projects, new technologies, connected objects, that are revolutionizing the music experience in the digital era.
Digital experience or retro with vinyl?
At Midem Discovery Zone, the public could discover innovative projects with Ulule, new technologies with the Berklee College of Music, create music with a digital instrument the musical table Mash Machine or try an violin made out of amber, discover the range of "Connected Dogs" with jean-Michel Jarre Technologies or regain the sensation and the "gesture" of the record with vinyls at Lasgo Chrysalis.
Orange's Connected Home
The French mobile operator and Internet provider Orange presented its "Connected Apartment" and networking solutions on its "space connected" to adapt to the digital age.
Lasgo Chrysalis Vinyl
Lasgo Chrysalis, the British company, one of the key wholesalers of Vinyl in the world, was offering the latest vinyl products for sale, including iconic bands like Kraftwerk, Pink Floyd, Led Zeppelin…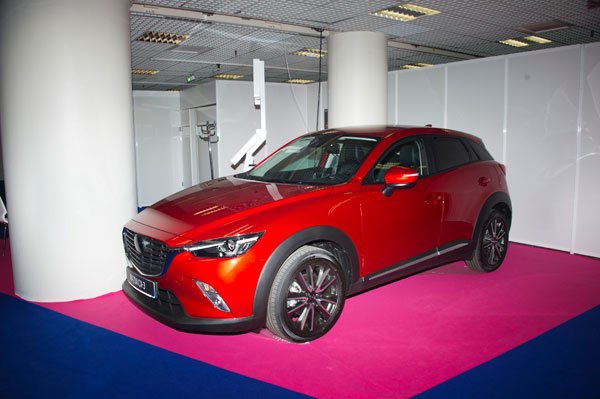 Connected Mazda SUV
The car manufacturer Mazda offered the opportunity to test the new SUV CX-3, which, in addition to its long-range radar, is equipped with technology connected MZD Connect with Bose audio system, trip computer with touch screen, and Wi-Fi antenna – in case there is the network…
Lucie Labs connected bracelets
Lucie Labs introduced its connected bracelet allowing users to enjoy and interactive experience during concerts and events and flash all together by collecting the crowd movement. The smart lighting wristband is equipped with with motion capture support and can manage the customer data or the lighting effect combined with music.
Become a performer with Mash Machine
The Estonian company The Mo'Joes – Serious With Fun – presented its Mash Machine, a high-tech interactive table that allows music lovers to easily express the creativity and talent bubbling in them, by moving some blocks on a musical table. Ideal for DJs battle!
Berklee College of Music musical apps
Some students from Berklee College of Music were displaying their latest musical apps and fun interactive projects like a ping pong table with sensors that enable the players to interact on music by varying the pace of rebounds.
And more…
French streaming site Findspire organized many concerts on its stand to show what it can do to bring music to the masses and two artists made a live performance, painting two beautiful drawings at the entrance of the Discovery Zone.
The HIFI streaming and downloading start-up Qobuz presented its service that lets you listen to music anywhere, any time.
Midem Discovery Zone Welcomes Public
was last modified:
June 18th, 2015
by