Inaugurated in 1913 at La Belle Epoque, the Intercontinental Carlton has seen pass a century of luxury, exuberance and glamour that have imbued it with an aura caracteristic of exceptional sites, turning it into a myth. To celebrate its milestone anniversary in style and elegance, the Carlton boasts a five senses program throughout the year.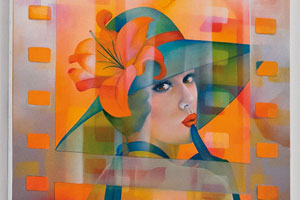 Sight – A sight worth seeing The Carlton's unusual history is to be interpreted by some local artists, including Chisa, Henry Marcaillou or Jeannette Guichard- Bunel. In partnership with the Neel gallery (Paris and Cannes), over the coming year the hotel will be exhibiting several dozen of their paintings.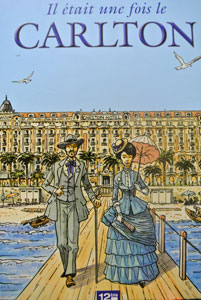 A comic book, with text by Nelly Moriquand and pictures by Fabien Lacaf has been published: "Once Upon a Time there was a Hotel called The Carlton" is the tale of a young lady reporter who travel as in a dream, led through the century by the ghost of one of La Belle Otero's lovers. Lastly, the Centenary Gallery, a pop-up exhibition space in the corridors of the Grand Salon and La Côte. Here, big boards will be displaying fabulous photographs of some of the InterContinental Carlton's most iconic guests, including La Belle Otéro, Grand Duke Michael, and Grace Kelly.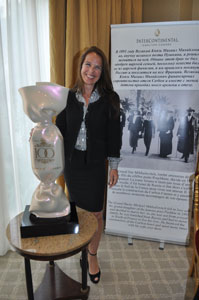 Laurence Jenkell, sweet artist. Laurence Jenkell, who was working in the luxury hotel sector at the time, decided one day that she was going to concentrate on her art instead. Sweets were to be her only subject, and she started off by painting them. But when, soon after, she moved on to making sculptures, her work was an instant, resounding success. So it makes perfect sense for her to be creating a special centenary sweet for the InterContinental Carlton! 55 such sweet sculptures have already graced the streets of Cannes, with 'wrappers' representing the flags of the countries attending the G20 summit in 2011.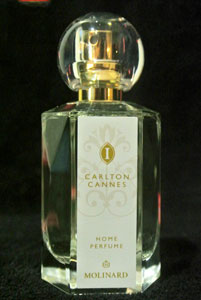 Sense of Smell – A gentle Fragrance Some places remain in the memor y more as an aroma than a sight or sound. An aroma that might be indefinable, but recognisable none the less. The InterContinental Carlton is one such place. And to celebrate its centenary, the hotel is launching a home perfume, designed by Molinard.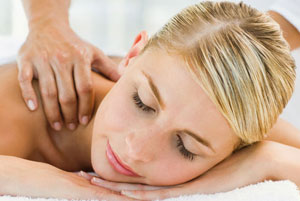 Touch – On a Wave of Well-Being A beauty salon is a must for any hotel in the 21st century, offering a moment of peace and serenity. To celebrate the hotel's centenary as beautifully as possible, the InterContinental Carlton's beauty salon has created a special package for both men and women.
Hearing – To the Tune of The Belle Epoque They say that music has charms to soothe the savage beast. At the Car lton, dur ing these year long centenar y celebrations, it will be charming the guests at Sunday brunch.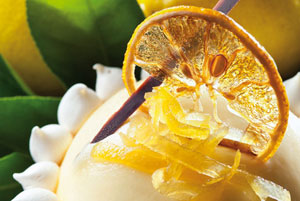 Taste – A Palate of Delights Our sense of taste can take us travelling through time and space in a matter of seconds. The pleasure it brings can carry us away on a magic carpet ride. In this, its centenary year, the InterContinental Carlton plans to celebrate with twelve dishes from its illustrious past.
Intercontinental Carlton Centenary Celebration Appeals to All Five Sens
was last modified:
July 17th, 2013
by