To celebrate the 100th anniversary of visionary Jean Patou, the brand re-edits three original fragrances composed for blondes, brunettes and redheads, presented at TFWA WE in Cannes.
In 1914, Jean Patou opened his couture house at 7, rue Saint Florentin in Paris and, in fashion as in perfumes, will prove to be a great precursor of modernity. To mark the centenary of the visionary designer, the world-famous house returns to its origins and establishes at 9, rue Saint Florentin.
After the revival of Joy Forever, the milestone year sees the re-edition of three of the brand's iconic fragrances, a Heritage Collection introduced at TFWA WE 2014 in Cannes.
Timeless seduction
Jean Patou, called by America "the most elegant man in Europe", loved to adorn the women, to better reveal their glamor and seduction. His creations tend to timelessness: the woman he used to dress, make up and perfume is as young and fresh as ever.
In 2014, to celebrate Jean Patou's 100th anniversary, the brand is inviting fine fragrances lovers worldwide to enjoy the re-edition of its first three perfumes, created by Henri Alméras, Jean Patou's in-house perfumer. The three original fragrances were especially composed for blondes, brunettes and redheads.
Perfumery genius
A fashion pioneer since 1914, Jean Patou also proved his genius in perfumery: he was the first designer to create fragrances for each type of woman after the nuance of their hair – blonde, brunette and redhead.
To each of these fragrances, Jean Patou gave a name with a strong evocative power of a different stage of a love affair: seduction, doubt, and… surrender.
The woman you want to be
With a deep respect for tradition and great pleasure, Thomas Fontaine, the in-house perfumer since 2011, today makes it possible to rediscover the beautiful notes by bringing these three historic and iconic perfumes back to life.
Today's Patou woman, happy with the daily renewed pleasure of dressing and perfuming according to her mood and desires, can choose to be the one or the other, or all three.
Deux Amours – created for blondes
Deux Amours is a delicious floral bouquet that opens with notes of sun-kissed bergamot and neroli, resting on a floral bed of aromatic rose, jasmine, tuberose and ylang at its heart. A perfume that imparts a memory of majestic forests where sandalwood warms styrax with a touch of daring. A frisson, captured in a perfume, when a lady – whose heart races with the exhilaration and excitement of new love – wonders: "Are we to forever remain two courtly lovers whose hands seek one another?
Que sais-je ? – created for brunettes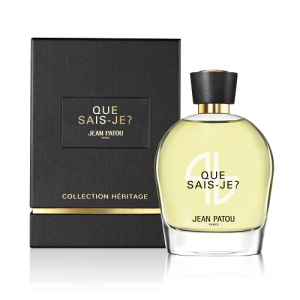 A unique fusion of warmth and gentle fruitiness distinguish this spellbinding Chypre. The fragrance opens off with soft tonalities of peach, apricot and orange flower, uniting its heart with delicate floral notes of rose, carnation and jasmine. Its conclusion is a blend of subtle accents of honey and patchouli. The perfume of restrained passion… for a time of wonder and hesitation: What to do? Move forward? Resist?
Adieu Sagesse – created for redheads
A white floral with a voluptuous trail, with vibrant top notes of rhubarb, neroli, lily-of-the-valley, narcissus and bergamot, leading into a heart of tuberose and gardenia before finishing with a musk drydown. A perfume as unforgettable as a moment of ecstasy when a woman, as if spellbound, surrender to pleasure and gives her heart entirely.
The range
Deux Amours – Eau de Parfum 100ml 180 €
Que sais-je ? –  Eau de Toilette 100 ml 180 €
Adieu Sagesse –  Eau de Toilette 100ml 180 €
The Collection Heritage continued
The re-birth of the house continues with the third introduction to the Collection Heritage, a selection of celebratory fragrances created by Jean Patou to mark some of France's most iconic moments in history.
L'Heure Attendue commemorates that long awaited moment – the Liberation. Vacances celebrated the paid holidays in style and Colony answered people's dream of a warmer sun and wider horizons.
Jean Patou Celebrates Centenary
was last modified:
November 10th, 2014
by